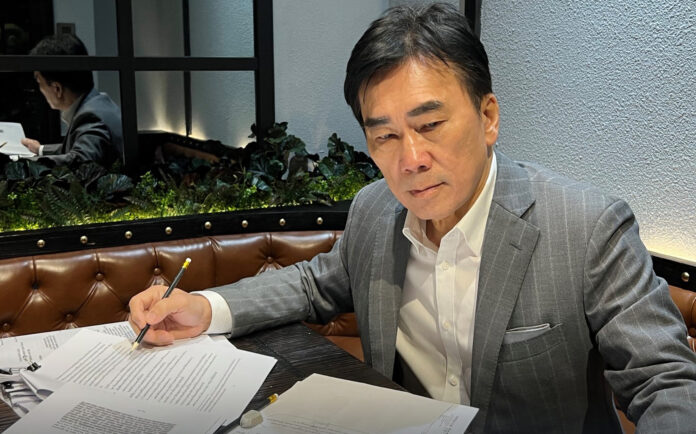 The WEH Share Case has undergone processes in Singaporean arbitration, the Hong Kong court, the English court, and the Thai courts. However, a recent point of legal and academic focus, as well as contention regarding the exercise of judicial power, is the decision by the lower court in England.
The court ruled against several defendants and me (Mr. Weerawong, specifically in a personal capacity and not representing the law firm Weerawong C&P), ordering us to pay a substantial amount in damages to Mr. Nopporn and his companies in a civil lawsuit.
This ruling is especially noteworthy because a criminal case on the same matter was already underway in the Thai court.
In this English court case, Mr. Nopporn, the plaintiff, is Thai, and almost all of the defendants are Thai. The entire facts related to the subject matter of the Plaintiff's claim occurred in Thailand. According to legal principles related to the governing law, Thai law shall apply to the case. However, the case was filed in an English court because English law allows for cases to be filed in English courts if even one defendant is a British national (out of 17 defendants in this case, 1 is British).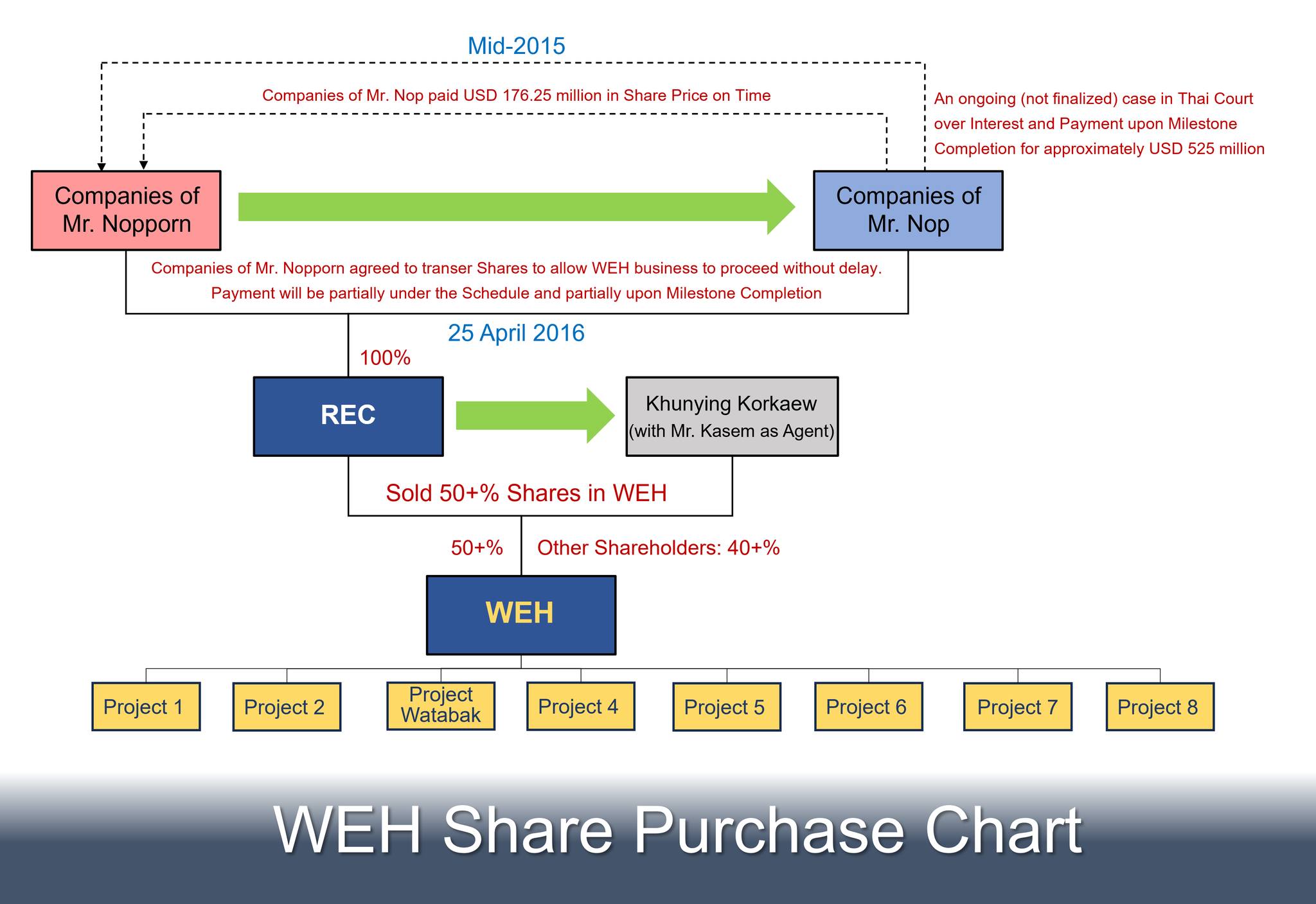 The English court's decision is merely a lower court judgment, which may be overturned on appeal. Regardless of whether it's a lower court or higher court judgment in England, it cannot be enforced against Thai defendants in Thailand. Thus, two Thai defendants (Mr. Kasem and Mr. Pradej) did not contest the case at all because no matter the outcome, it would not affect them. However, the real target of the plaintiff is Siam Commercial Bank (SCB).
If SCB didn't contest the case, it would be ruled against based on Mr. Nopporn's claims, and its assets in countries where English court judgments can be enforced, namely Hong Kong and Singapore, could be seized.
Hence, I, along with other Thai defendants (except Mr. Kasem and Mr. Pradej), had to fight the case to provide information about SCB's loan to the WEH group (which is the central issue accusing SCB and other defendants) to prove its legitimacy. Eventually, the English court dropped the charges against SCB and Mr. Arthid (the ex-CEO).
In this English lawsuit, Mr. Nopporn has the support of a 'dispute trader' named Harbour Litigation Funding, which has shouldered all the expenses. The amount they invested is surprisingly high. However, the dispute trader Harbour Litigation Funding will share in the benefits if Mr. Nopporn wins the case substantially.
Such operations are typical business activities for Harbour Litigation Funding, which is one of the largest private dispute trader entities in the world.
However, such practices of financing lawsuits in Thailand for the benefit of cases in which they have no involvement are not permitted under Thai law. The dispute trader Harbour Litigation Funding has previously supported cases where Thai companies were sued overseas and has reaped significant profits.
💡 Truths in the English Court's Judgment on the WEH Share Case 💡
✏️ Between the years 2011-2012, Mr. Nopporn was prosecuted in Thailand for embezzlement. The Court of First Instance sentenced him to 78 months in prison. Upon appeal, the sentence was upheld but reduced to 56 months. Mr. Nopporn has since appealed to the Supreme Court, but a verdict of the Supreme Court has not been reached yet.
✏️ On December 1, 2014, Mr. Nopporn fled Thailand after committing another offense. Since he did not defend himself, he was labeled as an accused in accordance with an arrest warrant issued under Article 112 of the Thai Penal Code. The charges, unrelated to politics, pertain to "colluding to commit bodily harm on another … with weapons and the collusion involves five or more individuals." The motivation for this seems to stem from Mr. Nopporn's dissatisfaction with an individual who had sued him for embezzlement.
✏️ At that time, Mr. Nopporn's companies held roughly more than 50% of shares (through REC) in WEH, a company responsible for executing eight wind power projects in Thailand. Out of these, two projects had been successfully completed.
✏️ SCB, the bank that provided loans for the first two WEH projects and had a financing agreement for WEH's third project named Watabak, refused to allow the Watabak project to draw down (as per its rights under the financing agreement and following SCB's policy). This was because Mr. Nopporn, a major shareholder of the company (through REC), became an accused under Article 112 related to colluding in assault and fled the country without defending himself against the arrest warrant (which isn't politically motivated).
✏️ In mid-2015, Mr. Nopporn's companies sold all their shares, totaling 100% of REC, to companies owned by Mr. Nop. This sale was initiated to extricate Mr. Nopporn from being an indirect shareholder of WEH. If this step wasn't taken, there would have been significant issues as SCB and other banks would refuse to grant loans to WEH. Specifically, the Watabak project would face severe problems, which would impact the success of the remaining five projects and drastically reduce the value of WEH's shares.
✏️ Once Mr. Nopporn divested from being an indirect shareholder of WEH by selling all the shares of REC to Mr. Nop's companies, this resulted in Mr. Nop's companies becoming the major indirect shareholder of WEH. Consequently, Mr. Nopporn had no more association with it. This move persuaded SCB to reconsider allowing the Watabak project to draw down, as well as considering financing the other five WEH projects.
✏️ In early 2016, after receiving USD 90.5 million from Mr. Nop's companies, Mr. Nopporn's companies terminated the REC share purchase agreement, alleging that Mr. Nop's companies failed to pay the remaining USD 85.75 million within the specified timeframe. This dispute led to arbitration in Singapore, where the former sought an immediate share return from Mr. Nop's companies.
Mr. Nop's companies defended the position, asserting that the failure to pay USD 85.75 million was due to Mr. Nopporn's misconduct. They were prepared to make the payment, arguing that Mr. Nopporn's companies had no right to terminate the REC share purchase agreement to compel the return of shares from Mr. Nop's companies.
✏️ SCB declined another drawdown request from the Watabak project, adhering to SCB's policy. This decision was due to the risk that, should Mr. Nopporn's companies win the arbitration, Mr. Nopporn, who faced an arrest warrant under Article 112 related to colluding in the assault, might re-emerge as a major shareholder in WEH through REC.
While I served as WEH's legal advisor during this period, I opined that Mr. Nopporn's companies had no right to terminate the REC share purchase agreement or to force the return of shares, anticipating that they would instead receive the proposed USD 85 million from Mr. Nop's companies under the agreement, given no contract breach. In providing this opinion, I did so in the capacity of a legal consultant for WEH, not in the role of a board member of SCB.
Even though I was serving as a board member of SCB at that time, I declared that I would be acting in the role of a legal consultant for WEH, which is a debtor of SCB, hence I requested not to participate and have never been involved in receiving or considering any decisions regarding granting loans or allowing drawdowns for any projects of the WEH company.
✏️ As the legal advisor for WEH at the time, I advised both WEH and REC that the Watabak project would suffer significant setbacks and may not be able to proceed if urgent drawdowns were not granted. Furthermore, another five projects of WEH would also be adversely affected if they did not receive credit in time. The board of REC, as per legal provisions, had the authority to decide to sell all the shares they held in WEH to external parties.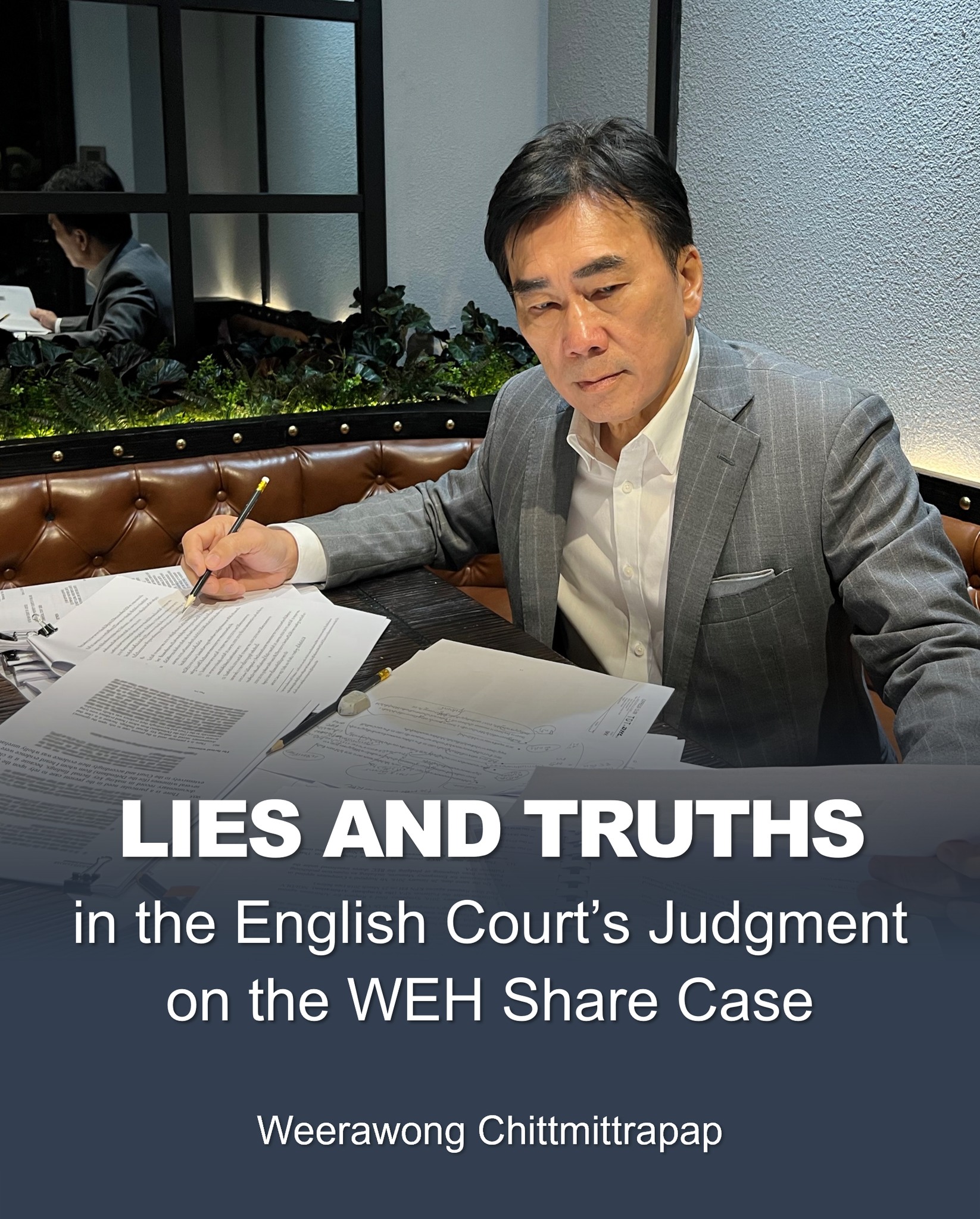 However, the sale of WEH's shares must be at a price considered appropriate by financial advisors to maintain the good faith under Section 237 of the Civil and Commercial Code. Such a transaction would also not be constituted as defrauding against creditors under Section 350 of the Penal Code, as REC had no creditors, and the sale of WEH shares was not intended to default any third-party creditors. It was a necessary decision to protect the benefits and interests of the REC.
If the shares of WEH weren't sold, their value would gradually decline given the distressed business condition of WEH. Apart from having no additional value from the Watabak project and other projects, WEH could also face lawsuits for damages from entities like GE, EGAT, and other creditors, potentially leading to bankruptcy.
Additionally, it wouldn't violate the arbitration proceedings between Mr. Nopporn's companies and Mr. Nop's companies, as REC was not a party to the contract with Mr. Nopporn's companies and wasn't being sued. The shares in contention in the arbitration case were those held by Mr. Nop's companies, which were REC, not the WEH shares owned by REC.
Under Thai law, the legal entity REC and the shareholders, Mr. Nop's companies, are separate. Hence, the arbitration order (EA Order) only restricted disposal of, or any act concerning, REC shares and did not extend to WEH shares owned by REC, as per Mr. Nopporn companies' request.
✏️ However, purchasers of the WEH shares would have to bear the risk if SCB continued to deny the drawdown for the Watabak project and/or didn't grant credit to other projects. At the time, SCB did not provide any assurances or indications of how they might proceed if there was a change in the shareholder structure. This uncertainty could continue to lower the share price of WEH in line with its business condition.
✏️ On 25th April 2016, the board of REC resolved to sell the WEH shares to Khunying Kokeow (Mr. Kasem as the agent) at a book value, which was deemed appropriate by the financial advisor. This was due to the prevailing uncertainty about whether SCB would allow the Watabak project to draw down loans and/or provide credit to other projects.
✏️ Once legally confirmed that Mr. Nopporn would no longer indirectly become a shareholder of WEH through REC, even if he won the arbitration case regarding the termination of the share purchase agreement, SCB then reconsidered granting the Watabak project the right to withdraw a loan. They also reviewed credit allowances for the five other WEH project companies.
✏️ Eventually, the arbitration ruled that Mr. Nop's companies should pay a share price of USD 85.75 million as proposed by Mr. Nopporn's companies, along with interests, without terminating the share purchase agreement. At that time, Mr. Nop's companies were no longer shareholders of WEH (through the REC). However, Mr. Nop's companies fully paid the USD 85.75 million in accordance with the arbitration's award but disputed the interest payment in a Thai court, and the case is still ongoing.
✏️ Before filing the case in the English court, Mr. Nopporn's companies petitioned a court in Hong Kong to issue an injunction order against GML (a Hong Kong company owned by Khunying Kokeow) to prevent any disposal of or actions concerning the WEH shares held by GML on behalf of Khunying Kokeow. Initially, in the emergency procedures where GML had no opportunity to present evidence, the Hong Kong court granted the request.
However, after considering evidence from GML's side, the Hong Kong court rescinded the injunction order, determining that Mr. Nopporn's companies intentionally hid crucial facts, considering it a serious case of "the seriousness and deliberateness…of material non-disclosure".
This major lawsuit involves claims and damages amounting to billions of Thai baht. Yet, the English legal system had only one judge, Mr. Calver, handling the entire case – admitting to testimonies, examining all evidence, and rendering the judgment. His name was the sole signature on the verdict, without a panel.
Mr. Calver deliberated and adjudicated the case, fully aware that Mr. Nopporn's companies filed a "criminal case" in Thai court against several defendants involved in the English lawsuit (SCB, Mr. Arthid, who is the former CEO of SCB, and I were not sued).
They were accused of conspiring to make REC transfer WEH shares with a specific intent to prevent Mr. Nopporn's companies from getting debt payments from Mr. Nop's companies (considered as joint fraud against creditors under Thai Penal Code) (Criminal case number Black No. 157/2561 of the Bangkok South Kwaeng Court, which is still under consideration) before filing the "civil lawsuit" in an English court.
🟨 The reason Mr. Nopporn and his companies filed a civil lawsuit in an English court is that, after initiating a criminal case, they were unable to proceed with a civil lawsuit in Thai courts based on the same allegations for damages. Thai courts will dispose of the case (meaning they can accept the lawsuit but will not continue with the legal proceedings) until there is a judgment from the Thai court on the criminal case. Furthermore, the verdict from the Thai court in the criminal case, particularly regarding whether the defendants had jointly committed fraud against the creditor, will compel the Thai court in the civil case to adhere to the same set of facts. They cannot decide otherwise.
🟨 In the judgment, Mr. Calver made strong accusations against me and other defendants. (Many legal professionals who have read this believe that it's suspicious for a judge to use such language, and this raises negative questions about Mr. Calver's behavior.)
Even though Mr. Calver's judgment is not enforceable in Thailand as previously mentioned, its dissemination in Thailand through certain media outlets engaged by Mr. Nopporn to help with his media campaign, as Mr. Nopporn admitted in the case, has severely tarnished the reputation of both myself and the other defendants. This is because the general Thai populace tends to trust and believe that the British judicial system, including an English judge (like Mr. Calver), would operate with integrity and fairness.
Therefore, I want to provide in-depth facts about the judgment made and written by the English judge, Mr. Calver, to present another perspective that hasn't been shared before. Specifically, to openly and accurately clarify an English judge's judgment based on the truth and legal principles. I can do this because I am not bound by English laws that might prevent a person from speaking out or criticizing an English judge.
I have no intention to defame or tarnish Mr. Calver's reputation. My sole intention is to shed light on the unfortunate experiences faced by me and other Thai defendants. This is to help those interested to make informed views based on fairness and justice, and also serve as a lesson for the Thai public and businesses who deal with British nationals, to be cautious and avoid similar pitfalls. Moreover, I aim for my information to benefit the field of jurisprudence and the exercise of judicial power. I will employ a Question and Answer
(Q&A) format to elucidate the matter, focusing on the following topics:
Q&A (1): Did the English judge lie or make false statements?
Q&A (2): Did the English judge rule in contradiction to Thai law?
Q&A (3): Was the English Judge part of the group process that infringed upon Thailand's sovereignty?
Wish you wonderful ways
Weerawong Chittmittrapap