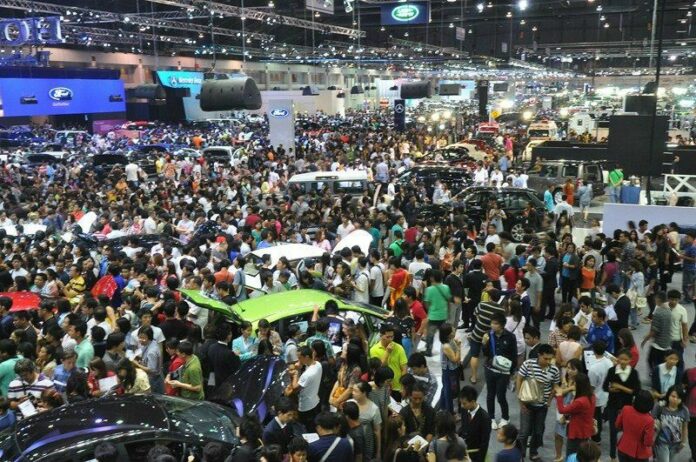 (28 August) Like her
influential brother, Prime Minister Yingluck Shinawatra led Thailand down the road of populist
policies aimed at easing the financial burdens of the grassroot and low-earning populace. Among her
trademarks is the First Car Program which exempts tax for first-time car buyers.
The
government insisted it would benefit the low-income citizens and boost number of car sales. But
critics warned that the policy contributed to increased traffic jams in the already clogged roads of
Bangkok.
A number of car dealers across the country are now complaining about the First Car
plan as well, charging that it distorted market demands and in fact damaged the car sales business
in the Kingdom, reported our correspondent at Prachachart.
A report from the Japanese
Chamber of Commerce indicated that in September, car sales from every manufacturer combined amounts
to less than 100,000 cars, despite the sweltering promotion campaigns.
Market analysts
believed that the motor business would also shrink at least 5-10% this year, as the real demand in
the market does not match the virtual demand estimated by the car industry.
Car dealers
interviewed by our correspondent explained that the supposed demand was drawn up in the previous
period when the government announced ?First Car Program?. Excited customers rush to the car dealers
to place their orders to take advantage of the policy while it lasted.

But not every customer actually buys
the cars they ordered. Some backed off later, once they realised they did not have the financial
capability to purchase and maintain the vehicles. Others purchased the cars but have had a hard time
paying for them later due to their low income.
What followed is a distorted market in which
the manufacturing sector over-produced their cars, and it was up to the dealers to bear the task of
selling these unclaimed motors – not an easy task, the dealers said, because very few customers
would want to buy cars that had been left sitting at the showrooms.
Sales persons are forced
to reduce their own commission fee, and to top more perks for their customers, particularly the 0%
instalment and First Class Car Insurance.
Some motor giants tried to resolve the matter by
offering jaw-dropping discounts to boost their sales, sometimes offering a price even lower than the
tax-exempted car price in previous year.
But it appears that the situation also hurts the
customers; the red hot promotion led many people to buy the best offer they see, ignoring their own
needs for appropriate gears and services.

The dealers told our correspondent they are
still waiting to see if the situation will improve later this year, the time of the year when many
new customers seek out cars to buy.