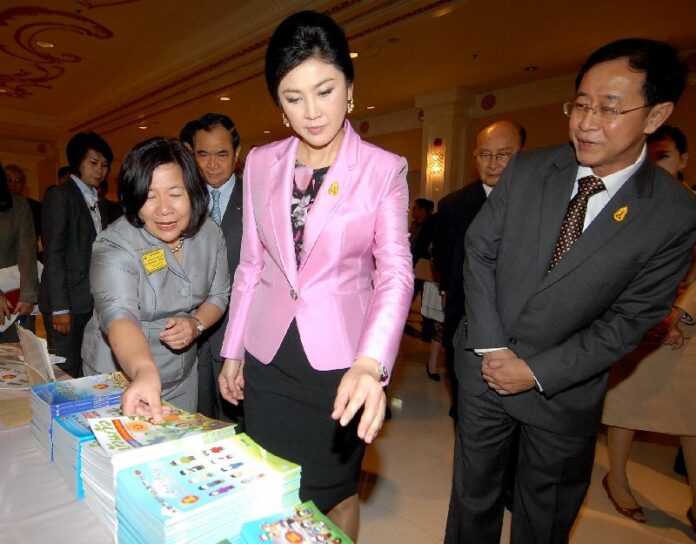 (16 September) Prime
Minister Yingluck Shinawatra today gave a keynote speech at the opening of the "Path for Thailand
toward ASEAN Community" exhibition in Bangkok, saying in parts that the government must re-adjust
policy to welcome the change, and should not treat the integration as a threat.
According to
the Prime Minister, Thailand must develop new strategies, particularly by public sectors, to create
more competitiveness in the region and improve the standard of living in Thailand.
By
creating competitiveness in the region, Ms. Yingluck suggested that Thai's public sector should
readjust regulations to support Human Rights and ease trade protectionism.
The country also
needs to rebalance their government public services to be more efficient and effective, in order to
develop the standard of living in Thailand Ms. Yingluck is quoted as saying.
The Prime
Minister also said that the wobbling global economy may become a challenge to the country. The US
Quantitative Easing policy had strengthened national currency, due to large capital inflow into the
country. However, the situation has worsened the national export sector, which accounted up to 60%
of national GDP.
She stressed that Thailand should be ready for the economic fluctuation,
both in domestic, regional and international stages.
The private sector will also need to
adjust their policy and improve their competitiveness through providing a better quality of goods,
Ms. Yingluck said.
She also suggested that the country should rely more on green
energy.
Apart from the economic fluctuation, Ms. Yingluck noted, the nation is also facing a
lack of capable workforce, as the elderly population is expected to increase from 14% in 2013, to
27% in 2025.
At the end of her speech, the Prime Minister added that in order to be
competitive in meeting the new challenge, and to live together peacefully, we must integrate our
social and cultural aspects.
Thai people must also develop English skill, as the language
becoming more important as the media to communicate within the region, she added.