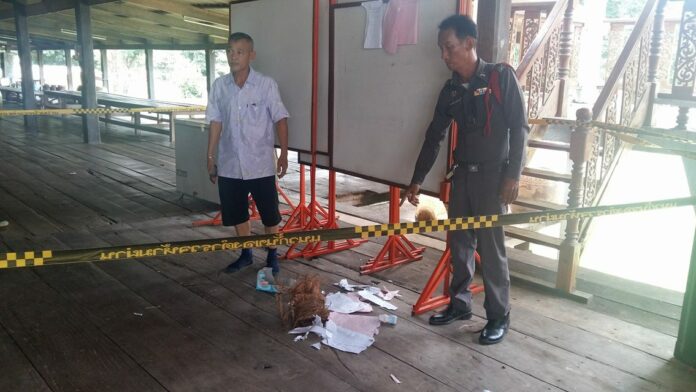 BANGKOK — To election officials tasked with vigilantly enforcing a draconian referendum law, it may have looked as though the forces of man and nature conspired against them.
Macaque vandals, teen mischief, destructive weather and even a coffee marketing campaign left grim officials seeking recourse over the weekend against forces largely out of their control.
First, two Mathayom students in Rayong's Klaeng district were caught Saturday shredding and burning a voter list posted near a community building. The two middle schoolers became the second pair of students charged with violating the referendum law, which penalizes vandalism of voting equipment.
Then rain damaged a voter list in Ratchaburi city, where recent storms left the distinctive pink documents faded beyond recognition. Locals told reporters they were puzzled as to why officials had posted important documents under the open sky.
In Pichit province, the defenders of the pink papers were left with no one to punish Sunday after an onslaught of more than 100 monkeys at a temple where people will vote in the Aug. 7 referendum. Their simian assault annihilated the voter list pinned there. It also proved somewhat ironic as officials have deployed Hanuman, the Monkey God, as their smiling mascot.
"Some of them carried the papers away like they were mocking the police and the people chasing after them," local official Chatchawan Suksawasdi said. "So we couldn't catch or do anything to this monkey pack."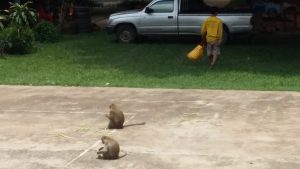 All told, five of 15 documents listing names of local voters were destroyed, along with 10 papers detailing voting procedures.
Pichit police chief Jaruay Pholprasert said he couldn't have seen it coming.
"It was an incident beyond all reasonable prevention," Col. Jaruay said.
And finally, alarms were briefly raised in Si Saket province when keen-eyed local authorities spotted dozens of small flags proclaiming "Tick No" dotting a road there.
Gov. Thawat Surabal immediately ordered an investigation, as any campaign to "mobilize" or "mislead" the public to vote for or against the proposed constitution is also illegal under the referendum law.
The investigation came to an end after officials realized the flags were in fact promoting a coffee brand called Ga No – a localized reduction of "Americano." How could that pose offense? The word "Ga" means to tick a ballot.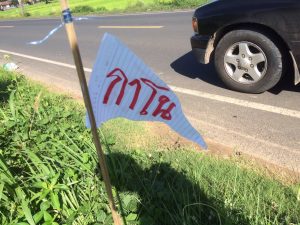 Nevertheless, governor Thawat said he's asked the coffee producers to suspend their campaign to avoid any further misunderstanding.
"I have asked for the cooperation from the manufacturers of said coffee to stop any PR activity for their coffee brand temporarily," Thawat said. "Because it's misleading and risky in the period when we're preparing to vote in the referendum."
The absurdity proved too irresistible for netizens, and numerous memes mocking the incident blossomed on social media.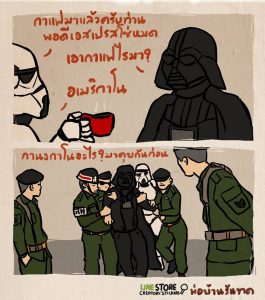 https://twitter.com/Badbadtzmaru83/status/757375860462592001
'Ga' also means crow.