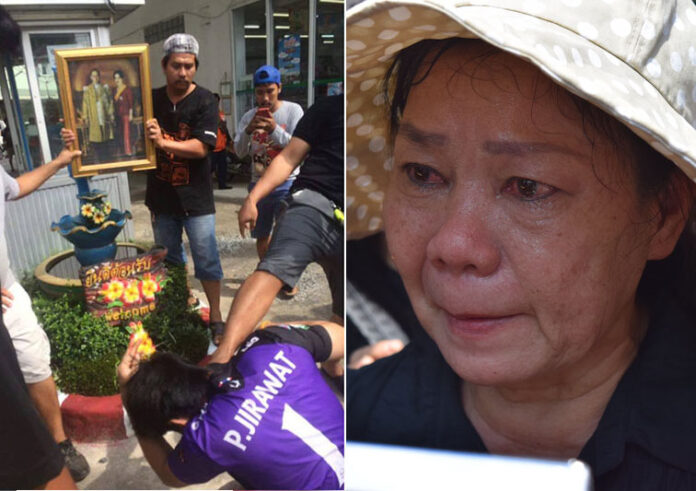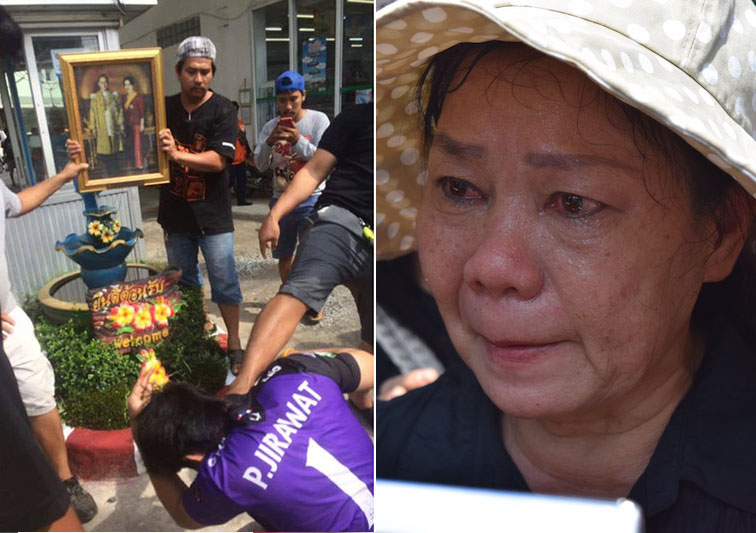 BANGKOK — Rash acts of violence and vigilante witch-hunting unfolding in the streets since His Majesty the Late King's death is part of the collective grief process the nation is going through, a psychologist said.
Anger is a phase of grieving that is being expressed through such acts in an attempt to control how others grieve, said Adipat Chaichanasakul, a psychologist at BNH Hospital.
"The desire to control others – such as what color they're wearing – can make some people feel like they are regaining control," Adipat said.
Read: Police Look For Motorist Vowing to Shoot Those Who Defame King
He was speaking about the rash of attacks involving alleged royal insults and shaming of people for not wearing black in public that have occurred in the week since King Bhumibol died.
Adipat said the other stages of grief – denial and sadness – are on display as well, from posts on social media expressing disbelief to public displays of sorrow.
People will reach the final stage of acceptance at different rates: Some have already gotten there, while others will need years.
"There's no definite timeline for grief," the psychologist said. "The most important thing to keep in mind is understanding. Don't judge others who grieve differently from you."
Vulnerable at Risk
Health professionals said that although they haven't seen an increase in mental health cases, existing conditions were at risk of being exacerbated.
While most people will experience healthy grieving, those with existing mental illnesses could show harsher symptoms and should seek help, according to Yongyud Wongpiromsarn of the Department of Mental Health.
Adipat agreed, saying those most at risk of clinical depression are those with existing, untreated depression.
"Imagine someone who's heat-sensitive. When there's a little sun, they will feel hotter than other people," he said. "It's the same with people with depression. There's a lower tolerance to being surrounded by dark colors and sadness."
One privately practicing psychologist said he has seen a recent increase in Thai patients seeking help for depression.
Craig Gagnon is a 48-year-old psychologist at The Cabin Bangkok, a private mental health center. He said that there has been a "definitely significant" increase of about 30 percent in patients since last Thursday.
"There has been an increase in Thai clients suffering from depression," Gagnon said. "We anticipate that grief-related cases will double, even triple in the coming months."
While Thai cases have involved depression, he said expat residents, especially those with investments or business in the country, have sought treatment for anxiety.
Social Stigma
Mental illness remains stigmatized in Thailand, though it has been more acceptable to seek help among the Bangkok middle class.
Still, confronting depression through psychological services is outside the norms of most of society, Gagnon said, acknowledging that most of his Thai clients are younger and open to Western ideas.
Adipat urged people to think of getting psychological help as similar to getting a tuneup for their cars.
"You don't need to wait for it to crash to go to the garage," he said, urging people to seek help if they can't control their emotions, lose their appetites or experience violent impulses.
Psychological first aid is available at the six spots set up by the Department of Public Health around the Sanam Luang during the mourning period, Yongyud said, and are ready to help any citizens.
Citizens can also use the department's hotline at 1323 to seek emergency counseling and assistance. Hospitals nationwide are on alert for increased mental health cases.
Read more:
Woman Harassed Off Bus and Slapped Was Mentally-Ill: Police
Chonburi Man Beaten by Mob Over Royal Defamation
Mob Demands Woman Accused of Royal Defamation Kneel Before Portrait
Phang Nga Mob Enraged by Alleged Royal Defamation Post
Phuket Mob Demands Arrest of Man For Alleged Royal Defamation