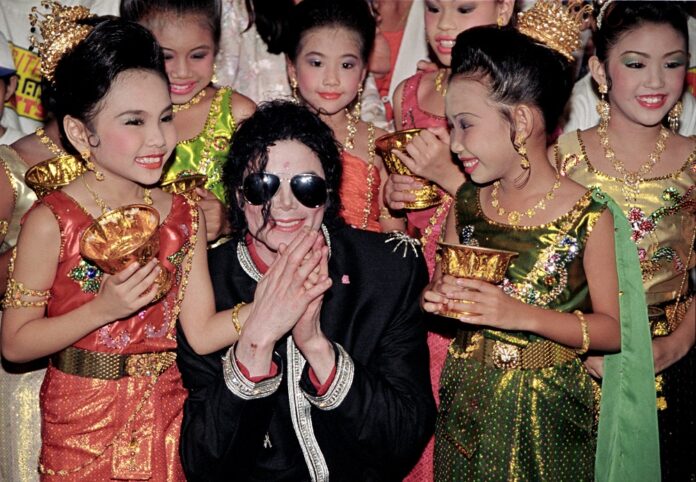 BANGKOK — Wirintip Siriratanaanan remained in her seat for all of three songs. After that, with the world's biggest superstar on stage, the high school sophomore leaped from of her seat when the funky bass line of "Smooth Criminal" began and ran to the stage.
The year was 1996, and today is exactly 20 years since Michael Jackson's History World Tour brought him to Impact Muang Thong Thani. It was to be the last time he would perform in Thailand, and an army of thousands flocked to see the King of Pop perform. His visit was on the front page of every newspaper and overwhelmed most television channels.
Wirintip, who had been to his previous Bangkok show in 1993, stalked the 38-year-old singer, upon his arrival a few days prior to the Nov. 5 concert.
When Michael went to the Centara Grand at Central Plaza Ladprao, Wirintip was there. When he showed up at Tower Records in Siam Square, Wirintip was waiting. It was finally at a school for blind children that she got close enough to get his signature.
Three years earlier when she was 12, Wirintip watched Oprah Winfrey interview a man in a red shirt, black slacks and green arm band in an incredibly enormous house. She didn't even know his name, or that this was his first interview in 14 years as he sought to fight allegations of pedophilia.
It was his this enormous playground-home called Neverland that gripped her attention.
"I love his house. I love the Neverland," Wirintip, now a 35-year-old auditor, said in interview. "I was like, 'Your house has an amusement park. It's so cool. I want an amusement park like this at my house too.' Since then, I became interested in what the man did."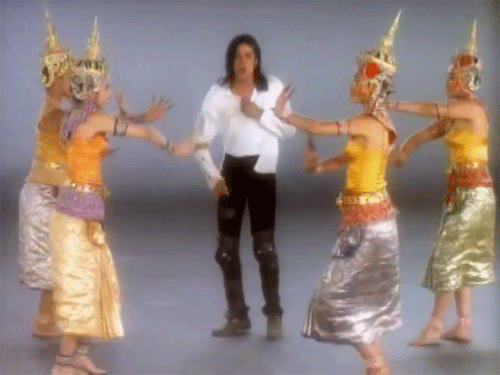 Today, 20 years later after the concert and seven after his death, Jackson's Thai fans endure. There are active groups and online communities such as Michael Jackson Club Thailand and Fan Pan Tae Michael Jackson (Hard-Core Fans of Michael Jackson) in which passionate members share rare pictures, video clips and lyrics translated into Thai. Two years ago group members gathered to perform their own tribute music video "Love Never Felt So Good."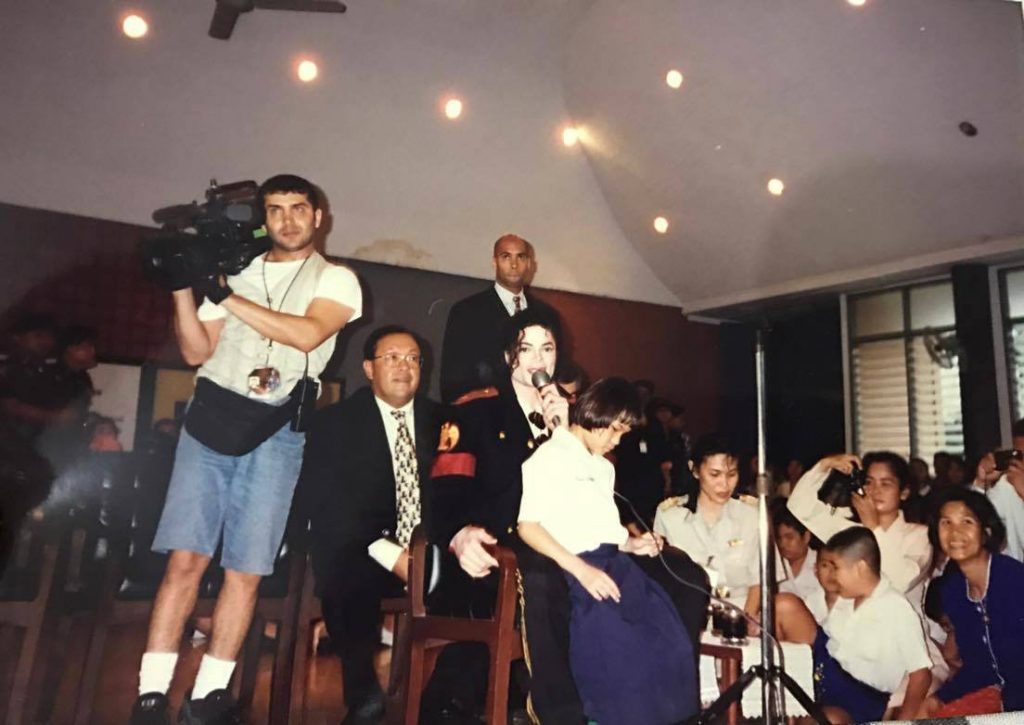 Wirintip said it was Jackson's music that motivated her to become fluent in English.
"I listened to his songs and interviews over 100 times. I lost count," she said. "I thought if only I could meet him one day, I would be able to talk to him. But when I actually met him, I cried."
Like Wirintip, Pruwakit Ratchanondeacha went to both Michael Jackson's performances in Thailand. Although the second was "less exciting," Pruwakit was also outside the Centara Grand when Michael checked in.
So desperate for a memento touched by Jackson, he placed a towel on the ground for the car carrying him to drive over and leave a mark.
"He walked very fast. He rarely looked around," Pruwakit recalled of the moment.
A few days later, Pruwakit sat in Impact Arena on a hot sunny day for 10 hours until the scheduled performance at 8pm.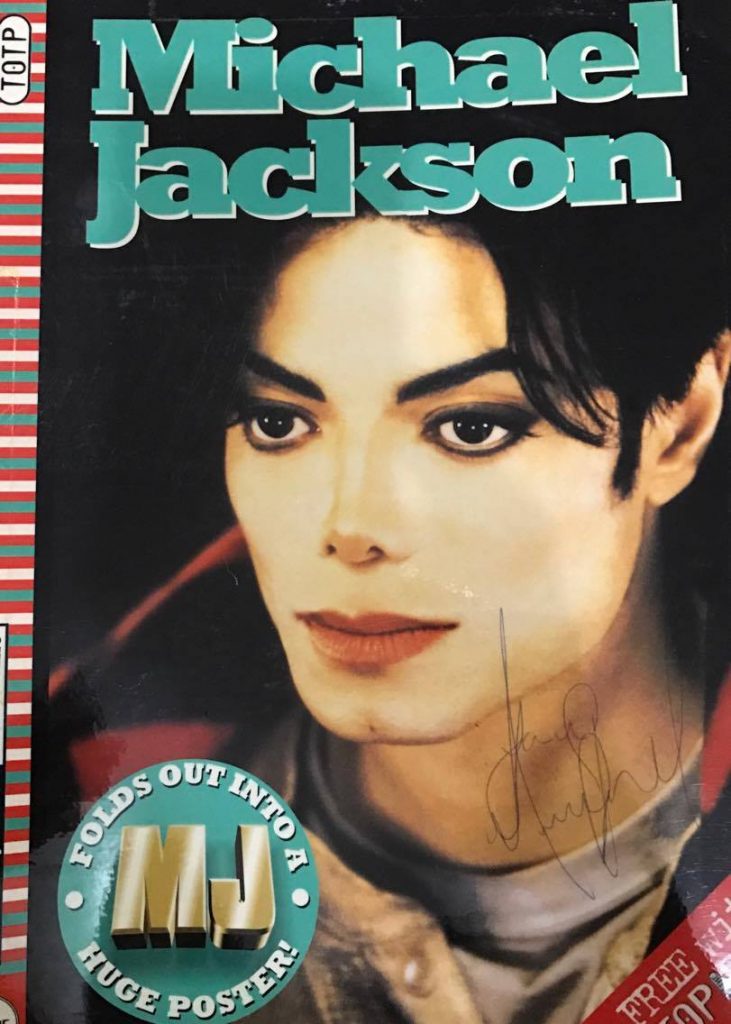 "I never thought he would come back. I thought he would think Thailand was a small country and he wouldn't see any importance in returning," Pruwakit said. "It was the best concert in the world."
Jackson travels to Thailand in the early '90s came after the tabloids had begun calling him "Wacko Jacko" and the first accusations of abusing children were made against him. He had already begun wearing the face mask that would replace the famed glove as his signature accessory.
The 1996 tour had only one date in North America, in Hawaii. The dozens of other dates took him throughout Europe and Asia, where his fandom was uncomplicated and drew out a record crowd of 4.5 million people.
Pruwakit was first introduced to Jackson when he was 13, and his father played "Thriller" to calm his four sons down, jokingly saying "here comes a ghost!"
Now the 39-year-old business owner has a collection of thousands of Michael Jackson objects, from rare vinyl records and vintage Michael Jackson cigarette lighters to a sparkling silver Billie Jean glove.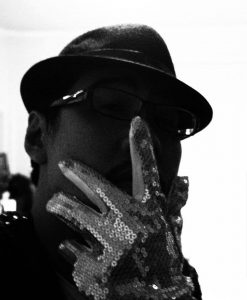 "He paid attention to all the details in his work. Every single work of his is so unique. So delicate," Pruwakit said. "Although he's gone, his lifestyle is still something I look up to these days."
The music legend died of a heart attack brought on by an overdose of painkillers on June 25, 2009, at his mansion in Los Angeles only two weeks before he was to embark on This Is It, what was to be his final series of concerts in London. His death triggered an outpouring of grief around the world including in Thailand, where tribute concerts and events took place throughout the year.