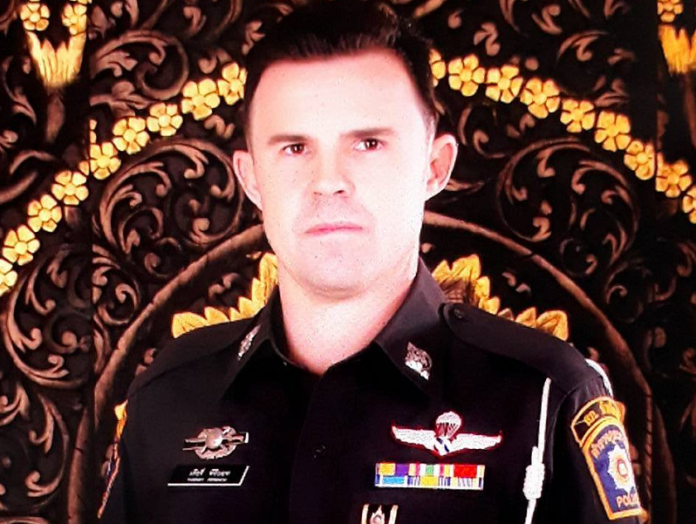 BANGKOK — The Department of Special Investigations, or DSI, said Saturday it would look into a foreigner claiming to be one of its agents who threatened a news editor to remove a story about the recent arrests of Russian and Belorussian social media personalities in Pattaya.
Thierry Perenon, who identified himself as a Frenchman working as a DSI "special agent" in the resort city, emailed the editor of Khaosod English saying he must delete the story about the group, who claimed to have information proving Russian meddling in the 2016 United States presidential election.
"I am special agent of DSI. If you know what is best for you you will delete this case from your website. You would not want DSI after you, [sic]" Perenon wrote. "Take care of your family remove the story."
Video of the arrest shows Perenon was present during the Feb. 25 arrest. The DSI, akin to the United States' FBI, was not involved in the arrest.
After making a series of implied threats, Perenon went on to say the editor could be detained or worse if he refused to remove the news.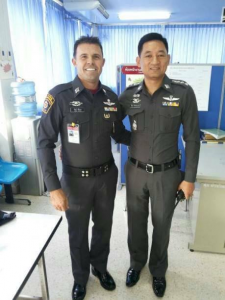 "Family should be very important for you more than a story, [sic]" Perenon wrote. "Remember where you are.. remember the government you are under. 12 days detained… 12 more…."
Perenon, who posted photos of himself in DSI and police uniforms on his social media profile, named deputy DSI chief Korrawat Panprapakorn as his supervisor.
In a phone interview, Korrawat said Perenon misrepresented himself, as he's only part of a "foreigner network program" in Pattaya – a group of volunteers who help send tips about potential crimes or transnational gangs to the DSI – and not a sworn officer. Volunteers have no legal authority, he said.
"The program is to protect people who make an honest living," Korrawat said. "If these people misuse their association with the DSI or conduct themselves in inappropriate way, I do not condone it. They should be exposed."
Khaosod English editor Todd Ruiz declined to comment for this story.
Perenon on Saturday replied to an inquiry to double down on his claims of working for the DSI and threatened legal action for reporting his statements.
Алекс Лесли и Настя Рыбка арестован в Таиланде за секс-тренинг. https://t.co/nUJc3JcFku

Депортируют ли их в Россию и по какой статье им сфабрикуют уголовное дело? pic.twitter.com/W8LnvsA2EX

— Грани.Ру (@GraniTweet) February 26, 2018
"So yes I have all the evidence in this case police reports, photos, Only police officers have police reports which you see by my facebook I am one. And you see I was there to arrest with Special Branch, [sic]" Perenon said.
Perenon said he was carrying a gun at the time of the arrest and made an implied threat against a reporter.
"You can see the 11mm under my shirt," he wrote. "[M]aybe one day you can see it for real."
Asked why he wanted the articles removed, he said "your news is fake."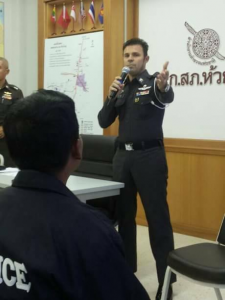 Perenon further wrote that "English reporters can have bad problems" in the country.
"So I have nothing else to say to except keep your family safe. Thai Police, Army, Russia FSB," he wrote.
On Wednesday, Khaosod English published an interview with Alex Lesley, a Russian self-styled sex guru who had been arrested alongside his other "instructors" in Pattaya two days earlier.
At the time of their arrest, the guru – whose real name is Aleksandr Kirillov – was working with Belorussian model Anastasiya Vashukievich. Known on Instagram as Nastya Rybka, her affair with a married Russian oligarch and Putin ally mixed up in the investigation into alleged Russian meddling in US elections has inflamed the Kremlin.
Kirillov told Khaosod English on Tuesday that the detainees would trade valuable evidence about Russian election interference to American authorities if they could help keep them out of Russian hands.
As of Saturday, all 10 were being held at Bangkok's Immigration Detention Center. They are pending a trial on charges of working in Thailand without work permit and face deportation.
After this story was published Saturday, Perenon wrote from the same email address to threaten legal action.
"I am now going to make a police report against you for Slander/libel and computer crimes … You don't see my Porsche and Mercedes? My Police friends?  My movie star friends ? and who are you? Are you a idiot? I will just say you made this email address yourself to slander me and DSI and Santibaan for your fake news. You don't know who I am how I make money and you see my influential friends…" he wrote.
Soon after, a man identifying himself as Perenon contacted Khaosod English by phone on Saturday afternoon to deny sending the messages.
He said he had talked to his DSI contacts and was on his way to the Pattaya police station.
A reporter promised to call the police station at 5:35pm to verify his identity. Police at the station said Perenon was in a long queue to file a report and could not put him on the phone until just after 6pm.
During that time, frequent emails from the same email address stopped arriving after one sent at 5:34pm. When Peregon was asked repeatedly to identify who he spoke to today at DSI, he refused to answer except to say they were "very big."
He consistently used language similar to that of the emailed messages:
"If you look at my Facebook  I'm meeting with DSI, with every big boss in DSI."
He continued, "I never sent nothing mister that is the problem, I never send email I never send a message never [unintelligible]. Nothing."
Asked if he has been impersonated, he said, "There is somebody who is in internet who is very very good in Internet. And make something for me. And make something fake. You understand fake?"
Asked how the impersonator could have attached police evidence and arrest reports to his emails, he said, "You make it yourself."
Within minutes of the call ending, fresh emails began arriving from the same address, apparently also from Perenon, saying "police report at CSD slander/libel computer crimes act criminal and civil."
Update: This story has been updated with additional information.
Related stories:
Russians Offering US Election Secrets For American Protection Moved to Bangkok
Read Letter Offering Evidence of Russian Meddling Just Delivered to US Embassy
Khaosod English Exclusive: Russians in Thai Jail Offer Secrets on Trump Election For US Asylum
Pattaya Cops Crash Sex Class by Russian 'Sex Guru' and 'Oligarch Hunter'