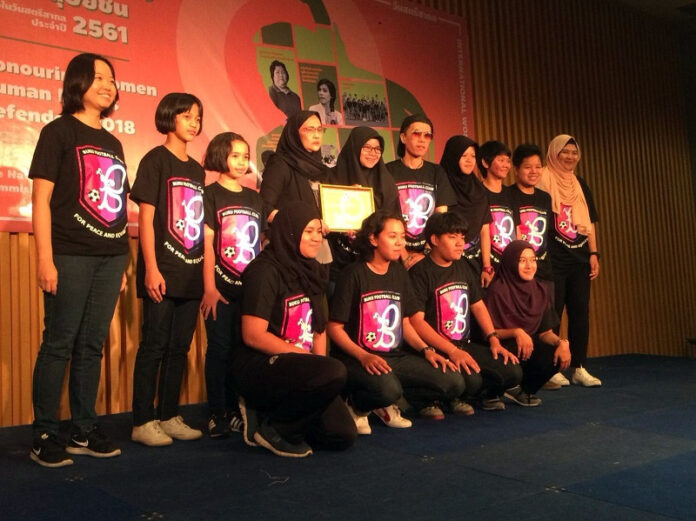 BANGKOK — An environmentalist, activist and journalist were among women and advocacy groups honored for their work championing women today at an awards ceremony.
The awards seek to highlight contributions to women's rights and welfare in Thailand at a time when people around the world are speaking up against sexual harassment, said Angkhana Neelapaijit of the Human Rights Commission.
"Many who suffered do not see themselves as victims who must hide in shame from society any longer," said Angkhana, whose commission handed out the awards. "But a group of people society must embrace and find appropriate measures to address their grievances."
The awards went to Nutchanart Thanthong; an activist working with impoverished women in slums; Supaporn Malailoi, an environment and community rights campaigner; Dararat Suthet, who heads a shelter home for trafficked children; and reporter Hathairat Phaholtap, who took a stand to expose attempts by the national media guild to cover up allegations of sexual harassment among its ranks.
The two activist groups named in the prize were the Empower Foundation, a charity that champions the welfare of sex workers – a sizable group whose occupation remains illegal – and Buku FC, a football club that promotes peace and equality in the Muslim-majority southern border provinces.
Women's rights are enshrined by the current constitution and a 2015 bill that guarantees equal treatment despite gender, but activists say discrimination against and mistreatment of women are still prevalent.
Angkhana also noted that while civil rights continue to be disregarded in general under the military government, female rights defenders face more backlashes than their male counterparts.
Many women who stood up for their rights became frequent targets of harassment, intimidation and ridicule because of their gender, she said.
"Female rights defenders are seen as challenges to social order," Angkhana said. "Many times, their gender was used to devalue their works and their credibility."
She said her agency received at least 20 complaints of rights violations at the hand of security officers in past two years alone; none was ever punished by the law.
Today's award ceremony was held at the Bangkok Art and Culture Centre on the eve of International Women's Day.
It's the first of two events being held in Thailand to mark the occasion. The Foreign Correspondents' Club of Thailand will also host a panel discussion on sexual harassment and efforts to speak up about the issue in the wake of the #MeToo movement in the West.