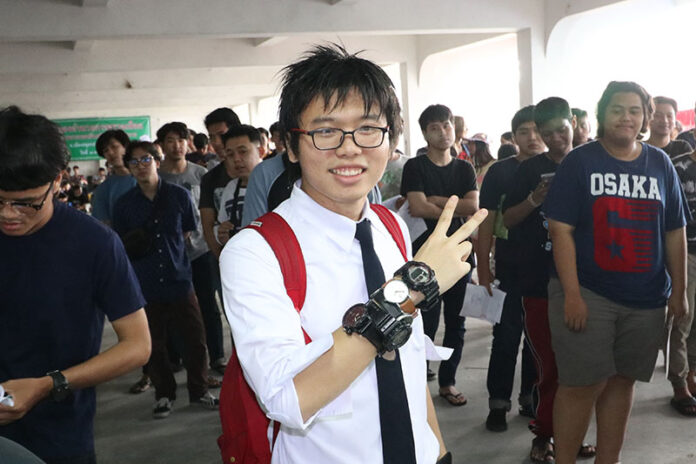 SAMUT PRAKAN — A student activist leader called for an end to military conscription Wednesday morning with a theatrical flourish.
Chulalongkorn University sophomore Netiwit Chotiphatphaisal showed up to at a temple conscription center to ask for a draft deferment because he opposes it. While there, the 21-year-old contrarian rolled up his sleeve to reveal it was covered in wrist watches, a swipe at the luxury watch scandal that has put a top junta leader under a cloud since late last year.
"We need to cancel mandatory conscription and change it to voluntary conscription. In wearing these watches today, I want to ask who these conscripted soldiers are serving. Is it someone who wears a lot of watches?" he said. "I feel sorry for the Thai youth who are being forced to do this."
"I borrowed 14 watches from my friends today. They're all still alive," he said, referring to Gen. Prawit Wongsuwan's attempt to dismiss the matter by saying he never declared tens of millions of baht worth of luxury watches because they were all borrowed from a friend who is now dead.
Seeking to defer his own name from being entered into the annual draft lottery, Netiwit said it was time to end the 64-year-old practice.
Read: Thorn in the Pillar: Freshman Makes Enemies Upsetting Tradition. Allies Too.
"Conscription is a thing of bygone eras. It uses people like slaves to cut grass, train and follow rules until you can lose your life," the student activist said.
He maintained that people could "show their patriotism in different ways."
Annual draft lotteries began nationwide Sunday and ends April 12.
Netiwit said a survey done of potential recruits and their families found over 85 percent of 169 respondents agreed military service should be voluntary. He said 92 percent agreed that the army should guarantee it will protect the human rights of its recruits.
Army recruits are often subjected to physical abuse and deaths are not uncommon, such as the suspicious death of 19-year-old cadet Pakapong Tanyakan last year.
As a high school student, Netiwit became a high-profile reformer demanding reforms of outmoded traditions such as mandatory haircuts. At Chulalongkorn, the nation's oldest university, he created a furor in August by walking out of a freshman ritual in which incoming students prostrate before statues of former kings.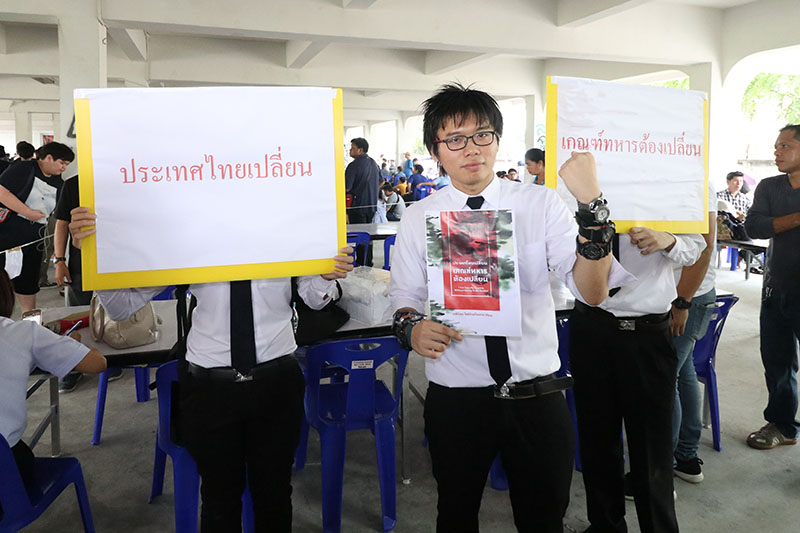 Related stories:
Nobel Laureates Petition Chula Over Headlock Incident
Initiation Walkout Costs Netiwit Student Presidency
Chula Professors Tackle Student Trying to Leave Initiation (Video)
This Draft Day, Thai Media Asked Not to Ridicule Trans Women
Junta Critics Say They Will Defer Army Draft
Thorn in the Pillar: Freshman Makes Enemies Upsetting Tradition. Allies Too.