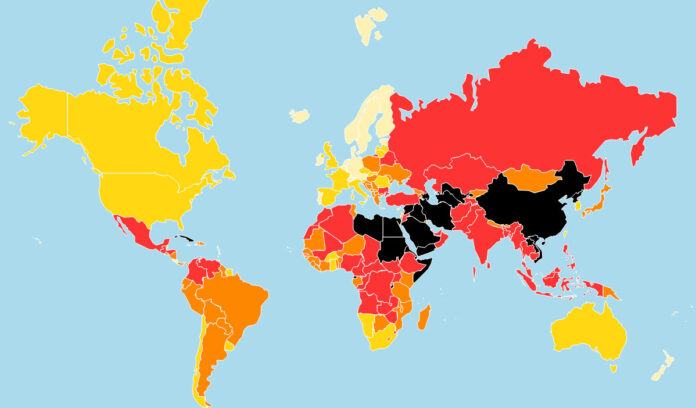 BANGKOK — Thailand this year rose two spots from last year on the press freedom index, according to a Wednesday report.
Improving on their previous mark of 142, Thailand ranked 140th place out of 180 countries, according to the Reporters without Borders' 2018 World Press Freedom Index, or RSF, published on Wednesday.
Like last year, the RSF authors cited the ruling junta's surveillance as the main reason behind the low ranking.
"Any criticism of the junta is liable to lead to violent reprisals made possible by draconian legislation and a justice system that follows orders," RSF wrote on the site. "The already feared Computer-Related Crime Act was reinforced in 2016, giving the authorities even more surveillance and censorship powers. King Rama X's succession to the throne has not curtailed the use of lèse-majesté charges – which are punishable by 15 years in prison – as a weapon of mass deterrence against journalists and bloggers."
Thai Journalists Association, or TJA, spokesperson Pratyachai Datthuyawat said although the ranking is a "good sign" and the overall situation in the past year has been "more relaxed," he thinks the junta should abolish some orders under the 2014 interim constitution's Section 44 that closely monitor and restrict media freedom.
"They should abolish them since we're stepping closer to an election," Pratyachai said by phone Wednesday afternoon. "They should allow people to freely get more news and information possible."
Asked to comment on Wednesday, Lt. Gen. Sansern Kaewkamnerd initially refused to speak. However, when pressed by a reporter, the government spokesman said he didn't think the country's press freedom has been suppressed.
"I don't know. I don't know how to measure [the press freedom]" Sansern said by phone. "I don't think the press freedom has been worse. It's been fine."
Last year, Thailand fell in the world index by dropping six places from 136th place in 2016.
According to the report, out of 180 countries, Norway remains No. 1 while North Korea is still at the bottom. Thailand's neighboring countries such as Myanmar, Malaysia, Philippines and Cambodia have fallen further in the ranking compared to last year.
Related stories: