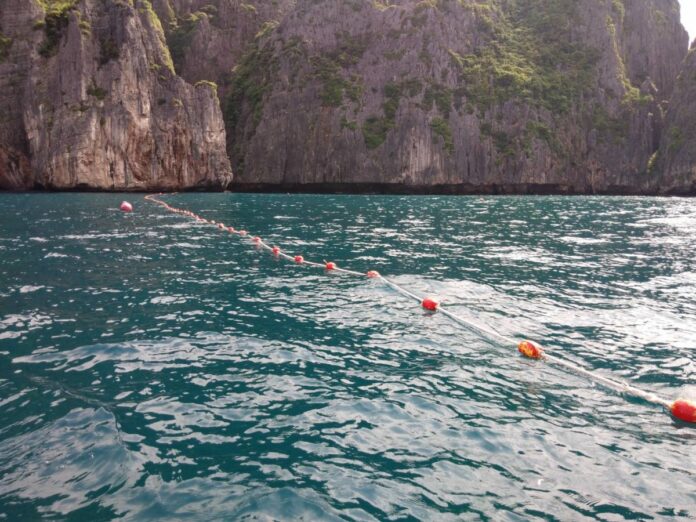 KRABI — The process of closing off the famous Maya Beach from tourists began Friday in order to let its much-trampled rejuvenate ecologically.
The decision to close it, now through the end of September, came as its coral was reportedly in critical condition. One of the most famous beaches in Thailand and beyond – especially after providing the setting for a 2000 film starring Leonardo DiCaprio – Maya seen an uninterrupted flow of thousands of tourists daily.
Concerns of their impact on the beach, which is located in Krabi province, and damage incurred to its coral, led to the authorities to temporary declare it off limits to tourists for the first time ever.
Tourists can still admire the beach from a distance as boats will be allowed to anchor outside a line of buoys however.
According to Vorapot Lomlim, chief of Hat Noppharat Tara and Phi Phi Marine National Park, which the beach is part of, only researchers from the Natural Parks Department and those responsible for reviving coral and plants around the beach will be allowed on the beach during the period.
The department, with a budget of 100 million baht, is working on building a jetty in front of Loh Sama Bay that will allow for a back entrance to the beach with less human impact onto the popular beach. The jetty, including an e-ticket booth, is expected to be completed by the end of September in order to accommodate tourists after the shutdown period.