Bangkok teems with expats. Japanese manage factories. Americans teach English. French demand human rights at NGOs. Spaniards toss paella at Thonglor restaurants while Burmese labor and Ukrainians model.
More difficult to know in this city of immigrants are those tiny communities measured in the dozens. For a people with a reputation as nomads, there are only 42 Mongolians officially registered as expats here. Most are students or diplomats with a specialist or two in the mix.
They may represent the vanguard of an advancing horde from the Land of the Eternal Blue Sky, however, as travel links open up and direct flights connect the two capitals later this year.
Three Mongolians interviewed here are tied by the same homeland and their migration from the steppes to tropical Bangkok – where their famous history and culture have gained some local Mongolphiles.
The Mongolian Model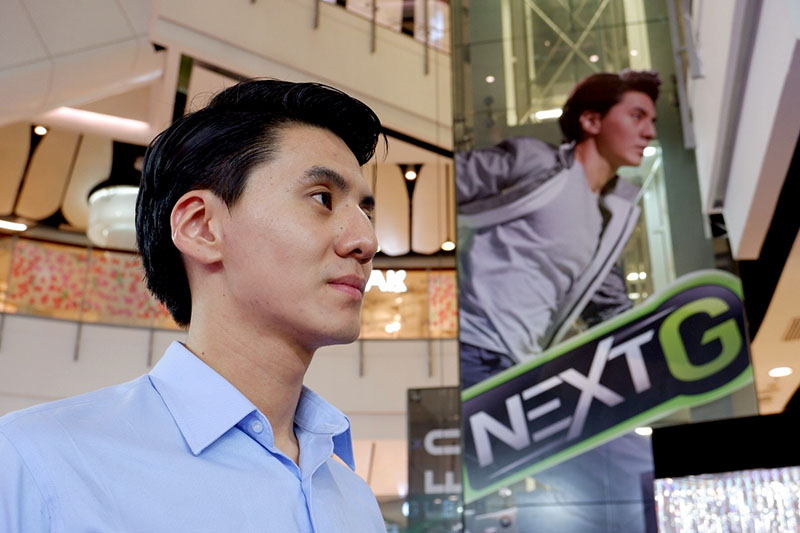 Bilguitei Buyankhishig's eyes blaze atop a body over two stories high. Plastered onto a CentralWorld elevator shaft, his prominent nose and square jaw convey the perfect level of tech-savviness to promote fast mobile internet service.
Buyankhishing first came to Thailand from Ulaanbaatar in 2009 as a computer graphics and multimedia student enrolled at Bangkok University. He started modeling after being prompted by everyone he knew, from friends and a swim coach to bus ticketers.
"I like that Thai people are so kind. I was here alone, but everyone was willing to help me out. At casting, people say I look like a Thai supta," he said, using the Thai slang version of superstar.
Today, the 27-year-old model is possibly the most visible Mongolian in Thailand. He's been the lead in commercials for AIS, True, Bank of Ayutthaya, Yamaha and KT Optic where he's usually typecast as a businessman or young urban technophile.
Still, he's another kind of model for his country.
"When people meet me, it's the first time many people have met a Mongolian. I always get the question, 'Can you ride a horse?'" he said.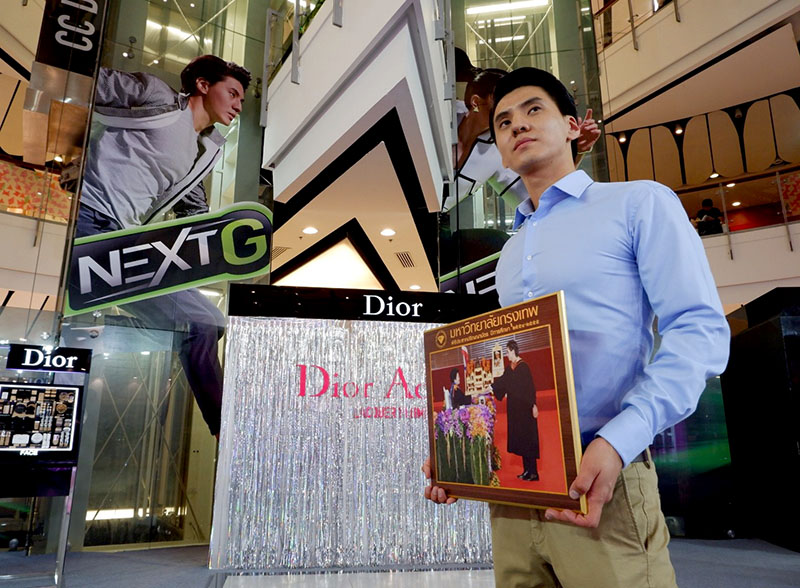 Still, if there's one thing Buyankhishing misses from home, it's slurping tsuivan stew and chewing borts dried meat. Due to the low number of Mongolian expats, Buyankhishing says there's no community and definitely no Mongolian restaurants in Bangkok.
Over the years, he admits to disappointing Thai friends enthusiastic about his country's history and expecting a wild marauder.
"I had a best Thai friend who loved history. And since the history of my country is so great, he couldn't take it that I can't ride a horse or shoot arrows or do what you think Mongolians can do," he said, laughing. "I'm modern and from the city. But the friend took me to Ramkhamhaeng and forced me to do archery."
Buyankhishing said the street food sold on the steaming Bangkok sidewalks and the chill strolling of people was most different to him from his native home at Ulaanbaatar.
"The coldest capital in the world is not in Canada or Russia, but in Mongolia. It's minus 30 degrees in the winter. You cannot sell food outside, and air pollution is bad from people burning coal to stay warm," said the man who stands 186 centimeters tall.
Man on a Mission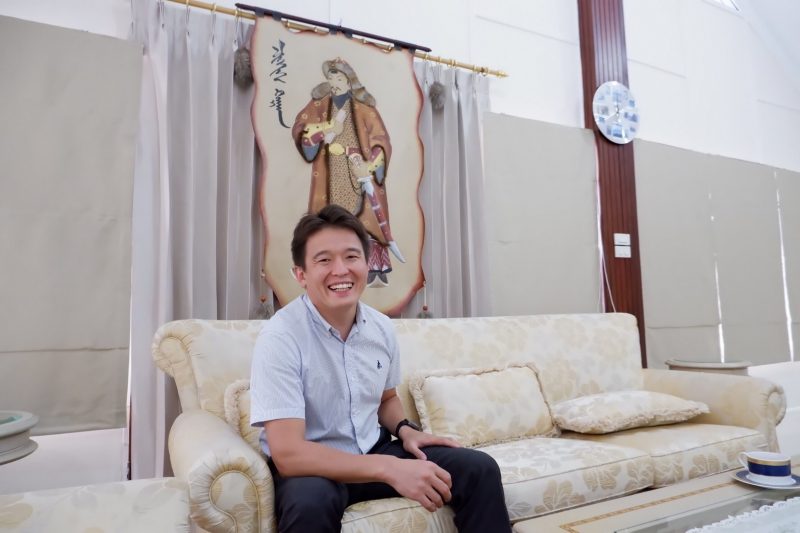 Of the dozens of Mongolians living in Bangkok, some are part of that nation's diplomatic mission, such as the Mongolian Embassy's deputy chief of mission. Affable and articulate with light brown eyes, Byambasuren Guntevsuren hopes to attract Thais to his home nation.
"Mongolia needs to learn to promote our tourism like Thailand does. We all know about Amazing Thailand," said the embassy's No. 2, who's been a diplomat for 15 years. "Now more Thais are going to Russia and Siberia because they want to experience coldness. We have that too, but in even more exotic environments."
Unbeknownst to many, Thais and Mongolians can visit each other's countries for 30 days without bothering with a visa. Guntevsuren is pinning his hopes on direct flights that will open in October by MIAT Mongolian Airlines, after a successful five-month pilot saw tourist numbers soar.
Still, the numbers are lopsided. In 2016, 9,000 Mongolians visited Thailand compared to the paltry 500 Thais who visited Mongolia. Between November and March, direct flights brought in about 20,000 Mongolians and 5,400 Thais flew to check out the Mongolian winter. Guntevsuren believes the flight numbers show mutual interest in cultures which may be more similar than immediately apparent.
"We share the same religion, Buddhism. This is a strong cultural foundation. In Mongolia there's even the Dhammakaya temple, who are spreading their teachings about meditation," said the youthful 39-year-old.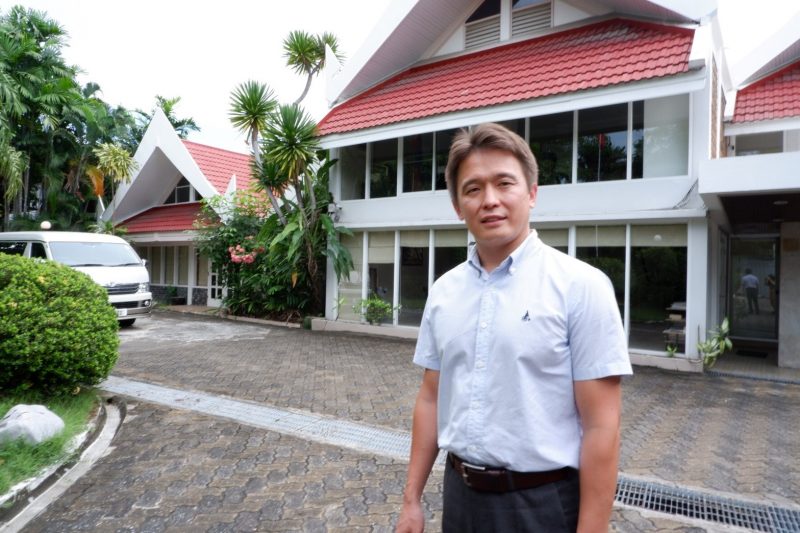 Guntevsuren referenced recent high-profile visits between Thais and Mongolians. In 2016, Gen. Prayuth Chan-ocha met then-President Elbegdorj Tsakhiagiin in Ulaanbaatar for the 11th Asem Summit. On 27 July, Ulaanbaatar Gov. Sundui Batbold flew to meet Bangkok Gov. Aswin Kwanmuang and signed an agreement to establish the two capitals as sister cities and to hold mutual cultural events.
"I cannot throat sing," Guntevsuren, who's held posts in Mongolia, Japan and Russia said, "But before the end of this year, we hope to bring someone who can at the Mongolian Cultural Event in Bangkok."
Mongolia and Thailand will celebrate 45 years of diplomatic relations next year. Trade between the two is small and largely consists of Thai exports of white paper and sugar.
"I like traveling, that's why I do this job," Guntevsuren said, smiling as happy wrinkles appeared around his eyes. "Nomads move, but it's different than moving to a different country. I miss the coldness sometimes and the dramatic changing seasons."
The Freelance Shooter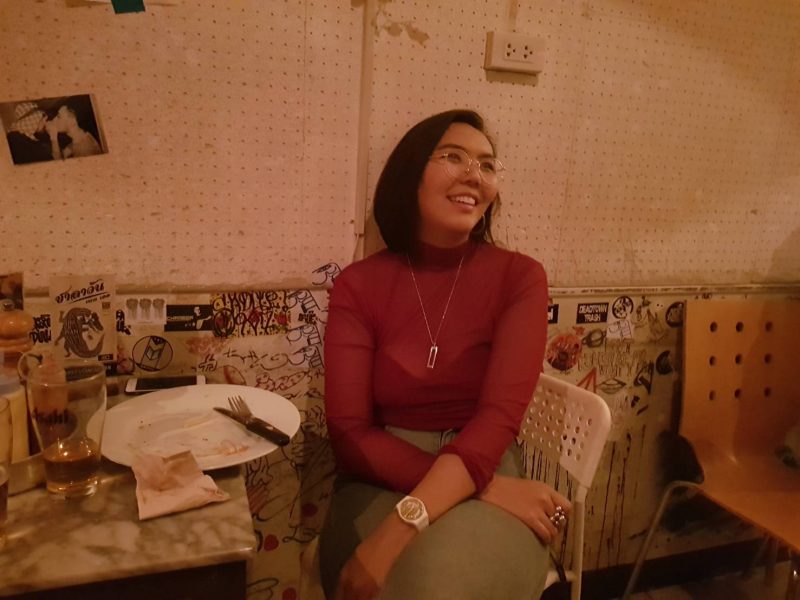 A tall woman walks into a little bar beside a highway onramp to join an indie cinephile club. This week they're screening a documentary on Mongolian camel herders – and she exudes excitement.
Dolgorsuren "Suniko" Bazargarid is a visual artist by trade. Now she's found her temporary abode in Bangkok as a freelance photographer. Ambitious, idealistic and optimistic, she has little clue about her future and for now enjoys shooting food and beverages and portraits in Bangkok.
"I'm very adaptable in general, if you tell me to move to Vietnam tomorrow, I'll be there," Bazargarid said in a thick Boston accent acquired from teen years spent there. She later dropped out of university and headed to Singapore to study design.
When she graduated, her instinct to move flared anew.
"I think it's the thing, like; I'm a nomad, like that's what I am, like literally in my blood. It's from generations," Bazargarid said, expressively. "I definitely didn't want to go back to Mongolia […] there's nothing really for me there [yet.]"
A friend offered her a room in Thailand and – loathing joblessness in Singapore or unhappiness at home – she chose novelty in Bangkok.
"I love it, I'm so glad I made this decision," Bazargarid said, explaining her fast transition into adulthood after her mother gave her 45 days to find a job or return to Ulaanbaatar. She said it's cold and polluted, but recalled it fondly as "The Story of the Weeping Camel" played out on the projector at Jam on lower Sathon Road.
Though she hates the term, she admits to being a "digital nomad," again connecting her to Mongolia.
Bazargarid hasn't met Mongolians in Thailand since she's alone and doesn't know how to find them – but said she's okay so far.
I think it's the thing, like; I'm a nomad, like that's what I am, like literally in my blood
"I just really miss the food […] If you offered me mare's milk right now I'd be like 'Yes! Bless your heart!'" she said, adding that she also longs for khuushuur, a deep-fried flat dumpling filled with meat eaten during the Nadaam national holiday, a three-day wrestling and archery festival.
The documentary, a touching tale of nomads reconciling an estranged camel family through ritual, ends. Visibly emotional, Bazargarid wipes away tears.
"I haven't been back in a while, so any little trigger makes me think back," she said. "These are my roots."
Thai Mongolphiles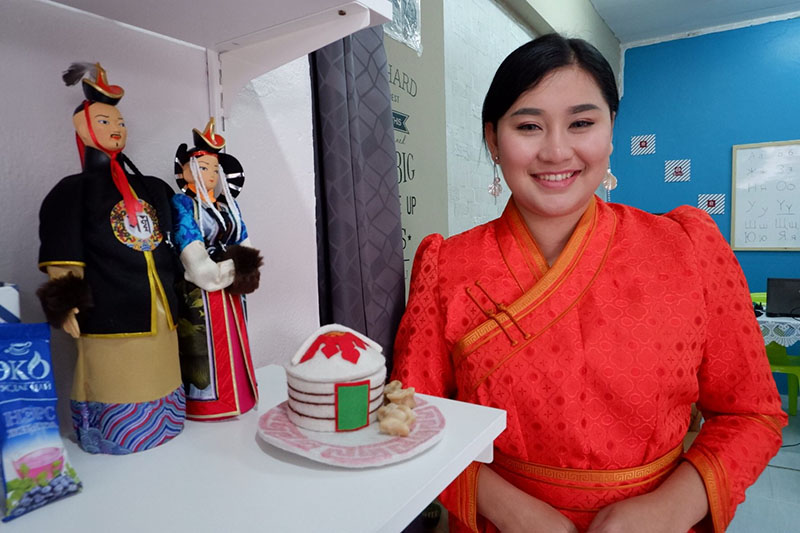 On the ground floor of an apartment building in Soi Lat Phrao 122 is a slice of Mongolia, if just a few meters wide.
Inside, Thailand's self-proclaimed friendship ambassador to Mongolia works in a room decorated with horse figures, toy yurts and portraits of Genghis Khan, occasionally shuttling Mongolians to the airport at her expense and allowing some to crash in her office.
"I'm Thai, but my heart is Mongolian," Nutchotikan "Kate" Patthankin, 24, said. She's wearing a deel, a type of traditional dress. She also goes by the name Aruinaa, given to her by a Mongolian lama.
"Some Thais look at me weird and ask why I'm not promoting my own country," she said. "But I say, Thais obsessed with Korean or Japanese culture aren't berated, why should I be?"
Kate's team of volunteers are also creating the first Thai-Mongolian phrasebook for travelers, which has already received 1,700 preorders. They also manage several Mongolphile Facebook pages: Mongol Story, which focuses on promoting Mongolian culture and Thai to Mongol, which promotes travel. According to surveys Kate ran on Mongol Story, most Thai fans say they were drawn to the landlocked nation's medieval history.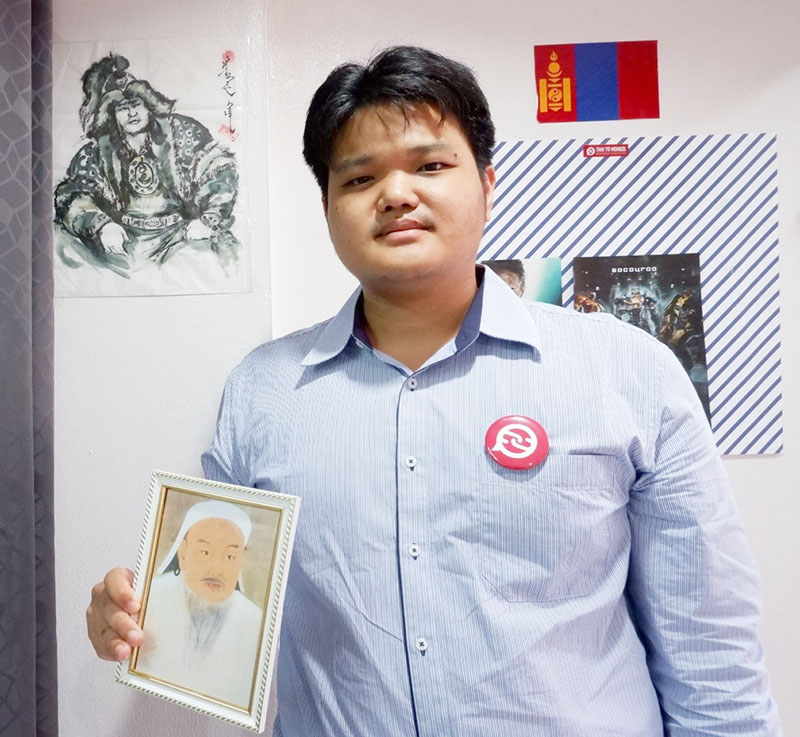 "A lot of Thais interested in Mongolian are guys who are impressed by Genghis Khan's conqueror prowess. I always thought he was smart and strong because he conquered half the world," Kate said. "Some people think Mongolia is still part of the Soviet Union, so they're too afraid to go travel there. Others confuse it with Inner Mongolia in China, and assume people there speak Chinese."
Still, Kate hopes that different, more modern aspects of Mongolian culture will also be interesting to more people – especially other women.
"I want more Thai women to be interested in different aspects of Mongolia. Their fashion is at the level of Korea. Their accessories of pearls and leather are really beautiful, too."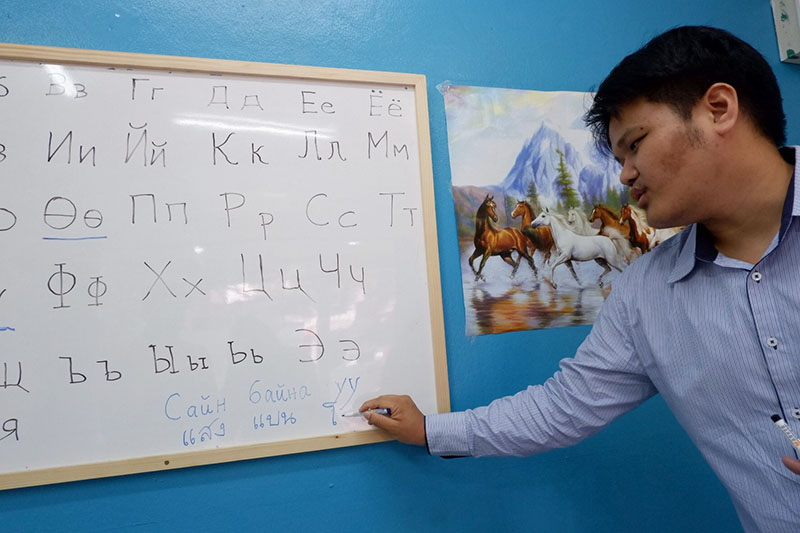 Additional reporting Lobsang Dundup Sherpa Subirana
Related stories:
From Bangkok With Love: Russian Startups Digitize Thai E-Commerce