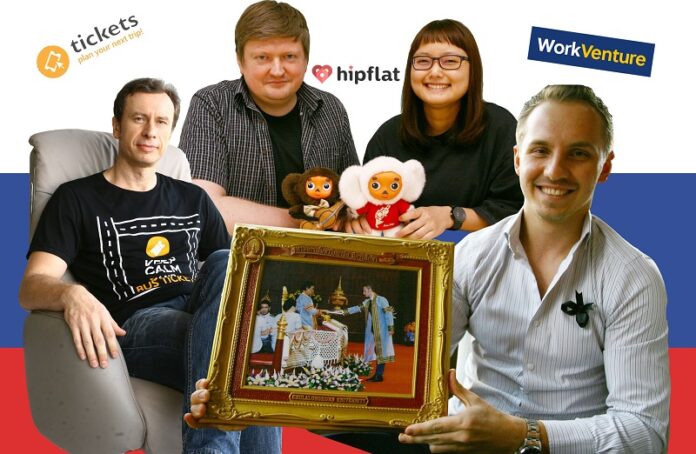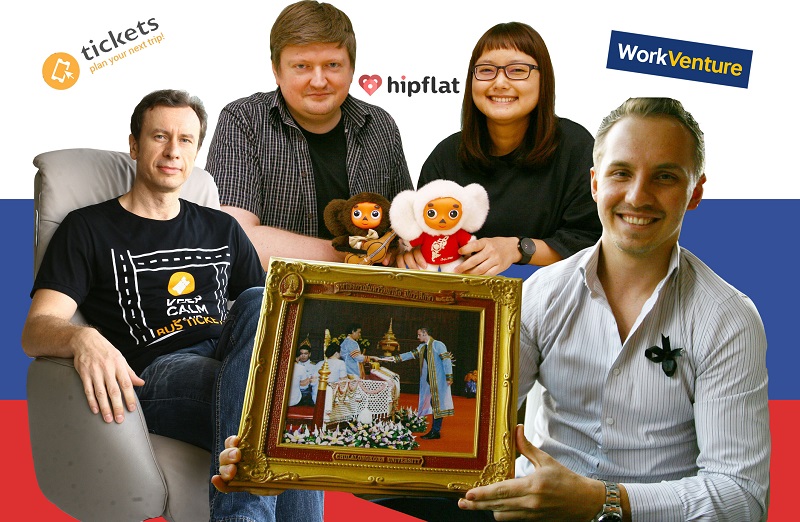 BANGKOK — They know the stereotypes all too well. The Russian jet ski scammer on Phuket, the mafiya foot soldiers in Pattaya or vodka-marinated voin just about anywhere.
The cliches are even worse in Thai-language media, where coverage is rife with loutish behavior and presumptions of criminality. "With Russians, if it's not fun-drunk, it's angry-drunk," a police officer recently offered of a Russian woman caught abusing vehicles with a piece of masonry.
But open up the outer matryoshka doll of cliches and find inside Russian expats, particularly among our comrades in the capital, who are online innovators behind startups that have become household names to Thais.
We sat down to learn the surprising stories of three Russian entrepreneurs behind these companies: a suave Chula graduate, a soulful family man and tech-savvy adventurer – who defy the stereotypes to bring the striving Russian soul to the heart of Bangkok through hard work.
Alexander Kerbo – WorkVenture (Formerly JobNisit.com)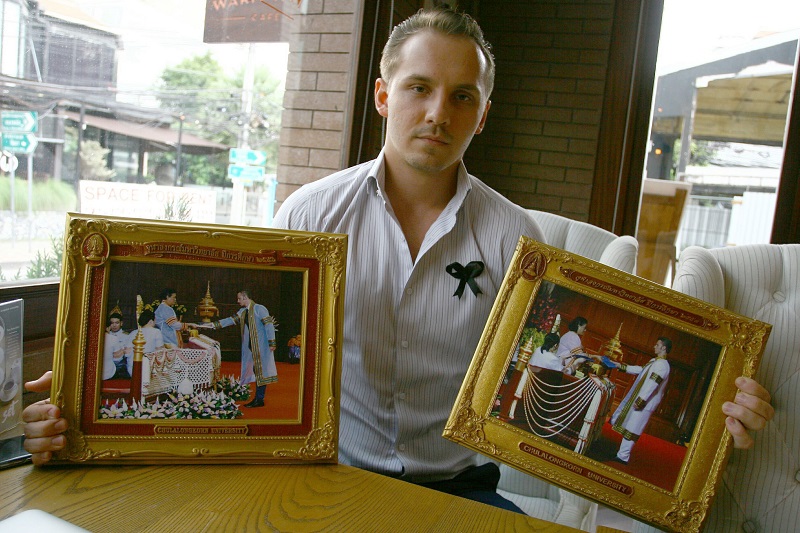 Hazel-eyed and 27, Alexander Kerbo cuts a charming figure at a cozy cafe in Thonglor. Kerbo, Moscow-born, Phuket-schooled and Chula-educated, founded the popular job-matching website JobNisit, now known as WorkVenture.
"The perception is certainly skewed, isn't it?" he said without accent of the representations of rowdy Russians in Thai news. "I get a lot of friendly jokes from my Thai friends. I have to try to explain to them that there is, in any nation, including the biggest country on Earth, there's a staggering range of people. And if you look for bad news, you will find it."
He lugs out two gilded frames of him receiving his bachelor's and master's degrees in economics from Princess Sirindhorn – double relics prized among Thais that few can attain.
"Going to Chula helped to understand Thai culture from the core," he said.
It also taught him the needs of fresh graduates, particularly after an unsuccessful trip to a 2014 career fair.
"There was a clear information and presence gap. You can't just find a job by going to an event with a pretty with a bunch of balloons shouting into a microphone," Kerbo said.
Indeed, there is little meaningful career counseling at universities, and many students end up using their parents or upperclassmen for connections to find their first job.
Soon thereafter, with a couple of his classmates from Chulalongkorn University, Kerbo founded JobNisit, which uses qualification-based algorithms to match users with job offers.
"When applying for a job, I want bundits [graduates] and nisits [undergrads] to talk to the companies, understand company culture and make informed career decisions," Kerbo said.
Denis (and Mayuree) Nemtsev – Hipflat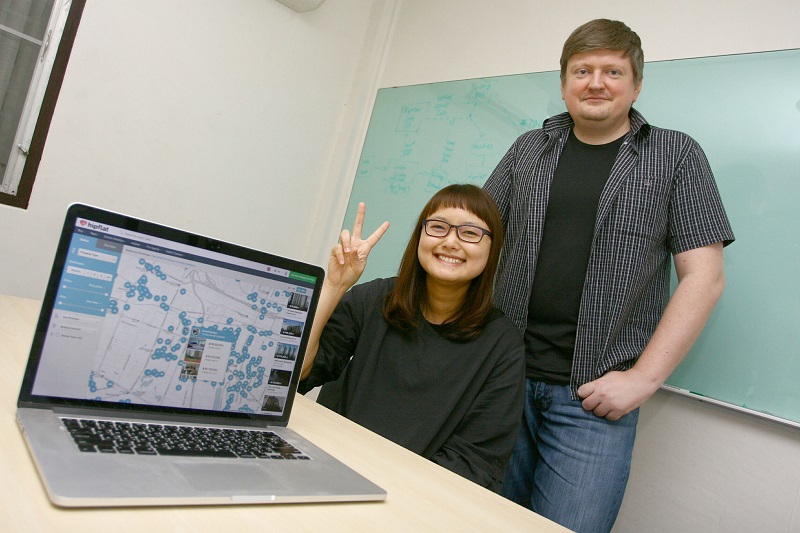 Twelve years ago, Muscovite businessman Denis Grigorevich Nemtsev decided to see the world – and ended up working in real estate in Thailand.
Like Kerbo, Nemtsev found an underserved market.
"I saw that there was no one place, one website that would list all properties. There was also no way to see if the price of the property was a good or bad one, or see the history of the price listings," he said. So in 2013, he launched Hipflat.com.
Hipflat claims to list all buyable and rentable properties in Thailand, and shows its sales history and pricing relative to the area. The inspiration, Nemtsev said, came from the falling value of a condo he purchased. "If I had known, I wouldn't have bought it."
The pink-cheeked gentle giant married Mayuree Nemtsev, 33, in 2009. They partnered together to make Hipflat, with Mayuree doing all of the translation.
"I thought that I would not date or even marry a foreigner, because I wanted someone who would understand my culture and give the same importance to family that I do," she said. "But Denis turned out to understand Thai culture. Everything turned out amazingly perfect, and I am so lucky to have married him."
Nemtsev seems to love living in Thailand, even if there have been some misunderstandings from others. "I have been asked if I was in the mafia," said the soft-spoken programmer, looking downward. "I just say 'no.'"
Learning Thai work culture, for him, has been a warm surprise. "Here, the boss is a father. Back in Russia, it's purely business," he said with a detectable blush.
Maxim Vasilievich Titov – Tickets.co.th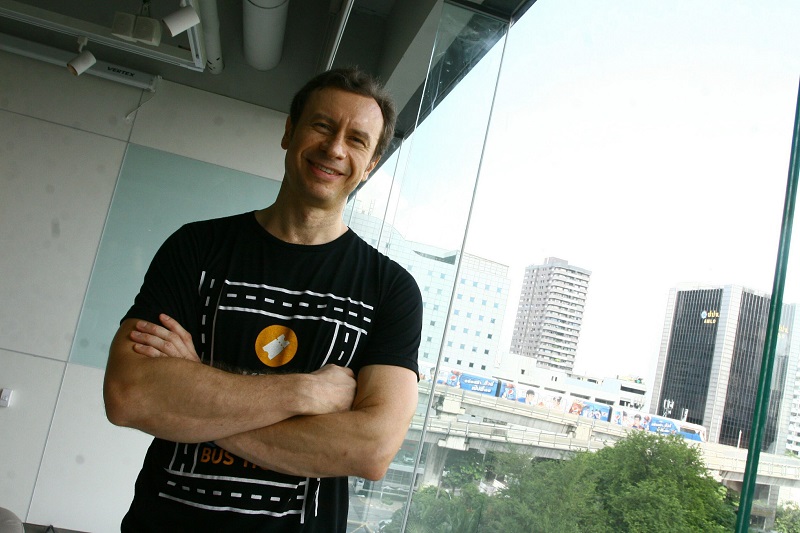 Maxim Titov, a 40-year-old brunette, found another e-commerce gap to fill: bus ticketing. After settling in Bangkok in 2011, Titov adjusted foreign business models to Thailand in order to build Tickets.co.th, a service where users can buy bus tickets online.
"It's like a time machine has been invented. Generally, in Southeast Asia, business models are lagging behind those of overseas, so you can apply businesses that are already in use overseas here," Titov said of how he took models from India to build his service owing to the countries' similar GDP and population behavior.
"Traveling by bus in Southeast Asia won't change. You can't fly to your amphur. What will change is how you buy tickets: online instead of at the ticket station," he said.
As a Russian, he says, Thailand is a sort of paradise, with tropical weather in contrast to his cold motherland. Of the numerous countrymen who come here to vacation, there are bound to be some boisterous ones who should not represent the whole nation.
Like Kerbo and Nemtsev, Titov said he plans to continue developing his business here in Bangkok: "Something keeps me here."