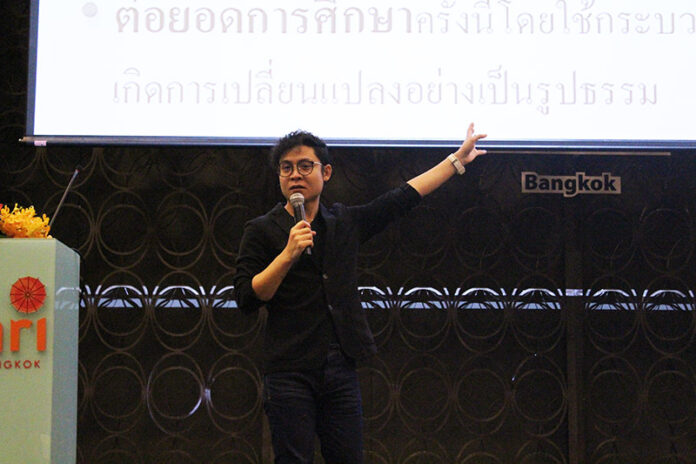 BANGKOK — As an openly gay man, Kangwan Fongkaew experienced a range of abuse as a child; from being called names, to being pushed around and even forced to play football by his teachers and peers because his family wanted him to act more like a "man."
His parents called him "deviant" and took him to hormone therapy, psychologists and even ghost doctors all in an effort to change who he really was at heart.
So when a government official from the Basic Education Commission claimed there were no cases of abuse against LGBT youth at school, it struck Kangwan as untrue.
"The problem exists," Kangwan said. "It's a matter of recognizing that."
His comments came Thursday during a UNDP conference discussing LGBT policy, where he spoke out when an education official painted a much rosier picture of equality. Thira Bhawangkanantha, a government counseling development director with the Basic Education Commission, said there have been no cases of violence or bullying in schools since the office had addressed the issue.
The exchange happened at the Amari Watergate hotel, where NGOs, researchers, and ministry officials gathered for a two-day conference on LGBT issues organized by the UN Development Programme. The consensus among the range of speakers was that there must be a change of heart within Thai society.
Groups of panelists shared research on LGBT rights and discussed ongoing issues of gender and sexual orientation equality.
Kangwan, a communications and humanities lecturer at Burapha University in Chonburi province, has researched LGBT discrimination extensively.
Read: Bullying and Violence Make Schools Unsafe for LGBT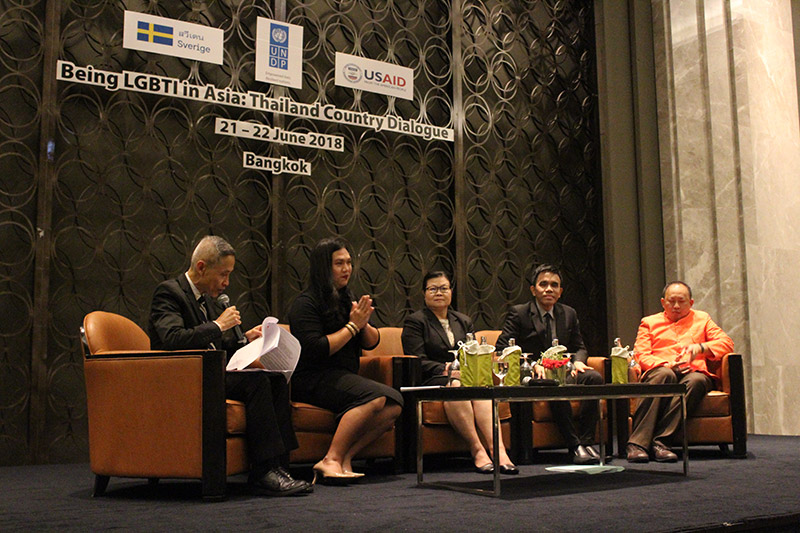 From his own experience researching high schools and universities in the east of Thailand, Kangwan knows that bullying of LGBT youth is pervasive.
Some schools outright deny having any LGBT students, he said. Often, high schools have been reluctant to allow research and interviews because the administration did not want parents to think the school promotes LGBT values.
What he experienced as a child is the driving force behind Kangwan's research studying the risk of HIV in high schools and universities.
"I think about my childhood when I interview these students," he said.
The effects of such bullying and efforts to change someone can be devastating.
Nearly half of all LGBT people – especially LGBT youth – have contemplated suicide, according Prawit Thainiyom of the Love Frankie research agency. Prawit presented research conducted by his research agency Love Frankie along with the UN Development Programme.
H.E. Glyn T. Davies, the U.S. Ambassador to Thailand.#BeingLGBTI #LGBTI #inclusion #genderequality #humanrights #lgbtihumanrights #SOGIE #SOGIESC pic.twitter.com/gXOJc2feuy

— Being LGBTI in Asia (@beinglgbti) June 22, 2018
Kangwan claimed that as a government agency, the Basic Education Commission is too passive in the face of these issues. He said Thira, dismissed the problem of bullying in schools as something that had been solved. Those issues, Kangwan said, need to be fully acknowledged in order for change to occur. This drives his research at Thai schools outside Bangkok.
There are few studies done about violence against LGBT youth in Thailand. One such study from UNESCO, titled From Insult to Inclusion, was the first of its kind and found bullying to be pervasive in schools. The forms of bullying ranged from physical to psychological.
That study found that textbooks are still in circulation in Thai schools describing transexual and gay people as mentally ill despite moves to remove such damaging references.
Even existing measures in schools to prevent bullying do little to help. Stigma plays a large role in social life, making it harder for LGBT students to speak out. More than two-thirds of victims said they didn't report what happened. One in four of that group said it was because the believed nothing would happen if they did.
Though a range of issues and research topics were presented at the panel, a common theme resounded: Thai's should be more active in efforts to implement LGBT friendly policy in local government.