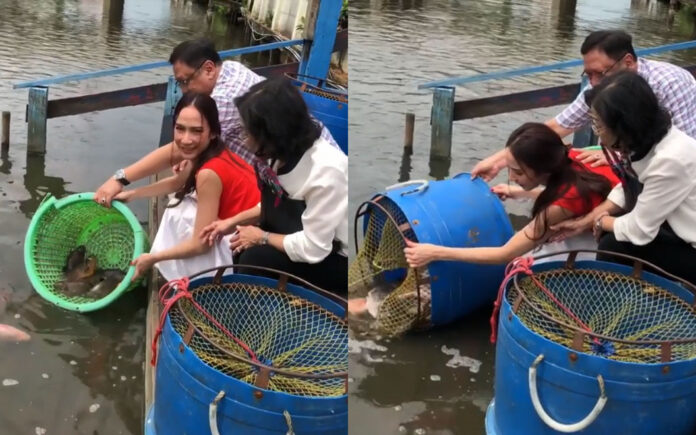 BANGKOK — The most-followed celeb on Thai Instagram defended releasing fish into a Bangkok canal for karma after being called out on the questionable merit of the practice.
Patcharapa "Aum" Chaichue, one of the nation's most famous actresses, was responding to criticism of a video she posted Wednesday in which she released two buckets of fish into a khlong near Wat Rassattadhum in the capital's Khan Na Yao district in a traditional merit-making practice that has been criticized as doing more harm than good.
"Thank you for your suggestion. I bought these fish from the market. If I didn't buy them, they would all die anyway. Some of them were weak, but at least their final breaths were back in nature – better than being killed. That's my opinion," Aum wrote late Wednesday.
The 39-year-old actress said she was replying to a since-deleted message that her good deed was misguided.
"P' ka, I recommend that you should donate food to children and the elderly instead of releasing fish like this. Some of these fish will die because of lack of oxygen," read the original message.
Aum said she released the fish for her father's birthday.
Releasing captive animals – often purchased from vendors who then recapture them – is a common practice outside many temples, as it is believed the act of compassion will improve one's spiritual prospects.
But Thai environmentalists have soundly denounced the practice. Fish are often released into adverse or hostile conditions where they die soon anyway, such as when ocean fish are dumped into freshwater lakes or streams. Other times they are released into systems where they become natural enemies to native species.
Most Thai media as of Thursday tuned out concerns raised about the environmental and social impacts of the practice and instead focused on the courtesy of the popular actress' response.
"Aum's Polite Reply!" read a Post Today headline. "That's Our Mama! Aum Patcharapa Replies to Someone With a Different Opinion Over Fish-Releasing Drama," read Gossipstar. "Merit-Making Actress Aum Releases Fish for Dad's Birthday, But Replies to Drama With Politeness," Spring News wrote.
The video posted Wednesday has since been viewed nearly 700,000 times. Aum can be seen releasing two buckets of fish into a khlong. One was a bucket of climbing perch, or pla mo. Next to her were her parents, another bucket of fish and a plastic bag full of eels.
"Time to go to a safe place," Aum is heard saying in the video.
"Go on, before someone makes fish curry out of you," her mother says.
Aum's Instagram account is followed by more than 9.3 million people. She regularly posts photos of herself making Buddhist merit and shares missing dog posters. The popular actress has been active since the late '90s and is famous for both film and television roles. Her most recent role is in the Channel 7 soap opera "A Lady's Flames."
Related stories:
Many Hurdles for Thailand's Tortured Turtles
Great-Grandson of Last Burmese King Wants Thai Soap Canceled