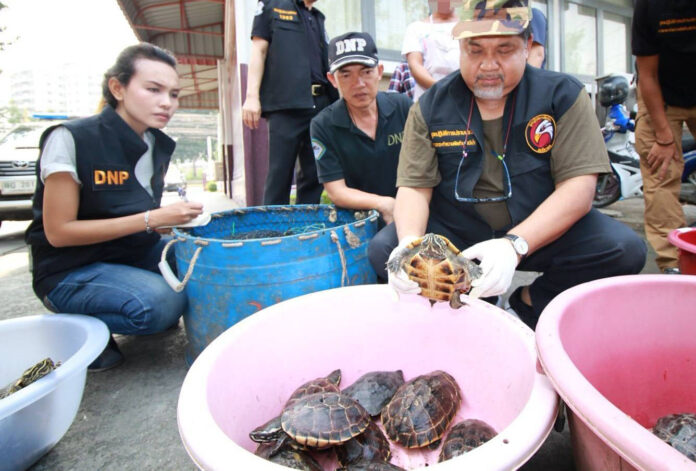 BANGKOK — It's a normal day at one of the only animal hospitals in the capital that can operate on turtles as medics hurry to operate on a snail-eating turtle speared in the gut.
At Chulalongkorn University's animal hospital, they see all manner of harms visited upon the animals. Being a turtle in Thailand isn't easy – you get pancaked by cars, crammed into cramped temple pools, stuffed into smugglers' suitcases and poached by humans as auspicious talismans.
In this past 12 months, environmental crime officers rescued more than 250 shelled lowriders in greater metropolitan Bangkok, and almost 300 turtles with car-cracked shells are rushed to the Chula hospital.
That's where the most famous turtle to come along in years, Piggy Bank, had surgery to remove 915 coins people tossed into her fetid pond in a gripping moment of national empathy last year.
Read: Piggy Bank, Giant Sea Turtle Who Ate Too Many Coins, 25
"We see turtles similar to Piggy Bank every day," Nantarika Chansue, the veterinarian who last year extracted the coins from Piggy Bank's belly, said today on the occasion of World Turtle Day.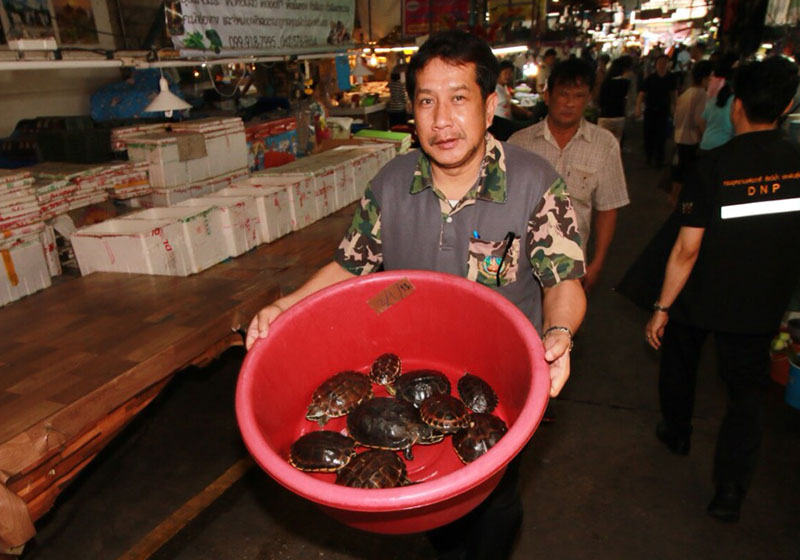 Then she had to excuse herself to go operate on the turtle harpooned in the eye at the Veterinary Medical Aquatic Animals Research Center at the university's Veterinary Science Faculty.
"I'm about to get in the thick of it," she said before hanging up. "Gotta go."
While some turtles brought to the university veterinary center were pets, most others were discovered infected with parasites, hit by cars or suffering from other accidents. A receptionist at the hospital said that during the rainy season, the most turtles are admitted for road injuries.
Cycle of Hell
Other than being run over, turtles in Thailand face worse fates: being illegally poached and sold into horrid conditions.
Navee Changpirom, from the national parks department's Wild Hawk environmental crime task force, rescued about 250 turtles in more than a dozen raids on markets and homes in Bangkok's greater metropolitan area since last May. Locations include Wat Pracharat in Pathum Thani, Salaya Market in Nakhon Pathom and Pak Kret Market in Nonthaburi. Many turtles in markets and wats are sold to people hoping to gain merit by then re-releasing them into the wild.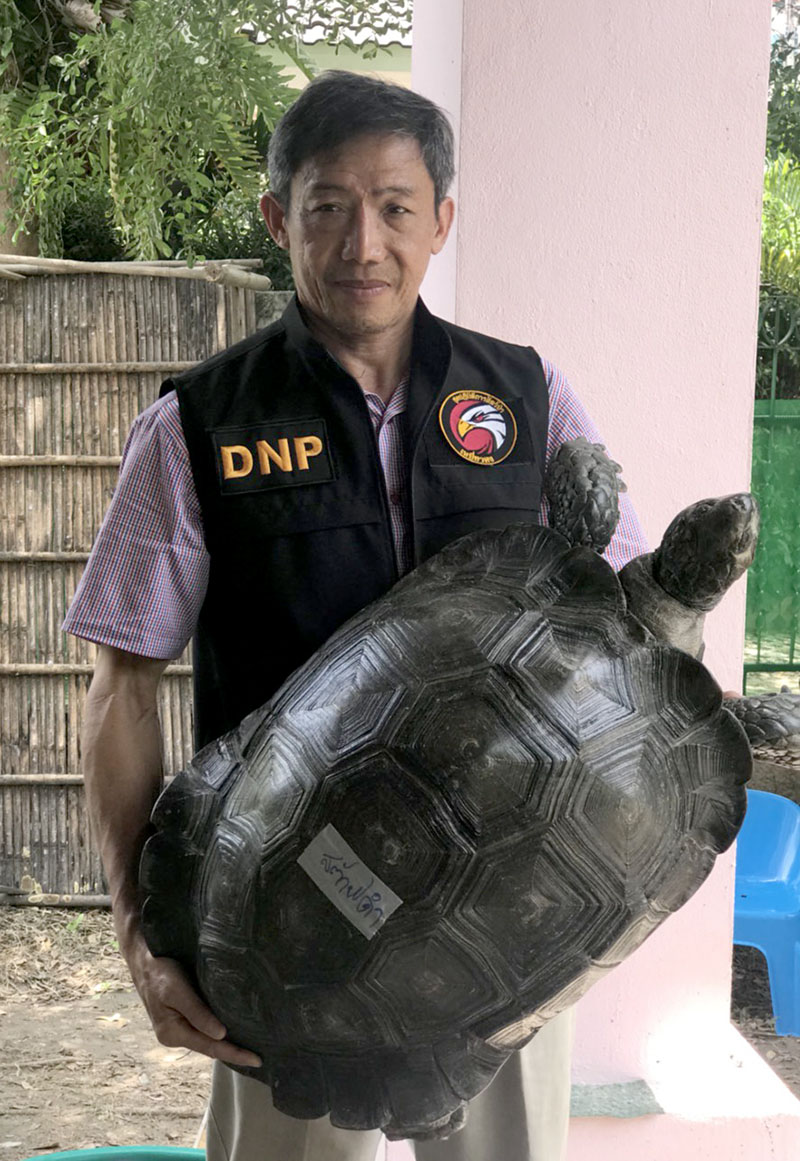 "Rather than get merit, it makes sin. People throw tortoises into water, and they die, especially if they're thrown into deep water. Tortoise hatchlings need land," Navee said. "Many die during transport after they're poached. Turtles would be happier living in nature."
Turtle lover Bongkochrat Klakirtpol, admin of the Facebook page We Love Turtles, said that the industry creates a cycle of hell for the animals.
"Turtles that survive from being let go for merit are caught again and resold. I want people to stop making merit this way, because it's supporting the sellers to keep selling turtles," Bongkochrat said. "It's an endless, vicious cycle."
Read: Turtley Crowded: Temple Promises More Space for Reptile Residents (Photos)
Bongkochrat said seeing piles of turtles stacked in rancid water at temples pains her so much she gets veterinarians to check on them.
"The vets said that these turtles are so malnourished their shells have warped," she said.
Turtles sold in markets are mostly those captured in khlongs. They tend to be common breeds and are kept in unhealthy conditions such as being stacked in buckets. Navee has rescued some special breeds including a yellow-headed temple turtle, a black marsh turtle and various softshell species. Nantarika said that in a year she rescues around 2,000 turtles with her team.
However, the turtles Navee seized from private homes tend be rarer breeds such as the Asian forest tortoise. Those are usually poached from upcountry forests. They're kept in good conditions and even have caretakers, because some breeds sell for tens of thousands of baht.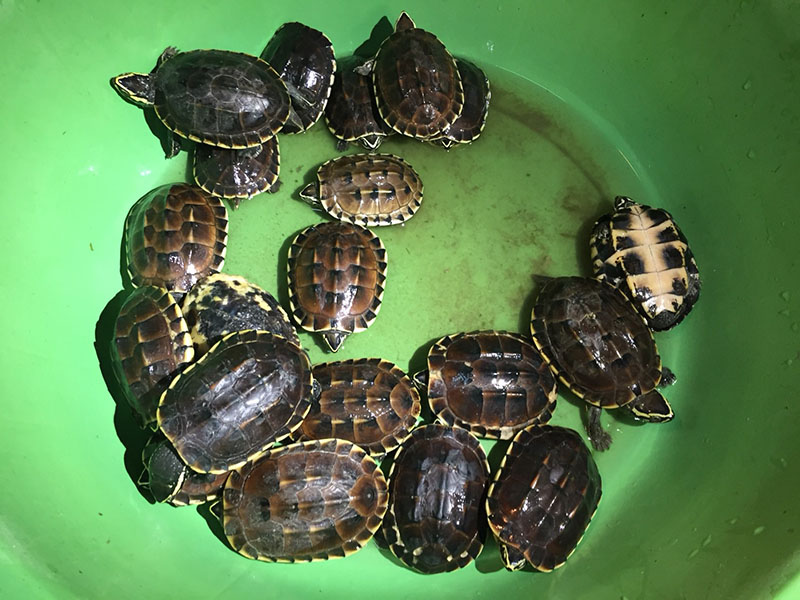 "I'm afraid they could go extinct." Navee said, referring to the Asian forest tortoise. "They're monogamous, and don't just breed with anyone. Foreigners like to buy them and keep them in pairs as a good sign."
The turtle fan says they're two main types people in the turtle-loving community: avid turtle pet owners who study appropriate care for turtles and take them for regular checkups, and the rest.
"This second group thinks turtles are cute, and buy them from markets but they didn't study how to really care for them. The turtles get sick and problems ensue," Bonkochrat said. "Turtles live very long. If you want to care for one, you have to do it for their entire lifespan."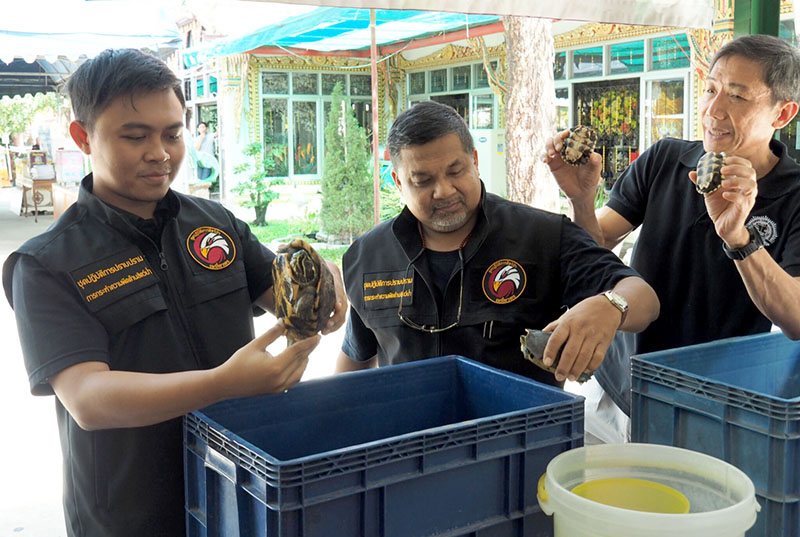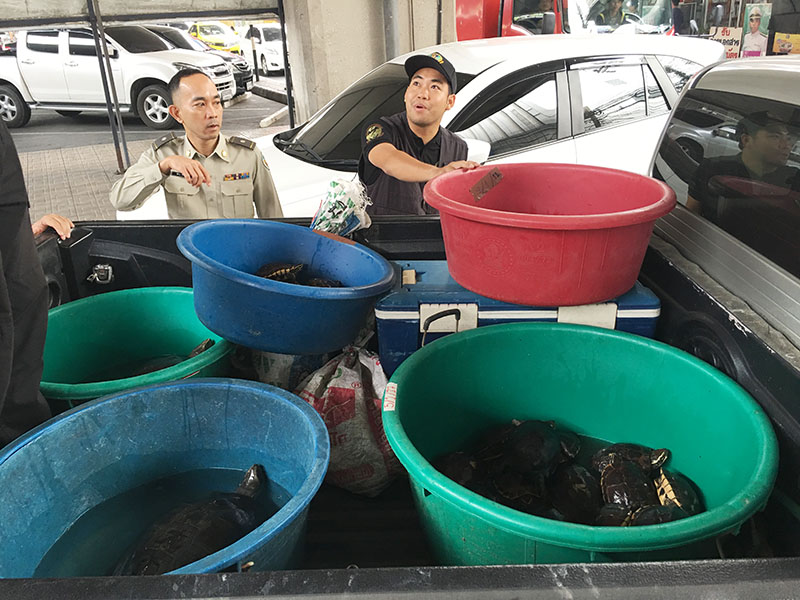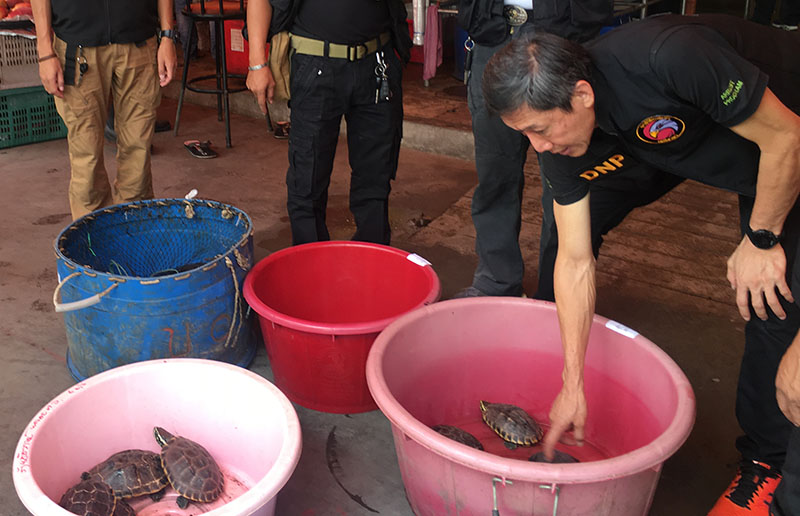 Related stories:
Turtle-Rescuing Man is Hero of Thai Interwebs
Turtley Crowded: Temple Promises More Space for Reptile Residents (Photos)
Nation Mourns Piggy Bank, Takes Hard Look At Self
Piggy Bank, Giant Sea Turtle Who Ate Too Many Coins, 25
'Piggy Bank' Ate Too Many Coins. Now Chula Vets are Trying to Save Her.