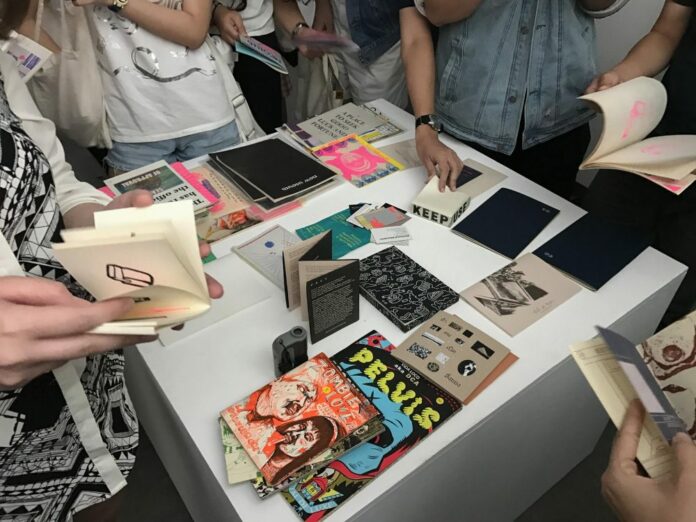 BANGKOK — See the comic version of famed Cannes' award-receiving film "Tropical Malady" among crafted covers at an annual book fair next month that celebrates the world of DIY printing.
Bangkok Art Book Fair debuted last year at a large white-wall art space in Sathorn area, and returns in September for a the bigger second edition with more activities and participating artists.
The four-day fair is the result of a collaboration of artists, writers, photographers, designers, illustrators, small-scale publishing houses and more. This year will see nearly 60 booths selling an array of zines.
Read: Zines Reborn: Inky Fingers Keep DIY Publishing Alive in Bangkok
Apart from Happening Magazine, Salmon Books and screenprinting group The Archivists, lesser-known groups will be there too. Check out movie-themed zines from Spacebar Design Studio and experimental typography titles by The Rambutan to photography books from Aperture Brought Me Here.
Those behind the first Thai film to compete at Cannes and win the Jury Prize – Apichatpong Weerasethakul's otherworldly "Tropical Malady" (2004) – will also join the fair to crowdfund its original screenplay covers. At its booth will be newly-designed movie posters and the film's interpretive cartoons.
International artists and publishers will also load their DIYs to fill the space. They include independent bookstore BooksActually, who pioneered book vending machines in Singapore, risograph printing expert Corners from Korea and Mexico's Red de Reproduccion y Distribucion, or RRD.
A panel under the theme "Platform and Distribution" will take place during the event, where there will be food and drink stalls.
Entry is 60 baht and free for children under 12. The event will be inaugurated at 6pm on Sept. 6 before opening 1pm until 9pm from Sept. 7 through Sept. 9 at Bangkok CityCity Gallery on Soi Sathorn 1. It can be reached from MRT Lumphini.
The Bangkok Art Book Fair was founded by three graphic designers Pat Laddaphan, Piyakorn Chaiverapundech and curator Supamas Phahulo. It debuted last year at the same venue and received about 3,000 attendees.
Related stories:
Zines Reborn: Inky Fingers Keep DIY Publishing Alive in Bangkok