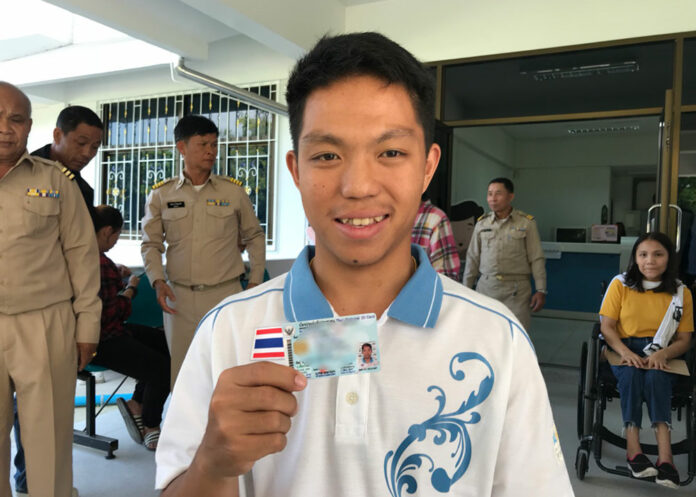 CHIANG MAI — Nine years after a stateless boy who won the gold medal at a paper airplane championship in Japan was promised Thai citizenship, he received his ID card Friday.
The Interior Ministry officially granted 21-year-old Mong Tongdee citizenship today, after which he registered at the census bureau and was issued an ID card by Chiang Mai city administration, to the joy of his family and close acquaintances.
"I'm very relieved and happy to get the ID card and become fully Thai," he said.
Read: Paper Airplane Champ Flies High Again – Still Awaits Citizenship
Mong, who was born to Burmese migrants, gained national fame in 2009 after he won his first paper airplane competition aged 12, but had to turn down an invitation to represent Thailand in a world contest in Japan due to his statelessness.
He was later able to travel and won two medals after then-PM Abhisit Vejjajiva – who also promised to naturalize him – gave him a temporary passport.
His case seemed nearly forgotten before four stateless Wild Boars football team members drew fresh attention to it in August, when they were granted citizenship shortly after being rescued from a 17-day ordeal inside a Chiang Rai cave.
Mong said today that he plans to pursue a bachelor degree in civil engineering, and would request a deferment to serve in the military – mandatory for all Thai men from age 21 – as he would like to finish high school first.
Nirinthon Saengpanna, Mong's 19-year-old girlfriend who accompanied him throughout the process today, said she was very happy for him. She added that they both plan to teach children in the north about paper-airplane-folding techniques because they found many kids are very interested in following Mong's footsteps.
In late August, Mong won first place in a paper airplane contest held in Bangkok, and will represent Thailand at a competition in Japan next year or in 2020.
Related stories:
Paper Airplane Champ Flies High Again – Still Awaits Citizenship
Boy Whose Paper Planes Soared Into Nation's Heart May Get Citizenship