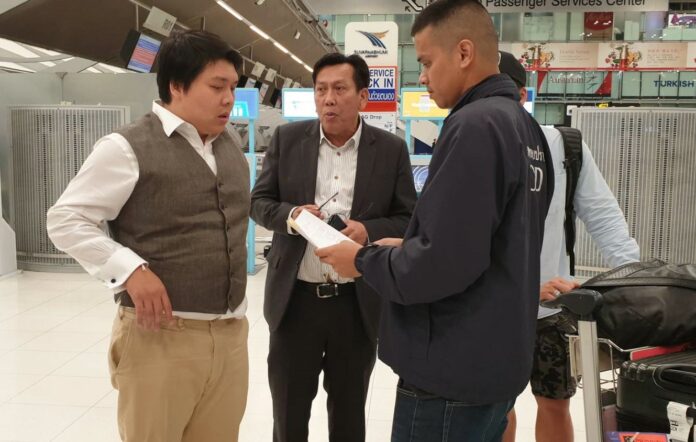 BANGKOK — The man accused of conning cryptocurrency worth almost 800 million baht from a Finnish businessman was arrested Friday at Suvarnabhumi airport.
Investigators said airport immigration officers detained Parinya Jaravijit, 35, and handed him over to the Crime Suppression Division before 3am today upon landing from the United States following the revocation of his passport, and that he denied all allegations against him.
Parinya – wanted as a main suspect – had been abroad since actor Jiratpisit "Boom" Jaravijit, his younger brother, was arrested and charged in August as his accomplice. Several members of the Jaravijit family are also implicated in the case, as it was found their bank accounts received large sums of money linked to the scam.
The victim, Aarni Otava Saarimaa, came to Thai authorities to complain that Parinya and a few other Thai investors tricked him last year into investing his Bitcoin in several businesses, some of which turned out to be shell companies.
He later withdrew his charges against Prasit Srisuwan and Chakris Ahmad – two other suspects who claimed they were also fooled by Parinya – after a settlement was reached, according to Col. Chakrit Sawasdee.
The Criminal Court initially denied Parinya bail after being deemed a flight risk. His lawyer has requested another revision and presented a bond in real estate worth 4.5 million baht.
Related stories:
Crypto Con: Two Suspects Say They Were Also Scammed
Police Implicate Actor's Parents in Bilking Finn of 'Bitcoin'
Actor's Sister Surrenders Over 'Dragon Coin' Scam
Actor Deemed Flight Risk in 'Dragon Coin' Scam
Actor Busted For Massive Fintech Scam Targeting Foreigners: Cops