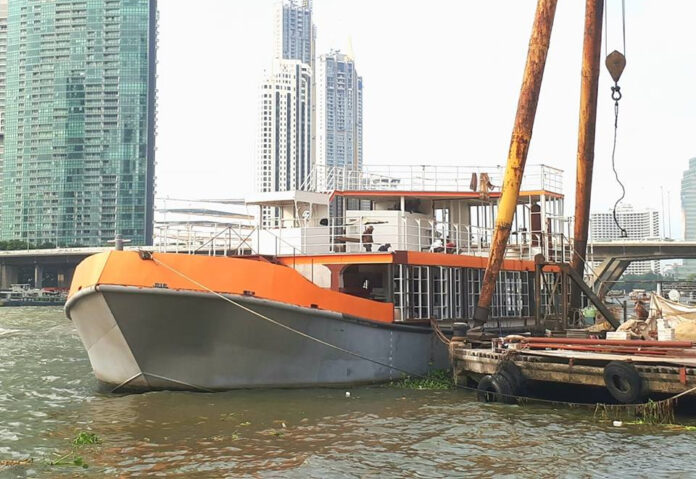 BANGKOK — The first sunset of December will see the maiden voyage of a different kind of barge on the mighty Chao Phraya River, one that will set sail for music, art and culture.
After years spent renovating his vessel into a floating island of the city's art and culture, Yuval Schwok will finally launch Bangkok Island on Dec. 1 with an opening party cruise.
Twelve musical acts will perform on two stages: The Docks and The Island.
Expect a wide variety from the powerful pipes of Rasmee Isan Soul, experimental post-rock duo Stylish Nonsense, alt-rockers The Ginkz and world music supergroup Yaan. More tunes will come from Vibe Soundsystem's reggae beats before revelers get lost to The Burning Deck's psychedelia.
DJ Dragon will hit the stage with bass music, What Dat Frog will drop hip-hop and Bomber Selecta will mash up all of everything.
The boat offers 500sqm of space and can accommodate up to 350 people, according to Schwok, who is the owner of hostel-underground venue The Overstay, which just turned 10.
Read: Ship Shape: Frenchman Refits Rice Barge Into Floating Stage
"It is with a great great pleasure that we are announcing the first ever cruise of the Bangkok Island. A very hard work is finally over and we are glad to invite all our friends and family to celebrate with us. [Four] years and too many hours to count have finally given us what we believe …" Schwok announced in a statement.
Advance ticket sales are 900 baht, but sales end Nov. 20. On Halloween, they go up to 1,050 baht. Tickets are available online. Those who donated to the boat's crowdfunding campaign can just show up
The event starts at 6pm on Dec. 1. Bangkok Island will pick up revelers from a dock at Taksin Bridge, located conveniently next to BTS Saphan Taksin.

Related stories:
A Decade On, Libertine Outpost 'Overstay' Lives Up to Its Name