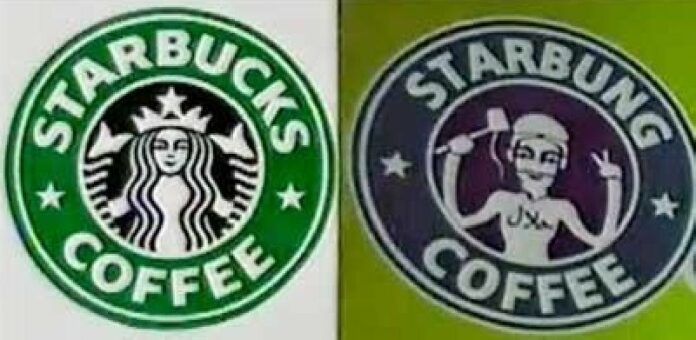 (20 October) A yearlong dispute which pitched a global coffee superpower Starbucks against a local Bangkok coffee stall Starbung has resulted in a lawsuit.
In a court document, Starbucks has sued the owner of Starbung on the ground that the letter party violated the plaintiff′s Copyright Trademark and demanded more than THB 300,000 in compensation, according to the report in ASTV Manager website.
Mr. Damrong Musleh, or 'Bung', the owner of the streetside coffee kiosk 'Starbung' and his brother, Mr. Damras, were accused for violating the copyrights of the logo of multinational coffee brand because their logo similarly features white text green on background.
The plaintiff therefore asked the court to have Mr. Damrong stop trading under the controversial trademarks, and set a compensation worth THB 300,000, including annual interests of 7.5%, and any expenses occurred from the legal process.
Moreover, Starbucks has also demanded that Mr. Damrong pay a fine of THB 30,000 for each month that he continues to use the logo from the day the lawsuit is filed onwards.
In the court filing, Starbucks said it had attempted to negotiate with Mr. Damrong but he had refused to change the logo, and even went on to sell mugs and t-shirts bearing the contested logo.
Starbucks also alleged that Mr. Damrong has previously informed its lawyers that the company pay him THB 3,000,000 in exchange with his decision to stop trading under the logo, an offer Starbucks refused.
The multinational company claimed that the redistribution of the violated logo has "damaged trust and loyalty the customers had towards the brand", and is at risk of misleading unsuspecting customers into thinking that Starbung is a legitimate branch of Starbucks.
In October last year, Manager ASTV also reported that the Thai Intellectual Properties Department had instructed Mr. Damrong, whose coffee stall operates in front of Baan Pra Arthit building near the backpacker street of Khaosarn Road, to stop using his logo, citing requests from Starbucks.
The report quoted Mr. Damras – Mr. Damrong′s brother – as saying that "we did not violate anything. They should not busy themselves with a small vendor like us, who only makes several hundreds baht a day".
He added, "I?m not free to negotiate with them anywhere. If they want to talk, they can come here and talk at my stall in front of Baan Pra Arthit. If they want my logo, they can buy it, so we can finally end this."
Following the filing of lawsuit from Starbucks, Mr. Damrong told Manager ASTV that the logo was designed in accordance with his Muslim belief, as it contains Islamic symbols such as the star, the moon, and a small halal stamp.
The name ?Bung? is derived from Malaysian word for ?Brother? and a common Thai slang for Muslims, Mr. Damrong insisted.
As for the prominent green background. the Starbung owner argued that it represents a religious colour in Islamic belief.
He also dismissed the claim that he had attempted to extort THB 3,000,000 from Starbucks, explaining that he meant he would gladly sell the stall, along with the logo, to the company under that amount.
In the news report. he affirmed that he will not pay the THB 300,000 compensation and said that he has six children to raise, but only makes THB 20-30 per cup in his stall.
"My annual income is much less that Starbuck's daily earnings" said Mr. Damrong.
For comments, or corrections to this article please contact: [email protected]
You can also find Khaosod English on Twitter and Facebook
http://twitter.com/KhaosodEnglish
http://www.facebook.com/KhaosodEnglish