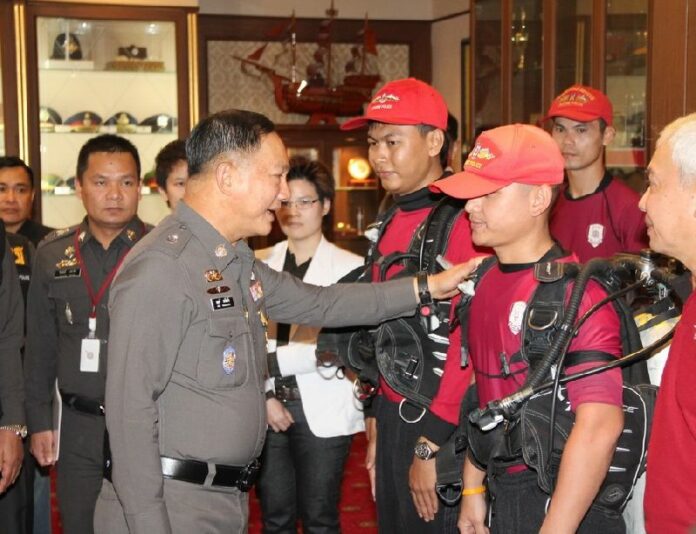 (18 October) The Thai Royal Air Force have sent officials and equipment to help the Laotian authorities to salvage the Lao Airline plane which had crashed into Mekong River in Southern Laos earlier this week.
Officials said they were responding to a request from the Laotians.
The two countries are now collaborating in the search for the victims' bodies. Thai officials have provided information, boats, and a team of frogmen along with other relevant equipment to the crash site.
Pol.Gen. Adul Saengsingkaew, Commissioner-General of the Royal Thai Police, has led a team to Pakse district to help identify the bodies that had been found. However, it is reported that the bodies, which had been submerged in water for 2 days, might be very difficult to identify.
All 49 people on the doomed aircraft are believed to have died in the crash.
In the meantime,forensic teams in Thailand also reported to be stand-by if the Laotian authorities should make a request. According to the police, DNA matching process should take at least a week to finished, but finding the bodies of the victim may delay the whole process. Nevertheless, the police affirmed that the identification process will be in accordance with international guidelines.
Reports say that the requests for the fingerprints of the 5 Thai nationals on board have been made to the Department of Provincial Administration, along with dental profiles of the individuals.
Transport Minister,Mr. Chatchart Sittipan, wrote on his Facebook after visiting the crash site near Pakse in Laos that 17 bodies have been retrieved so far, but their identities remain unclear.
He said he had assured his Laotian counterpart, Mr. Sommad Pholsena, that the Thai authorities are fully committed to provide any assistance required by the Laotians.
For comments, or corrections to this article please contact: [email protected]
You can also find Khaosod English on Twitter and Facebook
http://twitter.com/KhaosodEnglish
http://www.facebook.com/KhaosodEnglish