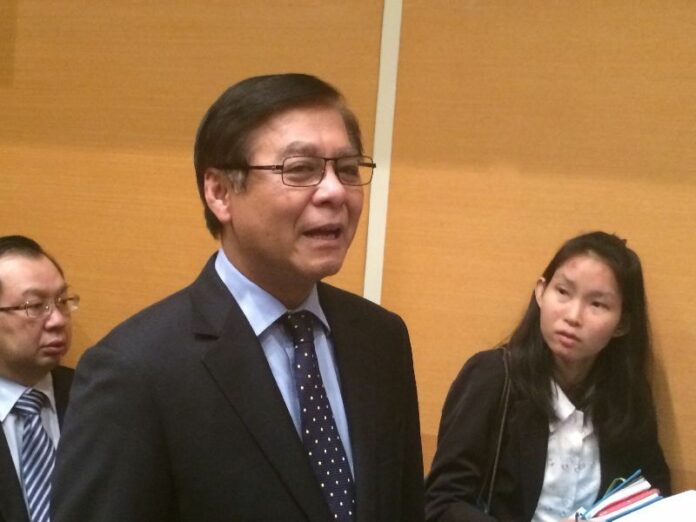 BANGKOK — The Thai Ministry of Foreign Affairs has expressed "disappointment" over the United States' decision to downgrade Thailand in its latest report on human trafficking worldwide.
Thailand has been moved down to "Tier 3," the lowest ranking, In the United States' 2014 Trafficking in Person Report (TIP) released on Friday. In other words, Thailand is now considered by the US government to be one of the worst places on earth for victims of human trafficking, alongside countries such as North Korea, Iran, Syria, and Saudi Arabia.
Tens of thousands of migrants from neighboring countries are trafficked across Thailand's borders every year and many of them are forced into slavery or exploited in the sex industry. The 2014 TIP report said that Thai authorities have failed to provide basic welfare, legal protection, and safety to victims of human trafficking due to "corruption in all levels."
Sihasak Puangketkaew, permanent secretary of the Thai Ministry of Foreign Affairs, responded angrily to the TIP report today, calling the downgrade unfair.
"It's very sad that Thailand has been downgraded to Tier 3, which is the lowest level," Mr. Sihasak said, "I feel very disappointed and strongly disagree with it."
Earlier this week, the MFA announced that Thailand deserves an upgrade in the annual TIP report for its "significant progress" in combatting human trafficking.
Mr. Sihasak, who has been serving as de facto head of the Ministry of Foreign Affairs since the military staged the coup on 22 May, explained today that Thailand has been prosecuting human traffickers, coordinating with US authorities to combat the issue, and upholding all international treaties concerning human trafficking.
"I insist that Thailand upholds the principles of human rights," said Mr. Sihasak.
He told reporters that Thailand will respond to the TIP report by intensifying efforts to prosecute human traffickers in Thailand and increase public relations efforts to improve Thailand's image abroad.
"I also would like to ask, why doesn't the US allow Thailand to evaluate our own situation? Why is the US always in Tier 1 all the time?" Mr. Sihasak added.
Recent reports by Reuters and British newspaper The Guardian have thrust a global spotlight on the tragic fate of many trafficking victims in Thailand, as well as the complicity of some Thai officials.
The Guardian investigation, published earlier this month, revealed that several hundred thousand Burmese migrants have been trafficked into Thailand to work as slaves in the Thai seafood and fishing industry. According to the report, Burmese migrants pay brokers to help them cross the border and find work in Thailand, but are instead sold on to "slave vessels" and subject to deplorable working conditions and abuse. The report also alleged that the conglomerate CP Food, considered to be one of the richest businesses in Thailand, is complicit in the slave labour.
Days later, Thailand was the only country to vote against a U.N. treaty requiring countries to punish perpetrators of forced labor, inviting a fresh wave of criticism from human rights groups. The Thai delegates later reversed their decision.
The military junta's National Council for Peace and Order (NCPO) has announced plans to harshly punish human traffickers and protect migrant workers from abuse. As Mr. Kerry was unveiling the latest TIP report last night, NCPO chairman Gen. Prayuth Chan-ocha went on national television to stressthat the junta will prosecute human smugglers and related human rights violators.
Gen. Prayuth also partially blamed the country's rampant abuse of migrant workers on the previous government's push to increase minimum wage to 300 baht per day.
"The fact is that entrepreneurs were unable to hire domestic workers due to the high daily wage of 300 baht and the problem of workers unwilling to do difficult work," Gen. Prayuth told the nation. "Therefore, businesses turned to hiring foreign, unregulated and illegal workers with lower wages."
For comments, or corrections to this article please contact: [email protected]
You can also find Khaosod English on Twitter and Facebook
http://twitter.com/KhaosodEnglish
http://www.facebook.com/KhaosodEnglish