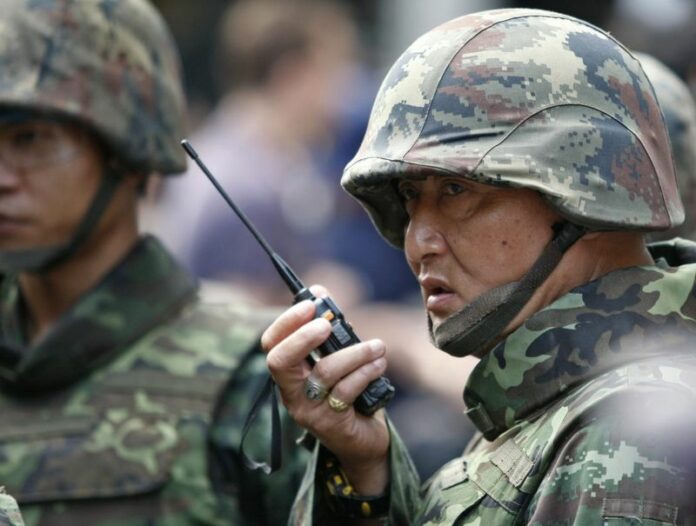 By Cod Satrusayang
BANGKOK (DPA) — Recent polls in Thailand suggest a majority of the population supports military rule after the coup in May, and a significant number would back junta leader Prayuth Chan-ocha to be the next prime minister.
With a crackdown on dissent on the street and in the media, and the published polls run by government agencies, it would be more surprising perhaps if the surveys had said anything else.
"How do people know that the majority of Thais support the coup when you can't express a differing opinion?" said a professor at a prominent university, who wished to remain anonymous for fear of reprisal.
"We have censorship, we have arbitrary arrests, we have a ruling power that is not checked by any laws or regulations. How can that be ideal?" he said.
Anecdotally, some seasoned Thai observers do believe the coup has been broadly welcomed despite the restrictions on individual freedoms.
"A significant majority of people I run into appear pretty relieved about [the coup]," said SP Somtow, an author and social commentator.
"However [the country's problems] will come back, and worse, without addressing the root causes."
"The NCPO's virtually absolute power in the wake of the coup has enabled it to tackle policy issues like no elected government can but it comes at the price of democratic rule," adds Thitinan Pongsudhirak, a professor at Chulalongkorn University and head of the Institute for Security and International Studies. The ruling junta is known as the National Council for Peace and Order or NCPO.
"If the junta can maintain its even-handedness … institute reforms that are seen as fair and forward-looking on the way back to elections and democratic rule, it will have done better than all of its predecessors."
This point of view is badly skewed, critics say.
"This romanticization of the coup needs to stop," said the unnamed professor.
The junta for its part has defended the need to ban political gatherings, monitor and censor social media posts, and detain dissidents for weeks at a time.
"You ask what harm could [one protester] do," said Colonel Werachon Sukondhapatipak "but if you look at it through the military's eyes, we need to [maintain order] because one protester could lead to more and the situation could get out of hand."
Anti-dissent measures that Amnesty International calls "alarming" and contributing to "a climate of fear" appear to have succeeded in keeping political disruption out of everyday life in Thailand.
"You can call it persistence of the normal," said Tri Kanchanadul, the owner of a small cafe in central Bangkok.
For many businesses, the coup was a welcome change after months of protests gridlocked the city and stifled business.
"Sales were down 30 per cent during the protests and since the coup it has been up 10-15 per cent," said Tri. "Businesses love stability. Tt has nothing to do with democracy or lack of it."
Luxury condominium security guard Jitti Tongpien said political arguments were far from his mind.
"Oh, those debates are for much smarter people than me," he said. "I just help people park their cars. It does not matter who they support as long as they tip."
Such statements are a result of Thais' resignation to their country's political fate, said academic Thitinan.
"The Thai people have no choice but to let [the junta] have its way and see what happens," he said.