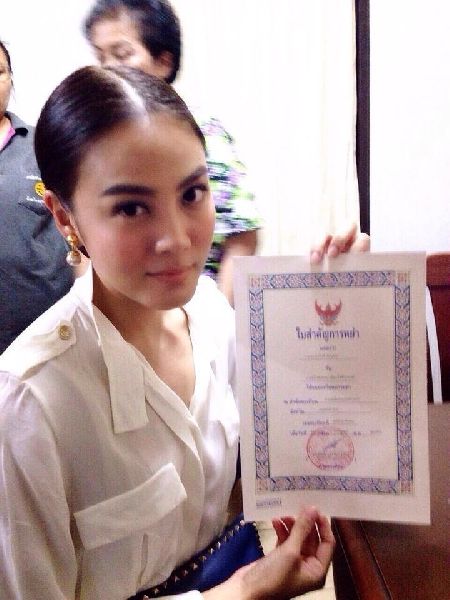 BANGKOK — A famous Thai actress filed a divorce yesterday following speculation that she had been abused by her husband, a local politician and son of a fugitive convict.
Janie Tienphosuwan and Chonsawad 'Ae' Asavahame, who is serving as the chairman of the Samut Prakarn Provincial Administration Organisation, formalised their divorce at a district office in Samut Prakarn province yesterday. Mr. Chonsawad is the son of former Thai Minister Wattana Assavahame, who was convicted of corruption in 2008 and fled the country to avoid his prison sentence.
The divorce confirmed widespread speculation that the brief marriage between Ms. Janie and Mr. Chonsawad had turned sour after less than a year. Last week, photos of Ms. Janie with severe bruises surfaced on the internet, sparking concerns that the actress was assaulted by her husband.
It is not clear who leaked the photos, though some believe that Ms. Janie posted the photos herself. Media interest intensified after chat logs between Ms. Janie's celebrity friends discussing the domestic violence were also leaked.
Ms. Janie has not been seen in public since the controversy started. Yesterday, Mr. Chonsawad conducted a religious ceremony to ward off "bad luck," but refused to answer reporters' questions about the controversy surrounding his marriage.
Praman Luengwattanawanich, Ms. Janie's lawyer, said today that both Ms. Janie and her former husband have verbally agreed that the actress will not receive financial support or marriage property from Mr. Chonsawad following their separation.
However, Ms. Janie did ask Mr. Chonsawad to return her luxury Porche Boxster car, Mr. Praman said. Ms. Janie reportedly gave the car to Mr. Chonsawad after he promised to upgrade the vehicle's engine for her.
Media reports indicate that Ms. Janie will fly to the United States tomorrow. She has also changed her surname from Asavahame back to Tienphosuwan.
Ms. Janie, who is contracted with the state-owned Channel 3, married Mr. Chonsawad last August amid widespread allegations that she broke up the relationship between Mr. Chonsawad and his former wife, popular singer Nantida "Too" Kaewbuasai.
Drama sparks national conversation
Many Thais have taken to social media to sympathise with Ms. Janie and a number of officials and women rights activists have spoken out about the alleged domestic abuse.
Permanent Secretary of Ministry of Social Development and Human Security Wichain Chawalit said many women are suffering from domestic violence in Thailand, but fear prevents a majority of them from taking any action against their husbands.
"There are concerns that many victims decide to remain silent due to fear and embarrassment," Mr. Wichain said. "Many organisations are working cooperatively to raise awareness about domestic violence, especially to encourage victims to protect their rights. Victims of domestic violence are encouraged to submit their issues to our 1300 Hotline, where our staff will work out solutions for them."
Methinee Pongwet, director of the Association for the Promotion of the Status of Women (APSW), said that many Thai women only resort to help when they cannot bear the violence any longer.
"Society likes to condemn and accuse these women of doing something that displeases the men, so the men beat them," Ms. Methinee said. "This kind of attitude makes 80 per cent of abused women reluctant to walk away from the violence, because they think they have to endure it and try to make the men improve themselves."
She also reminded all Thai women that domestic abuse is criminalised under 2007 Protection of Victims of Domestic Violence Act, which allows anyone who witnesses domestic abuse to report the case to police on behalf of the victim.
Under current protocol, police try to settle matters between the husband and wife and press charges if the two parties fail to reach a conclusion, Ms. Methinee said.
According to a report by UN Women released in 2005, 44 percent of women in Thailand have experienced physical or sexual violence by a partner and 63 percent of Thai people believe it is acceptable for a husband to beat his wife.
For comments, or corrections to this article please contact: [email protected]
You can also find Khaosod English on Twitter and Facebook
http://twitter.com/KhaosodEnglish
http://www.facebook.com/KhaosodEnglish