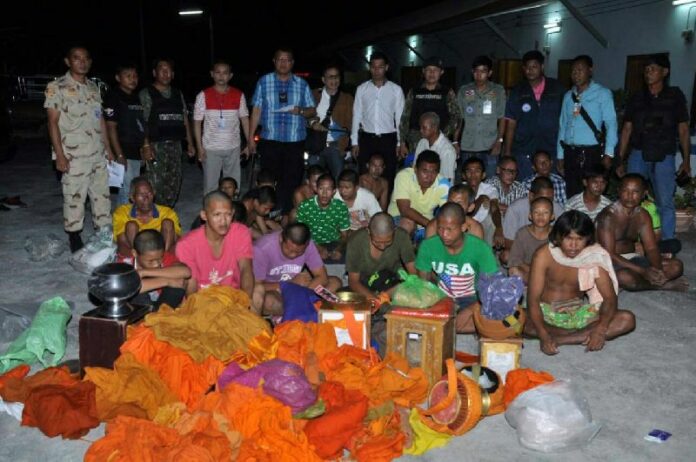 SUPHANBURI — Twenty-eight Thai men have been arrested for posing as monks and temple assistants to collect donation money that they allegedly used for gambling, pornography, and narcotics.
Soldiers from 19th Cavalry Battalion raided a motel in Uthong district, Suphanburi province, early this morning to arrest the suspects, who were living in 14 rooms.
The suspects confessed that 18 of them shaved their heads and donned saffron robes to disguise themselves as monks, while the other 10 posed as their temple assistants. Manote Intaraklai, 47, identified himself as the ringleader and told soldiers the group used the donation money to buy food, pornography, and narcotics. They also used the money to gamble, Mr. Manote said.
Mr. Manote said he led the group out every day to ask for alms and donations around Suphanburi and neighbouring provinces. The "monks" donned their disguises on the way to the town centre, Mr. Manote added.
Soldiers found monk outfits and equipment, playing cards, porn DVDs, and 140,000 baht inside the rooms rented by the fake monks. Seven vehicles, thought to be used by the fake monks, were similarly confiscated by the soldiers. One of the group's members also tested positive for illicit substances.
The suspects have been charged with fraud and drug abuse. It is not clear what prompted the soldiers to raid the premises.