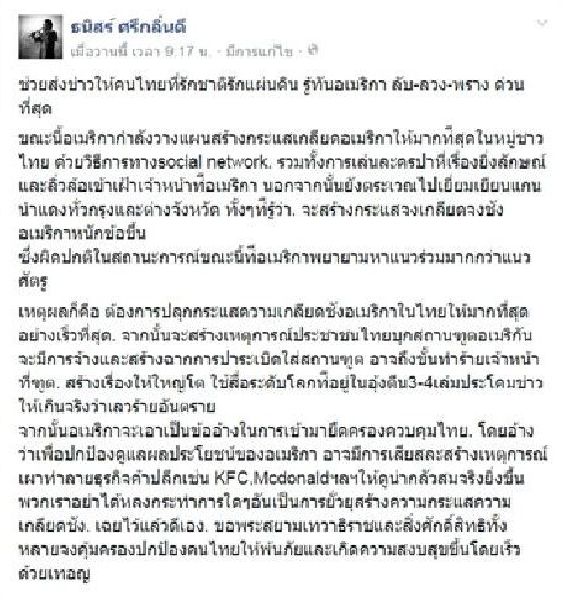 BANGKOK — A prominent activist from the ultraconservative movement that campaigned against the former government has accused the United States of planning a terror attack in Thailand to provide a pretense for invasion.
Thanit Sriklindee, a 64-year-old folk musician turned "Yellowshirt" activist, wrote on his Facebook account on 31 January that the US is intentionally spreading anti-American sentiment in Thailand in order to incite violence that would justify a US invasion and"occupation" of Thailand.
"Please send this news to all Thais who love their country and land, so that they know about America's covert operation," wrote Thanit, a well-known flutist who joined the People's Committee for Absolute Democracy With the King As Head of State (PCAD) to protest against former Prime Minister Yingluck Shinawatra last year.
Thanit regularly appeared on PCAD rally stages and played music to cheer up the protesters, who camped out in Bangkok for six months before the military stepped in and toppled the government in a coup on 22 May 2014.
His recent allegations came amid an ongoing diplomatic row between the Thai and US governments that erupted after a senior US official urged Thailand's military junta to lift martial law and cease all restrictions on civil rights.
Thai officials and supporters of the junta lashed back, accusing the US envoy of violating diplomatic protocol and interfering with Thailand's domestic issues.
They also vented anger at the diplomat, US Assistant Secretary of State for East Asian and Pacific Affairs Daniel Russel, for meeting with former Prime Minister Yingluck during his time in Bangkok. Russel, the highest-level US official to visit Thailand since the coup, did not meet with coup-leader and current Prime Minister Prayuth Chan-ocha.
Below is a full translation of Thanit's Facebook post:
"Please send this news to all Thais who love their country and land, so that they know about American covert operation. This is most urgent.

Right now, America is plotting to create anti-American sentiment among Thais by methods of social media, including the farce involving Yingluck and her minions meeting with American officials. Furthermore, they are also going around to meet Redshirt leaders in Bangkok and other provinces, even though they know that it will only escalate hatred toward America. It is abnormal, because America is supposed to be trying to seek more friends than enemies in this situation.

The reason is they want to build anti-American sentiment as much as possible and as soon as possible. Then, they will create a situation of the Thai people storming the US Embassy. Afterward, they will hire someone to throw grenades at the embassy, and they may even harm the diplomats to escalate the situation. They will use 3-4 international media agencies under their leash to exaggerate the news and make it look serious.

Later, America will use it as an excuse to invade and occupy Thailand on the pretense of protecting American interests. There may be sacrifices and arson attacks on private businesses, such as KFC and McDonalds etc to make it look even more scary and believable.

We must not be fooled into doing action that will further incite the hatred. We have to remain calm and things will go well. May Phra Siam Deva Thirat and all holy entities protect and defend Thai people from all dangers, and bring about peace in due time."
The post was "shared" hundreds of times on Facebook before it was later deleted. Thanit has since published a post calling for a ban on US products.
Staff at the US Embassy in Bangkok say there were several small anti-US protests in front of the Embassy last week.
Yesterday, the deputy chairman of Democrat Party, which opposed Yingluck's government and assisted the PCAD in its campaign, suggested that the US's "interference" in Thai politics may be the effort of international "lobbyists" seeking to smear Thailand's reputation.
"I have met representatives of political parties from foreign countries many times. They all know that there is a movement that has hired lobbyists in Europe and the United States of America to portray distorted and wrong perspectives about Thailand," Kiat Sittheeamorn said yesterday.
He added, "However, after talking to the representatives, they understand the situation in Thailand well."
Kiat and other Democrat Party leaders also met with Russel during his stay in Bangkok.