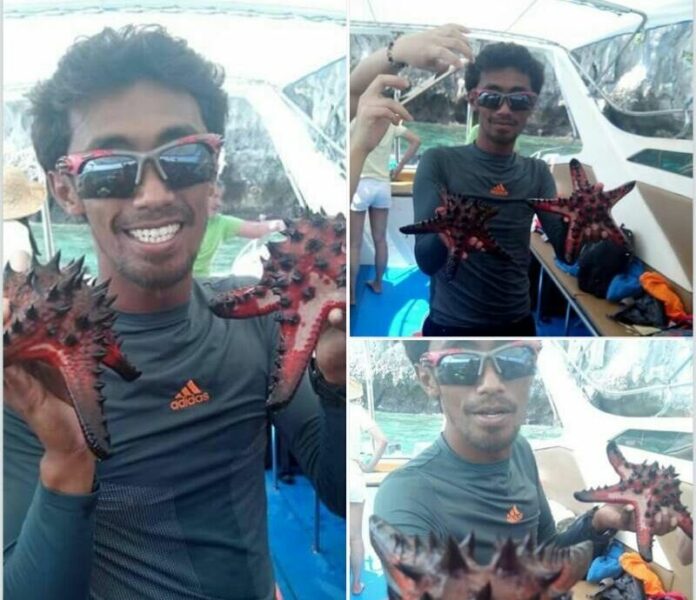 KRABI — The Director of Lanta National Park in southern Thailand says he will file charges against a diving company that advertised its business with photos of a tour guide picking up marine life.
The park director, Kankasem Meesuk, said he received a complaint that Lanta Adventure Trips had published photos (below) on its Facebook account of a guide holding rare marine creatures such as starfish, turtles, and sea cucumbers.
"We have investigated the information and identified the perpetrators, including the person who picked up the marine life to show off to tourists, and the tour company," Kankasem said today.
He added that he will press charges of harming marine life in National Park area against the company, in accordance with the 1961 National Park Act. The maximum penalty for the violation is five years in prison and 20,000 baht fine.
According to its Facebook page, Lanta Adventure Trips offers snorkeling trips off of the Lanta Islands in Krabi province. The offending photos have been removed and replaced with an apology.
"The administrator would like to apologize for some inappropriate images. We have deleted them, and we will not repeat such action again," the post read. "We thank officials from the Department of National Resources for phoning us and giving us a polite warning. Thank you."
Suriyan Narongkul, chief of Koh Lanta district, said he has urged all diving companies and tour guides in the area to refrain from disturbing the local ecology.
"We would like to also ask for cooperation from tourists," Suriyan said, "Don't use service of tour companies or guides that pick up marine animals to show off to tourists."