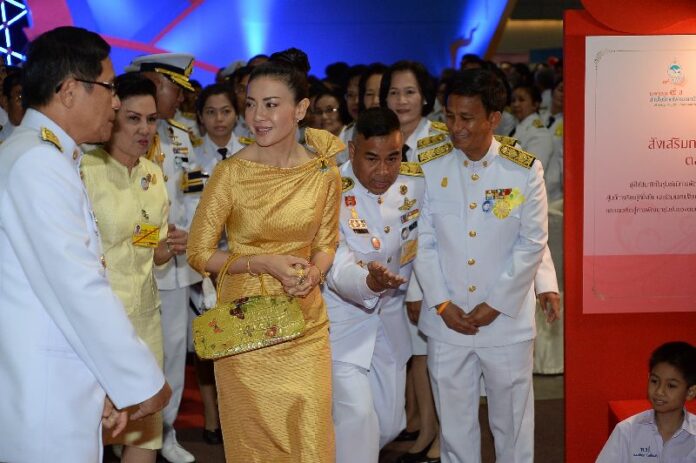 BANGKOK — Two brothers and the nephew of the third wife of Thailand's Crown Prince have been sentenced to five and a half years in prison for insulting the monarchy.
According to the prosecutor, Nattapol Suwadee, Narong Suwadee, and Sitthisak Suwadee were hired by a businessman named Nopporn Supphapipat to coerce a money lender into reducing Nopporn's debt from 120 million baht to 20 million baht.
Nattapol, 30, and Narong, 42, are brothers of Srirasmi Suwadee, the former wife of Crown Prince Vajiralongkorn, while Sitthisak, 25, is her nephew. Nattapol and Narong were serving in the Crown Prince's personal bodyguard unit at the time of the alleged crime.
The prosecutors say the three men abducted Nopporn's money lender, Witthaya Panyathaweekool, in front of his house in Bangkok on 20 March 2014. The trio allegedly detained him overnight and forced him to reduce Nopporn's debt, citing their connection to then-Princess Srirasmi.
Witthaya was released the next morning, but not before the suspects robbed him of his belongings, according to the prosecutors.
Nattapol, Narong, and Sitthisak were arrested in November 2014 and charged with lese majeste (insulting the monarchy), illegal detention, carrying firearms into residential areas without due cause, and robbery.
Today the court found the defendants guilty of all charges and sentenced them to 11 years in prison. The jail term was halved to five years and a half because the defendants confessed.
Nattapol, Narong, and Sitthisak were escorted back to Bangkok Remand Prison immediately after the ruling, where they had been held since their arrests in November 2014. Police say the businessman who allegedly hired them, Nopporn, is still at large.
The three defendants are the latest releatives of Srirasmi to be sentencd to jail for lese majeste and running a sprawling crime syndicate involved in racketeering, illegal gambling, money laundering, oil smuggling, and other crimes. The alleged leader of the criminal network, Pol.Lt.Gen. Pongpat Chayapan, was the chief of Thailand's Central Investigation Bureau and is an uncle of Srirasmi.
After the scandal broke in November 2014, the Crown Prince stripped Srirasmi's family of the royally-bestowed surname Akharaphongpreecha, forcing Srirasmi and her relatives to revert to the commoner surname of Suwadee.
Srirasmi later relinquished all of her royal titles in December 2014 and moved out of the Crown Prince's palace. It is understood that the pair, who has a 9-year-old son, has divorced after a decade of marriage.
At least eight relatives of Srirasmi have been convicted of lese majeste in recent months, including her parents, who were sentenced to to 2.5 years on 11 March 2015.