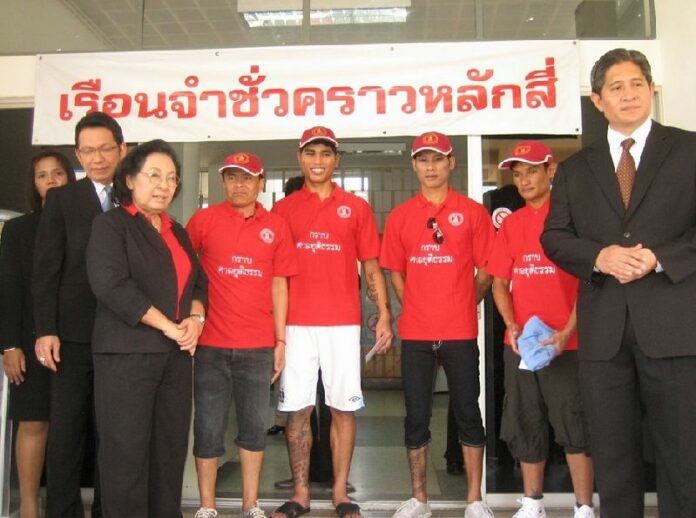 BANGKOK — A top leader in Thailand's military junta says the regime is open to granting amnesty to political prisoners in Thailand if the move will help bring about reconciliation between the country's divided factions.
Gen. Prawit Wongsuwan, deputy chairman of the ruling military junta, said yesterday morning that the junta would support dissolving legal cases against activists who participated in political protests in recent years, as long as they did not commit "serious crimes."
"Whatever that can bring about reconciliation, do it," Gen. Prawit said at the press conference. "As long as all sides and the people accept it, we will agree. Except what breaks the laws of the country, we cannot do that."
Paiboon Nititawan, a member of the Constitution Drafting Committee (CDC), told Bangkok Business News that he also supported legal amnesty for protesters, regardless of their political alignment. According to Paiboon, over 400 Yellowshirts and nearly 1,000 Redshirts have faced legal action of some sort for their role in protests.
"In my opinion, these people qualify for an amnesty," Paiboon was quoted as saying. "Except criminal cases that harmed lives, arson charges, corruption, and insulting the monarchy. Those crimes cannot be granted amesty."
In November 2013, the Redshirt-backed government sparked mass protests by passing an amnesty bill that would have covered not only political activists, but also protest leaders, government officials involved in the crackdown, and past politicians convicted of corruption.
Protesters took to the streets and accused the government of trying to dissolve the corruption conviction of former Prime Minister Thaksin Shinawatra, who has lived in self-imposed exile since 2008 but continued to influence Thai politics as the de facto leader of the Redshirt movement.
Some Redshirt activists also opposed the amnesty bill because it would have exempted government officials from facing legal action for their roles in the 2010 crackdown on Redshirt protesters that left over 90 people dead.
The government eventually withdrew the bill in the face of public outcry, but the anti-government protests continued, eventually culminating in the May 2014 coup d'etat.
Payao Akhard, whose daughter was killed by soldiers in the 2010 crackdown on Redshirt protesters, told Khaosod yesterday that she is glad to see Gen. Prawit's support for amnesty, but said the bill should only apply to demonstrators, and not protest leaders or government officials.
"It has been my stance since the beginning that people who joined the protests and were arrested for politically-motivated reasons deserve fairness," said Payao, whose daughter, Kamolkate Akhard, was shot dead by soldiers as she was serving as a volunteer medic on 19 May 2010. "These people are not criminals. They were merely political victims that were affected by the rallies. They deserve freedom to live their lives once again. And this justice will be a part of process to build reconciliation."
Nearly 2,000 Redshirt demonstrators were arrested and put in jail following the crackdown in May 2010. Some of the protesters were accused of terrorism and arson, while others faced charges for violating the ban on protests imposed by the government at the time. Many were denied bail release for months while they awaited trials. Their plight has spurred Redshirt activists to campaign for the immediate release of all detainees, whom they describe as political prisoners.
It is estimated that several dozen Redshirt protesters from 2010 are currently being held in prison, some of whom are awaiting appeals trials.
Payao said she has been visiting political prisoners in Bangkok, and plans to visit prisoners in northeastern provinces like Ubon Ratchathani, Mukdahan, Udon Thani, and Khon Kaen to provide moral support.
"I would like to collect information about the exact number of political prisoners for a procedure to assist them and give them fairness in the future," Payao said.
Payao added that she hopes security officers will strictly investigate the allegation that Nattathida Meewangpla, one of the key witnesses to her daughter's death in 2010, is linked to a terror network.
Nattathida testified in a 2013 court inquest that determined soldiers to be responsible for the death of Payao's daughter and five others inside a temple in Bangkok during the crackdown. Last week, Nattathida was detained by the military on 11 March and later charged with participating in a terrorism plot.
Nattathida is currently being held at a Bangkok prison while she awaits trial in military court. Police say Nattathida's network was responsible for the grenade attack on the Criminal Court on 7 March.
"The behavior of the security officers is very suspicious," Payao said, "From quickly abducting her to barring her from having a lawyer that volunteered to represent her. The army also has a stake in the case of six deaths at Wat Pathum Temple. Three high-ranking military officers in that event are now holding power in the NCPO."
The three officers are Gen. Prayuth Chan-ocha, Gen. Prawit Wongsuwan, and Gen. Anupong Paochinda, who commanded the army to disperse the Redshirt protesters in 2010. Gen. Prayuth is now chairman of the military junta, formally known as the National Council for Peace and Order (NCPO), while Gen. Prawit and Gen. Anupong are serving as his deputies.