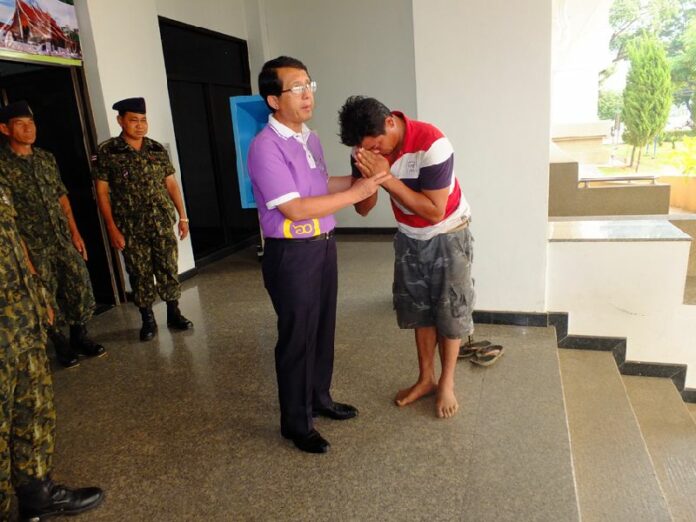 LOEI — A 34-year-old man tried to run over the governor of Loei province with his pick-up truck this morning, after the governor asked him not to litter on the highway.
The governor, Viroj Jivarangsan, told reporters he was riding his bike on Maliwan Road at around 6 am today when he spotted a man throwing an empty beer can from his vehicle onto the road. Viroj said he stopped the motorist and asked him not to litter.
"The driver ignored me," Viroj said.
Viroj said he continued cycling, and then realized that the driver had accelerated his vehicle and was trying to run him over. Viroj said he had to swerve off the road to avoid the crash, and immediately phoned Pol.Col. Torsak Aranyakanond, a local police commander, about the incident.
Pol.Col. Torsak said police tracked down and arrested the pick-up driver an hour later. The driver, Thanawat Jamruri, 34, appeared to be intoxicated at the time, he said.
Thanawat confessed to police that he had been drinking because he was devastated by the death of his father, who passed away in a hospital last night. He told police he tried to hit Viroj, who he did not recognize as the governor, in a momentary outburst of rage. Police brought Thanawat to City Hall to apologize to the governor in person.
"I admit my guilt. I did it because of a sudden burst of anger," Thanawat said at City Hall. "What happened will be a big lesson for me … I will use this lesson to tell other people not to do what I did."
Viroj forgave Thanawat and said he will not press charges against him.
"We are Thais. We must forgive each other. Losing his beloved father must have had a big impact on his mind," said Viroj. "I hope this will be a lesson for him."