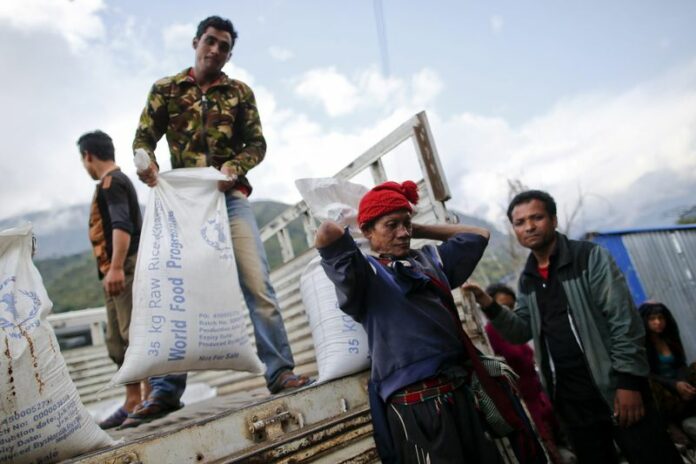 KATHMANDU (DPA) — Slow relief efforts are driving many in Nepal to organize aid campaigns, collecting money, food, clothes, blankets and medicines for those affected by last week's devastating earthquake.
The frustration can be heard and seen in Baneshwor, a neighbourhood of Kathmandu where some two dozen high school students collected donations from homes and shops, using a megaphone to urge compassion.

Nepali villagers offload sacks of food donated by the World Food Program (WFP) in Baluwa, a village in the Nepalese district of Gorkha. EPA/DIEGO AZUBEL
"Let's all come together, this is the time to give back," a female student shouted. The aid will be delivered to a nearby area that was badly damaged.
In Bungmati, an old town outside the capital, some 40 youths, mostly men, used picks and shovels to help locals retrieve their valuable belongings from the rubble of their homes.
An 80-year-old house in the courtyard of a Hindu temple had collapsed during the earthquake, covering a statue of a Hindu god with rubble.
"We are clearing the debris because the owners want to secure some of their valuable items," said Vishal Gurung, a 30-year-old boxer. "We need to help because the police only rescues people."
Gurung and his team have been raising funds and distributing food, water and medicines to five localities since Wednesday.
"We can not just fold our arms and stay home," he said. "We will forever blame ourselves if we do not help. The government is stuck in bureaucratic red tape, even for urgent needs."
As he spoke, some young men and a couple of police officers pulled a giant nylon cord to cover a damaged building, which threatens the safety of locals.
Some 300,000 houses were partially or completely destroyed in the earthquake and aftershocks. Hundreds of people are still believed to have been buried under the rubble, which could take the death toll to well over the 7,040 figure provided by the government.
In Kathmandu's Boudha neighbourhood, Shree Subba organizes youths and members of the local church to deliver aid to villagers in Sankhu, which lies several kilometres east of the capital.
Like many Nepalese who seek work in Gulf countries, he had spent the last 12 years in Qatar before returning home last year.
"We are taking one truck of relief materials that we were able to collect," he said. "It includes tents, food and water, and blankets. In Sankhu more than 100 houses have collapsed in the old town."
Shyam Shrestha, 21, of Tiny Hands, a Christian non-governmental organization for children, has been convincing friends and relatives to volunteer on relief trips to remote villages severely damaged by the earthquake.
"People are so desperate that they stopped our relief and tried to snatch the materials we were carrying," he recalled from his trip to the region of Sindhupalchowk and the village of Chitlang. "We had to tell them that we were locals and it was a personal purchase."
Aid Ray, a rapper, has been visiting western areas of Kathmandu and organizing aid deliveries.
"In some areas people did not get to eat anything for two days," he said. "We took them some dry food and water."
Drinking tea with friends after a long day in the field, he added: "There is no calling. When you see this much devastation you can't but do your part, whatever it is, to help the people."
Reporting by Subel Bhandari and Pratibha Tuladhar, dpa