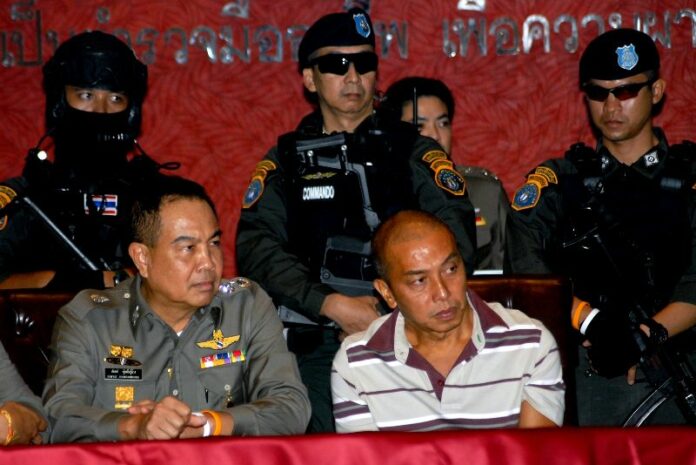 BANGKOK — The former chamberlain of the Thai Crown Prince's third ex-wife was handed over to police today for prosecution on charges of defaming the monarchy.
Montri Sotangkul, a former senior assistant to ex-Princess Srirasmi Suwadee, was given to police by Royal Household Bureau officials at an undisclosed location last night, said Pol.Col. Akradetch Pimonsri, commander of the Crime Suppression Division.
He said Montri was detained at the headquarters of the Crime Suppression Division overnight, and then transferred to the Royal Thai Police this morning.
The 53-year-old official has been charged with violating Section 112 of the Thai Criminal Code, which outlaws defaming the monarchy. Police say Montri exploited his post as a chamberlain and claimed close ties to Crown Prince Vajiralongkorn to secure his position as an executive board member of several state agencies, including the petroleum enterprise PTT.
Montri also abused his royal position to secure the rights to sell and buy land in Bangkok, according to police.
Pol.Lt.Gen. Sriwarah Rangsiphramanakul, commander of Bangkok Metropolitan Police, said today that apart from insulting the monarchy – which carries a maximum penalty of 15 years in prison – Montri is facing three additional charges of bribing state officials, coercing others to bribe state officials, and abuse of power.
"We have transferred the suspect to doctors for physical examination, and to establish that he is in good health," Pol.Lt.Gen Sriwarah said. "And then, we will hand him over to investigative officers at the Metropolitan Police Bureau for interrogation. We expect that it will take all day, because he has four arrest warrants on him."
The officer continued, "Whether he will confess to the charges is up to the suspect. If he does, there will be crime re-enactments. I expect that tomorrow we will bring him to be remanded at a prison."
The National Anti-Corruption Commission (NACC) may also be involved in the prosecution because Montri is was a state official, Pol.Lt.Gen. Sriwarah said.
Pol.Gen. Somyot Pumpangmuang, commander of the national police, said police will request the court deny Montri release on bail.
"We won't let him have bail," Pol.Gen. Somyot said. "Otherwise, he may flee, mess with the witnesses, or intimidate them."
Yesterday, Pol.Gen. Somyot told reporters that former Princess Srirasmi personally appointed Montri to her entourage, and that the Crown Prince was not involved in her decision.
"What Mr. Montri has done, he has done on his own, and it is something related to the the former Royal Consort," Pol.Gen. Somyot said, referring to Srirasmi. "It is not related to, and it is not something Mr. Montri has done for Crown Prince Maha Vajiralongkorn. Let me insist again: His Royal Highness is not involved or aware or related to what Mr. Montri has done."
Former Princess Srirasmi has not been seen in public since she resigned from the royal family in December 2015 amidst a string of lese majeste charges against members of her family, including her brothers, sister, parents, and uncle. All of them are now serving time in prison.
The palace scandal exploded in November 2014 when Sriasmi's uncle, former Central Investigative Bureau chief Pol.Lt.Gen. Pongpat Chayaphan, was charged with running a massive crime syndicate and using the Crown Prince's name to further his riches.
In response, Crown Prince Vajiralongkorn stripped Srirasmi's family of the royally-bestowed surname Akharaphongpreecha, forcing them to revert back to their "commoner" surname, Suwadee, on 30 November.
Crown Prince Vajiralongkorn and Srirasmi were married in 2001. They have one 10-year-old son.