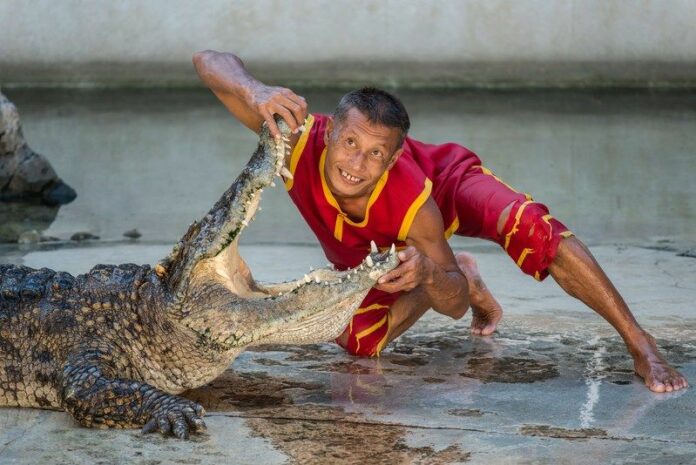 By Siraphob Thanthong-Knight
DPA
BANGKOK — Dozens of crocodiles escaped from a farm in central Thailand this month, highlighting lax oversight of the world's largest crocodile-farming industry and frightening some of the locals.
Southeast of Bangkok in Samut Prakan, two yellow eyes emerge from the green water along with rows of sharp teeth, with the rest of the two-meter crocodile soon appearing into a rare sunny afternoon at the end of the monsoon season.
He finds a space among the other crocodiles to rest after feasting on fish, his dark skin contrasting with the pale concrete floor of the pit, one of many at the Samutprakarn Crocodile Farm and Zoo, the world's largest farming facility for the reptiles.
The young male lives among 60,000 other crocodiles behind double concrete walls, metal fences and steel grates. But not every farm has such escape-proof measures.
---
Catch a Missing Croc, Earn 1,000 Baht
---
"There are no detailed rules on how the pits should be," said Chanin Sangrungrueng of the fisheries department in the central province of Ratchaburi, 100 kilometers west of Bangkok. "The rule only states that the pits should be 'sturdy and strong.'"
In October, 28 crocodiles escaped in the province, but were all captured or killed within a few days.
At least seven crocodiles escaped their farm in August, and at least five escaped in 2014 from four different locations. In 2011, severe flooding in central Thailand set loose more than 100 crocodiles.
Some escaped with the help of flood waters, but many of them got out on their own.
"Because the rule is not specific enough, pits are built without any standards," Chanin said. "We need new rules to prevent the escapes," such as walls at least 1.2 meters high.
Metal grates are also needed over pit corners, the fisheries expert explained. When crocodiles are alarmed, for example by thunder or other loud noises, they tend to gather in a pile in the corner, allowing the ones on top to climb out.
Uthen Youngprapakorn, the owner of the Samut Prakan farm, argues that new rules alone may not be enough.
"Many incidents happen due to human error," Uthen said. "The most recent escape happened because the farm operator forgot to close a drainage hole."
Crocodile farms in Thailand range from large facilities that welcome tourists with crocodile shows like Uthen's to smaller pits with home-made concrete pits raising crocodiles alongside livestock such as pigs or fish or crops.
Crocodiles are native to the region, but the wild population is small and the majority of them exist in farms.
Nearly 1,000 farms across Thailand, raising more than 700,000 crocodiles, supply leather and meat to international and domestic markets, as well as the animals' blood, valued in traditional medicine. The industry contributes more than 3.5 billion baht (USD$100 million) to the economy each year.
"Many farmers got into the business without proper knowledge," Uthen said. "Licensing should only be granted to those who know how to take care of the crocodiles and those with suitable locations not at risk of flooding."
Crocodiles are a protected species in Thailand, and farm operators need to obtain a license from their local fisheries department, which checks that facilities are secure.
"We are now surveying all 31 farms in Ratchaburi for their safety measures and their licences could be revoked if we find their farms unsafe," Chanin said.
He said he had pushed for the new minimum standards, already laid out by the guidelines of the National Bureau of Agricultural Commodity and Food Standards to be adopted by the fisheries department.
Yooey Ketpetch, of the national fisheries department, said her department has recently recommended the standards be applied, but the department has not made them compulsory for crocodile farms.
Safety concerns persist among local residents.
"Authorities and crocodile farms should make sure that there are no future escapes," said Supanida Rangsriseneepitak, a native of Ratchaburi province, home to a floating market popular with locals and tourists.
"I want to have peace of mind when I go near the water without having to worry that some crocodile may attack me," she said.
There are no official records of crocodile attacks in Thailand. Last year one man was chased by an escaped crocodile, and a nun was bitten on the leg near a swamp in the grounds of a temple, local news reports said.
"I'm afraid of crocodiles," Supanida said. "Just the thought of them swimming freely in water scares me."