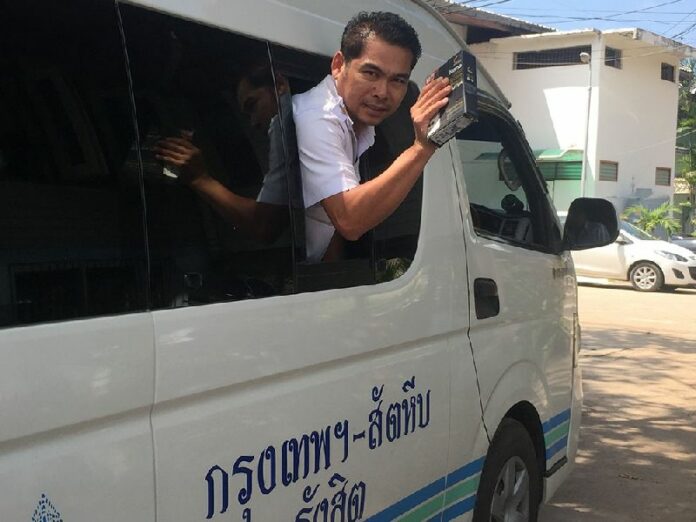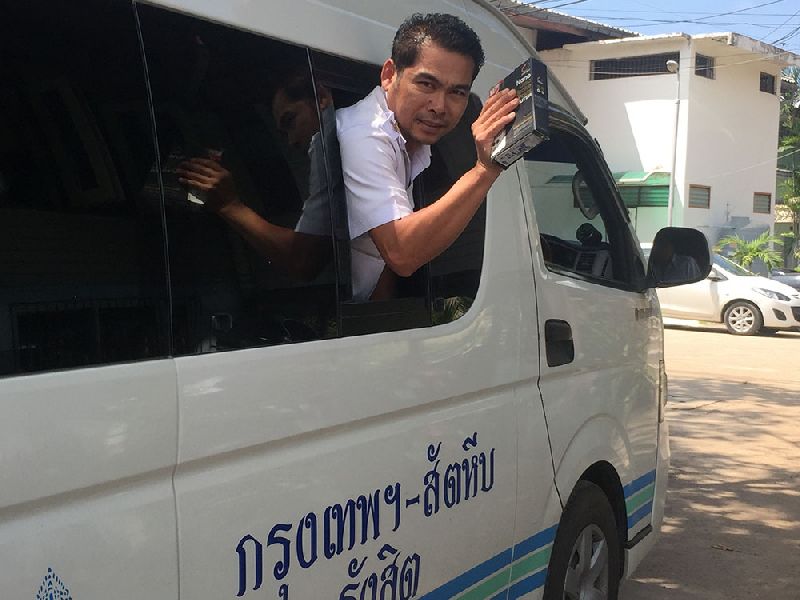 BANGKOK — A public van driver insisted today he was pointing a small box at another motorist – not a gun – in a video widely seen since it was uploaded yesterday.
Prachop Tekrathok, 40, told police today he was the man seen in the "armed van driver" video uploaded to Facebook, but denied having a firearm in the vehicle. A colleague also in the van threatened today to file a libel suit against whoever uploaded the video.
In the clip posted by Facebook user "Kittipol Na Ubon," the driver of a Bangkok-Sattahip van opens his window and leans out, appearing to point a gun at the person filming. The scene is quite dark, however.
The video was later widely shared and criticized, with many bloggers reposting it with a similar description.
But Prachop said he was not carrying a gun. He said the incident took place Tuesday evening on a road north of Bangkok in Pathum Thani province. Prachop said he wasn't actually driving at the time, but seated behind another colleague behind the wheel, Somkuan Worasith.
Someone on the internet posted this screenshot of the video and added a helpful pink identifier.
Prachop admitted he was steamed at the other driver, but said viewers seeing a gun are mistaken.
"That car cut the lane so fast my head banged the fire extinguisher in the van," Prachop said today at Sattahip Police Station. "And the car tried to cut us off again, so I was angry! And when the car was close, I picked up a brake-lining box and rolled down the window. I wanted to threaten the other car that I would throw it at them if they did it again."
Somkuan, 42, who was driving, said his livelihood's been damaged by the impression created by the video.
"I suffered damages. [The Department of Land] Transport summoned me for an investigation, so I have to stop driving … if they don't let me drive anymore, what are my wife and children going to say?" he said.
Somkuan said he he's collecing "all the evidence" to file libel charges against "people who posted and shared the video."
Police Col. Methawit Praditpol, commander of the Sattahip Police Station, said officers found no firearms in searches of the van and both men's homes.
Methawit said police would tighten measures to discourage inappropriate behavior by van drivers, such as those who actually do carry firearms, use drugs and "drive impolitely."
He did not say whether Prachop would face any legal action for threatening another motorist with a box.