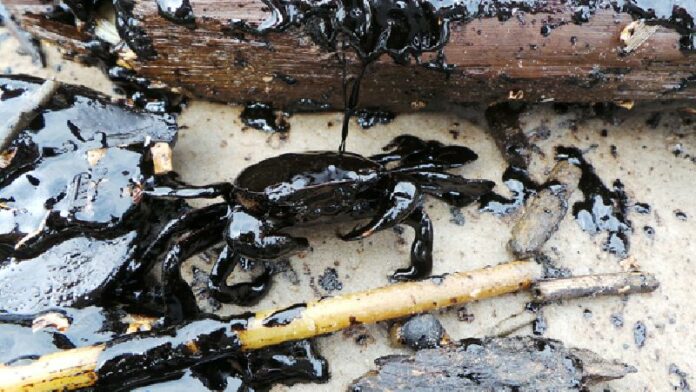 HUA HIN — Swimming was still prohibited at Hua Hin today as the beach was closed to clear up an oil spills while the provincial governor said he is prepared to sue the company responsible for fouling the popular resort beach.
After oil washed up along 10 kilometers of the beach Tuesday afternoon from Hua Hin to Khao Takiab, Prachuap Khiri Khan Gov. Thawee Naritsirikul said he will weigh legal action against the responsible company as soon as the test results determine the source of the spill.
Today around 500 people and government workers gathered for the clean up campaign which was expected to take several days. The slick today was not as thick as yesterday.
After completing an inspection of the shore, a local environmental official said the spill consisted of tar. DNA testing will next determine whether it came from an oil rig, said Jirat Pranprasit of the local Natural Resources and Environment office. However if the oil was dumped or leaked from a passing vessel, he said it would be difficult to trace.
Only about three hours from the capital, Hua Hin is a popular weekend destination for the Bangkok middle class.
A restaurant owner on Khao Takiab beach, Sayan Muenmuk, said that wind usually carries garbage from under the sea ashore from October to February. But he first noticed the smell of oil on the wind a couple days ago before the sludge arrived to blanket the shore with tar.
Also inspecting the damage to the living environment, Marine Biologist Thon Thamrongnawasawat wrote online that the extent of the spill would not be deadly to marine life – yet. He suggested to keep monitoring and reforming the coast guard system as
Saying that such leaks tend to hit the Gulf of Thailand several times a year, Thon added that Thailand needs improved monitoring to better protect its coastal environs.
The last major oil spill to hit the gulf came in 2013, when a hose pumping oil from a tanker to a PTT-owned refinery broke. Oil soon fouled the coasts of Ko Samet, a busy resort island. PTT was criticized for its response to the spill and playing down its effects.