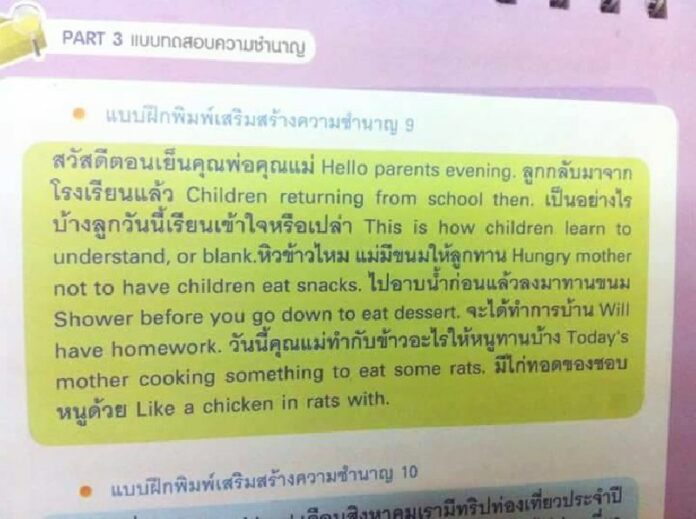 BANGKOK — "Hello parents evening. … Today's mother cooking something to eat some rats."
Anyone doubting frequent headlines about the state of Thailand's English proficiency – now considered the third-worst in Asia – might only need this excerpt from a commercial textbook for proof.
Bangkok teacher Karl Dahlfred said the scanned page came from his son's typing skills book. It shows sentences in Thai and translated into English with alarming outcomes such as, "This is how children learn to understand, or blank."
"If Thai people have qualified teachers and good materials, they can go very far in life," Dahlfred wrote in reply to an inquiry this afternoon. "So it makes me sad when I see books with horribly incorrect English, that sometimes doesn't even make sense. This sort of problem could easily be solved by having a native speaker check the book before it goes to print."
The book is published by IDC Premier, and to be fair, is not a state textbook for use in schools. Messages sent to the publisher were not immediately returned.
The post has quickly gone viral and has been shared more than 3,500 times by this afternoon.