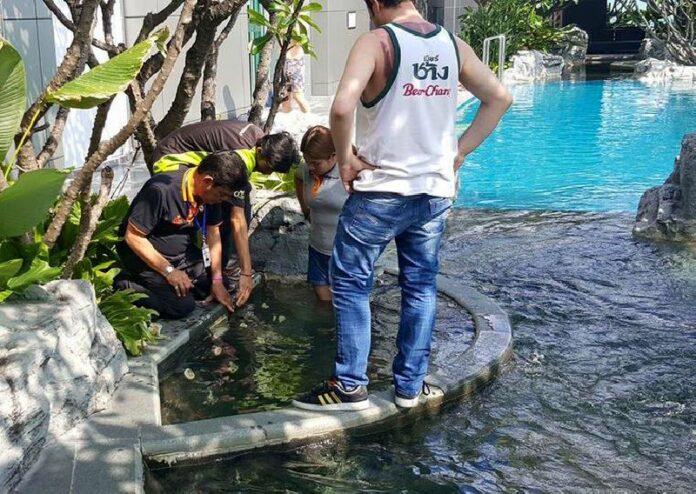 BANGKOK — An Australian man on vacation in Bangkok with his family was seriously injured in a luxury condominium's rooftop on sen, his family complained online yesterday.
In a since-deleted account posted online by the man's Thai wife, her 34-year-old husband, Yahir Ben Weitzel, entered the onsen at The Address Asoke with his young daughter, sat back and became stuck by suction on an intake for nearly 20 minutes, causing serious contusions.
Their account included a series of photographs documenting the incident. The condominium disputes the story.
"He fell unconscious before we arrived at the hospital," wrote the man's wife, who is not identified by name. She said that they did not receive aid from the condominium, so she had to send him by motorcycle taxi to Bumrungrad Hospital.

Yahir Ben Weitzel's back after he said that he yanked himself free from a pool duct which had trapped him for 20 minutes at a luxury condominium in Bangkok. Photo: Weitzel family / Facebook

"The doctor saw he was weak and unable to stand by himself, so he was treated and x-rayed immediately," she wrote.
The family said that they checked into the condo after arriving to Bangkok on Nov. 24. On the evening of Nov. 26, the father took his eldest daughter, 5, to the rooftop swimming pool on the 44th floor.
"I had a near fatal experience yesterday" Weitzel said in a video uploaded to Facebook today. He said that after 20 minutes, a "wind of adrenalin" helped him reach a tree nearby and break the seal pinning him to the duct.
A representative from condo developer AP Thai referred inquiries to the building management company. A woman answering the phone this afternoon at M Management initially denied the incident took place. Pressed on the matter, she said the case resolved and refused to answer questions or discuss the matter further. She did not identify herself.
The Address Asoke posted online yesterday that mechanical and electrical inspections determined the location must have been a 20-centimeter by 25-centimeter vent. They said no fan was found inside as claimed by the victim and his wife.
The condo officials and insurance agency offered compensation to the family. However, they said the family had returned Australia on Tuesday without signing any documents.
The Facebook post, Pantip forum thread and a YouTube clip related to the story were found to have been deleted today.