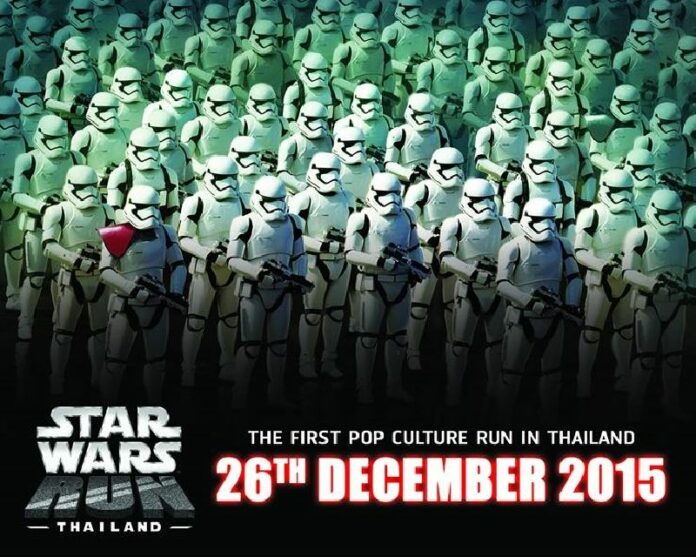 By Teeranai Charuvastra
Staff Reporter
BANGKOK — From the city that gave runners an extra seven kilometers in a half marathon comes a Star Wars-themed run that added an extra hour.
The much-anticipated event, called Star Wars Run Thailand, was marked by an hour delay to the scheduled start time, substandard prizes and souvenirs and several traffic interruptions.
Star Wars Run Thailand cost 900 baht to enter and was heavily advertised in recent weeks. Hype for the event was also partly fueled by the release of the latest Star Wars film installment, The Force Awakens, which opened in Thailand on Dec. 17.
But many participants gave in to hate and anger, and flooded the organizers' Facebook page with complaints and criticism almost as soon as the event was over.
Among the chief complaints was the delayed starting time, which interfered with many runners' plan to blow this thing and go home before midnight. Runners were supposed to start on Saturday night from Siam Square, following several hours of performances on stage, but organizers did not release the runners until around 11.30pm.
"Why didn't you manage the time when you planned the run and just call it a midnight run?" wrote Jedsada Wannasri on the event's official Facebook page. "You can't just tell runners [the start time is] 10.30pm. This is wrong. Many people came to the event. It was so packed and hot. And they came from far away, they already planned their departure times to return home."
Organizers of the event did not respond to Khaosod English's message requesting for comments. According to its promotional material, Star Wars Run Thailand was organized by a toy company called Hobbies Plus. The company did not list any contact number on registration sites.
Other complaints involved "stations" along the 7-kilometer running route that lacked any innovative touches. Reded lights at intersections forced runners to stop in their tracks, while poor lighting in some roads and alleys made it difficult to stay on target.
The run's prizes also took a direct hit from the runners. Medals were of poor quality compared to Star Wars-themed run events held in other nations, while the commemorative shirts failed to "glow in the dark" as promised by the organizers, and unexpectedly came complete with large logos of sponsors.
A photo of the Star Wars Run medal posted to the Facebook page of the organizers.
"The medals were so fucked up. I thought I would at least get some good stuff after all those horrible stations," wrote another runner, Rachata Weerachaising. "But it's so different from the design. You used ribbons to hang the medals and screened sponsor logos on it. Erm.. I didn't sign up for a school sports day, ok?"
His post continued, "I once made this kind of medal, it cost me 15 baht. It turned out so shoddy, what happened to my 900 baht?"
In response to these disturbances in the Force, the organizers published a statement on their Facebook page and apologized for the shortcomings. It said the run start time was delayed due to "unforeseen circumstances" without elaborating, and promised to issue new sets of medals that match the advertised version. The new medals will be available by Jan. 2016, the statement said.
"The organizers read every comment and suggestion, and we will use this to fix our mistake and improve our work," the organizers said in the post.
Running events have been booming in Bangkok in the past year, including high-profile events like BMW Charity Midnight Run, Color Run and a recent Half Marathon.
The latter inadvertently became the longest half marathon in the world after organizers placed a wrong U-Turn, forcing runners to run an extra seven kilometers.
To reach us about this article or another matter, please contact us by e-mail at: [email protected].
Follow Khaosod English on
and
Twitter
for news, politics and more from Thailand.