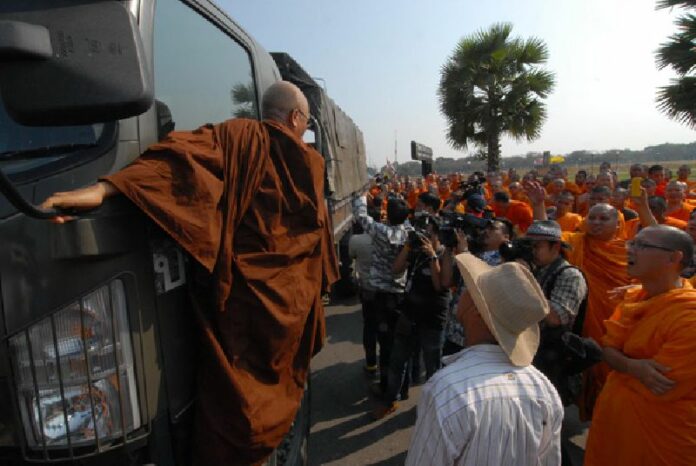 NAKHON PATHOM — Hundreds of monks clashed with military officers Monday west of Bangkok after soldiers blocked the entrance to the Phutthamonthon Buddhism park where they planned to gather.
Dozens of enraged monks appeared to approach a military truck after it parked to obstruct the entrance to the park as the gathering violated a junta ban on political gatherings. It was expected that more than 30,000 monks and Buddhists were going to Phutthamonthon today to demand immediate endorsement for the current acting Supreme Patriarch to be named to the post permanently, and enshrine Buddhism as a national religion by statute.
---
Politics, Corruption in Battle for Naming New 'Supreme Patriarch'
---
The meeting was also organized to show opposition to controversial monk Buddha Issara, a political activist who has petitioned to disrobe Phra Dhammachayo, the abbot of a large Buddhist cult known as Dhammakaya.
By late Monday afternoon the military reportedly allowed the monks entrance to the park.
Related stories:
Politics, Corruption in Battle for Naming New 'Supreme Patriarch'
Protest Prompts Officials to Postpone Dhammakaya Monks March