BANGKOK — The new director of Bangkok's largest downtown cultural venue slides by a flickering monochrome projection of a naked artist pointing out parts of his body.
"Wait for it," the man with a pedigree of academic distinctions says in English sharpened by his time in Chicago.
"This is my anus. This is my poop," the narrator intones as the video cuts to a close-up shot of the artist's anus in the act of defecating.
That's when Pawit Mahasarinand, a Fulbright scholar made "chevalier" by the French government for his contributions to Thai theater, bursts out laughing.
"This video loops. For some reason, every time I walk by, it's on this scene," he says, still chuckling.
It's been only a month since Pawit, 45, became the director of the Bangkok Art and Culture Centre, the capital's largest downtown cultural venue. While most people elevated to such positions would parade guests before the most expensive exhibition or their mahogany desk, he prefers casual to pretentious and chats to service staff.
And it's that philosophy of inclusiveness and social awareness that the droopy-haired theater lover, who sports a wide chevron on his upper lip and wispy whiskers below, plans to bring to the institution.
Not only does Pawit plan for more exhibitions geared toward underserved populations such as the elderly and people with disabilities, he wants to go against the grain of an art scene that usually shies away from controversy – by opening the door to it. Recently, he allowed inside environment activists to protest the killing a black panther by a powerful figure.
"They didn't just give out masks, they also read poetry and performed music," Pawit said. "Art is part of everyday life, and art has political and social agendas."
Read: Panther Activists Lead 3rd Protest Against Premchai at BACC
Art For All
The center, a publicly funded venue which opened a decade ago, presents topical programs and has been used as a rallying point by activists – partly for its prime location in the mall-studded cosmopolitan center.
"It's been the place to meet, because it's where two skytrain lines intersect and everyone knows where it is," Pawit said.
But it hasn't exactly earned a reputation for pushing boundaries.
As he describes himself, Pawit says Thais are "multipolar." Those visiting the area may want to shop or eat, they may want to take in an exhibition and some may want to attend a demonstration.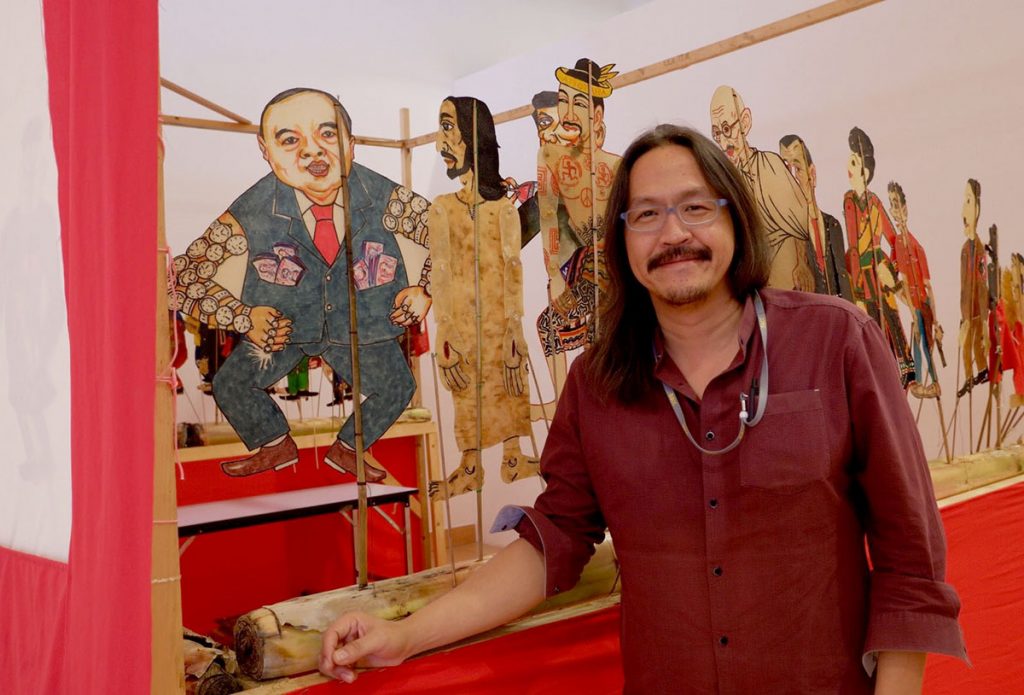 "People have been saying that being the director of the BACC really fits my character. The space can be used for many different things, and likewise I'm multipolar; interested in many different things," said Pawit, who finished his postgraduate degree in theatre at Chicago's Northwestern University in 1996.
The center reflects that, offering shows both provocative and prosaic. While one space might be used for thought-provoking performance art, an upper floor may be given over to royal cat photos.
Are there lines its curators won't cross with the nation about to begin a fifth year of military rule?
"I'm not going to answer that question, but why don't we go up to the eighth floor?" Pawit said, with a kind of verbal wink.
His long locks flowing in the icy aircon blast of another exhibition room, he saunters to an open space where bales of hay are piled in rows. Next to them is a flag-colored tower topped with bullhorns, part of the I Am You retrospective of Vasan Sitthiket, the artist and social critic behind the anatomy video.
"Here, it's like the artist is talking about people having to prostrate before the government's orders," Pawit said.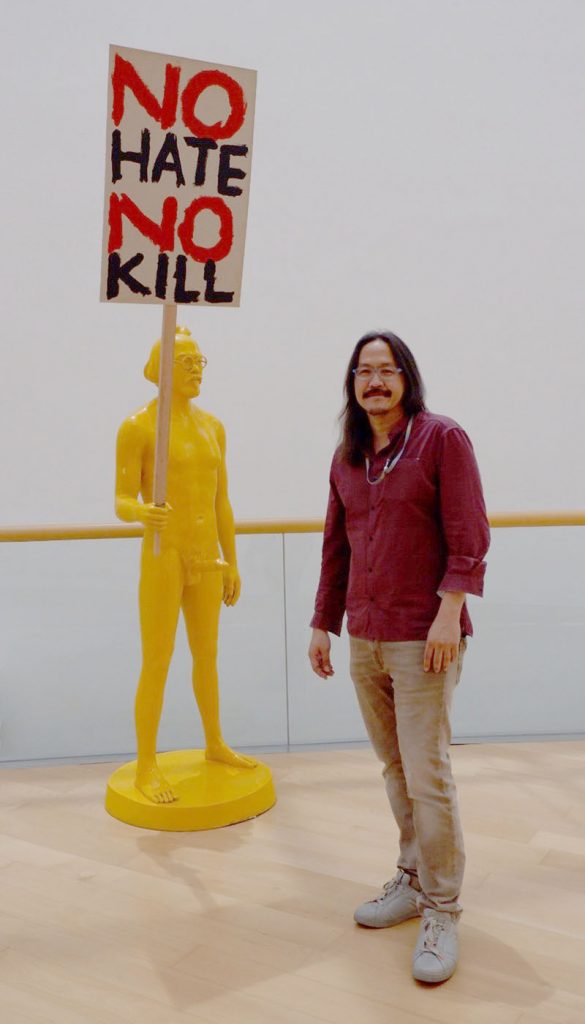 The director then pointed to drawings of contorted beings suffering in Buddhist hell against a Thai flag-colored background.
"Even I thought this display was risky, but it shows that freedom of speech still exists," he said.
Pawit's openness made him a popular sensation and affable character among his theatre students at Chulalongkorn University, where he started teaching almost as soon as he completed his undergraduate work there in 1992.
"Even for class, he was a good curator in choosing performances for us to go see," Pichaya Petrachaianan, a 24-year-old freelance art critic who studied under Pawit said. "Once, he let us see a play written by a Yellowshirt and another by a Redshirt so we could compare the two. He's not so biased; he didn't push his own stance on the kids."
Inclusivity
Not only will the center be open in terms of ideology, Pawit said he wants to gear it toward groups of people that galleries don't often curate to, such as the elderly and people with disabilities.
"Sometimes I go to reception on the first floor, because that's where you meet people. I encountered this retired gentleman who told me that he comes here every day because he has nowhere else to go," Pawit said.
Exhibitions by and for the aging society, such as an exhibition completely by elderly artists or seminars about retirees, are on the table.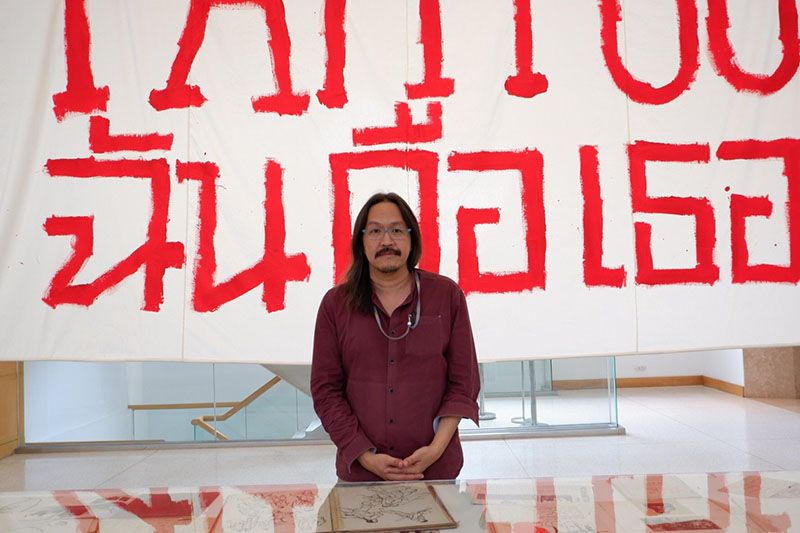 "Unlike other countries, there's less activities here for our fathers and grandpas, mothers and grandmas to do," said the only child of a math teacher and civil engineer. "But this space has a lot of potential to present something other venues cannot."
Pawit's human touch is evident when he stops to chat on the eighth floor with Thanom "Noi" Sodram, a 57-year-old security guard of six years who tells him her son has just died of illness.
"Oh, auntie," he said, visibly affected. "No one told me this."
They're also working on exhibitions that can be "equally enjoyed" by visitors with physical and mental disabilities, whether something for the blind or musical art therapy.
"What happened at the skytrain will not happen here," Pawit said, referring to the longstanding indifference shown by the public transportation system toward commuters with disabilities.
Bottom Line
One of Pawit's bosses said he was chosen for the job to move it forward.
"I felt that he was someone with a vision in modern art," said Chatvichai Promadhattavedi, the center's first director from 2008 to 2011, who now sits on its board. "Therefore, I believed he could move the art gallery forward. Modern art requires a conversation with modern society."
Pawit's background in theater – not only as a professor but also as a stage director, actor and as a director of the Sodsai Pantoomkomol Centre for Dramatic Arts theater – is a boon, Chatvichai said.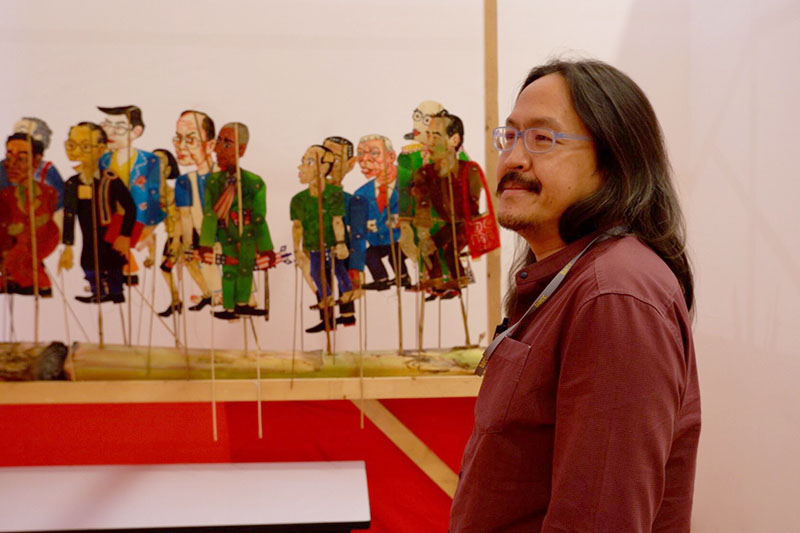 The former director said Pawit's work will be cut out keeping the over 4,000sqm space afloat financially.
"We have to figure out how to generate income. Last year we made back half of our expenses," Chatvichai said. "So the new director will have to lead the way in fundraising."
The BACC is an independent organization that operates on 80 million baht to 90 million baht a year and receives less than half of its funding from the Bangkok Metropolitan Administration. The rest is funded by royal donors as well as corporate sponsors such as ThaiBev, Siam Commercial Bank, Osotspa and PTT Group.
"The BMA supports us, but it's never clear how much they will give or through which way," he said. "We will need a more permanent agreement for stability."
The center has faced restructuring due to financial shortcomings in the past. It originally offered free space for small galleries in its atrium, but those were evicted after a few years to make way for commercial tenants.
Still, Pawit maintains the space's primary mission is to be a conduit for the public to experience art.
"We willingly take donations. Most activities here are free and we want to keep it that way," he said. "You can come in here for free aircon and clean toilets and maybe get some ice cream. But I also want the audience to get out of their comfort zone with art, so they can enjoy life more."
"I Am You" runs through May 27. It will be followed by a Caravaggio exhibition and a June event marking the venue's 10th anniversary. Comments to the BACC can be sent to Pawit at [email protected] or via Facebook.