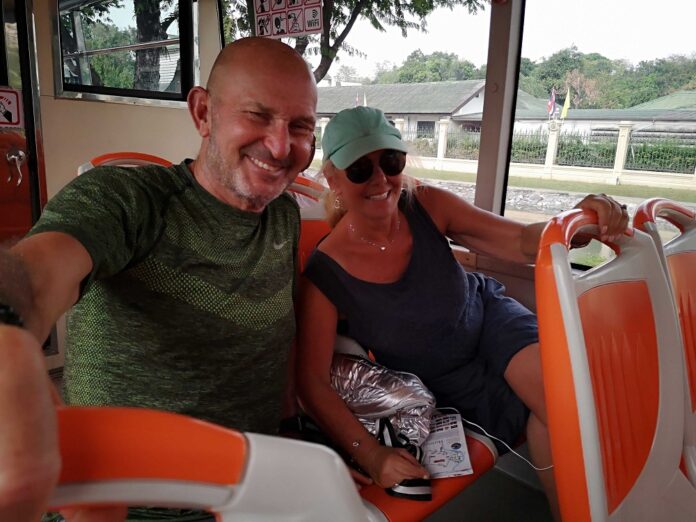 BANGKOK — When I heard that Bangkok now has its own hop-on hop-off buses, I was intrigued.
You see, love it or hate it, I have tried these hopping buses in nearly every major city I've visited – London, New York, Paris, or Rome. It's a lazy but convenient way to peruse a new city from a "close enough" distance and get a sense of the city environment.
So, when words reached me that a company called Siam Hop is operating a hop-on hop-off tour bus in my own city, I wonder how well the concept would fare against Bangkok's unique challenges of nightmarish traffic and dust-choked pollution.
To find out, I recently boarded Siam Hop bus after paying 350 baht for a hop-on hop-off service from its ticket booth at MBK. The ticket is good for 24 hours after purchase. As it turns out, it wasn't a bad idea at all, especially if you are a first-time visitor to Bangkok who wants to explore the city with minimal sweat and PM 2.5 microdust in your lung.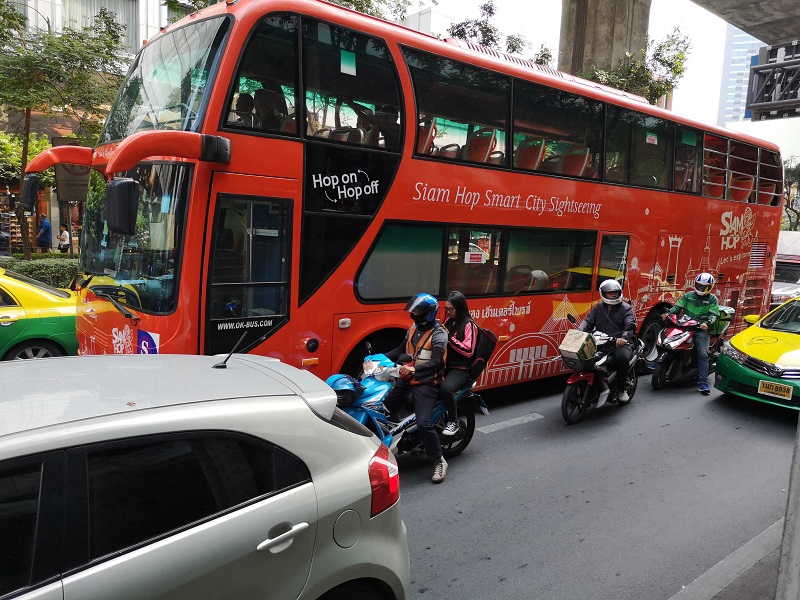 Let's start with what is good. The air conditioner on the Chinese-made bus is neither too cold nor too hot. There's also an option of an outdoor area.
English-language audio is well done. Alternative audio comes in ten other languages including not just Chinese, French, German and Japanese, but also Russian, Korean, Bahasa Indonesia, Hindi, and even Thai.
I chose the "Heritage Route," one of the four available options. It takes you through a good chunk of old historic Bangkok, in roughly two and a half hours, depending on the traffic.
Covered attractions include the Grand Palace, Wat Suthat and the towering Giant Swing, Phra Sumen Fort and its riverside garden, Democracy Monument, Chinatown, and Charoen Krung Road.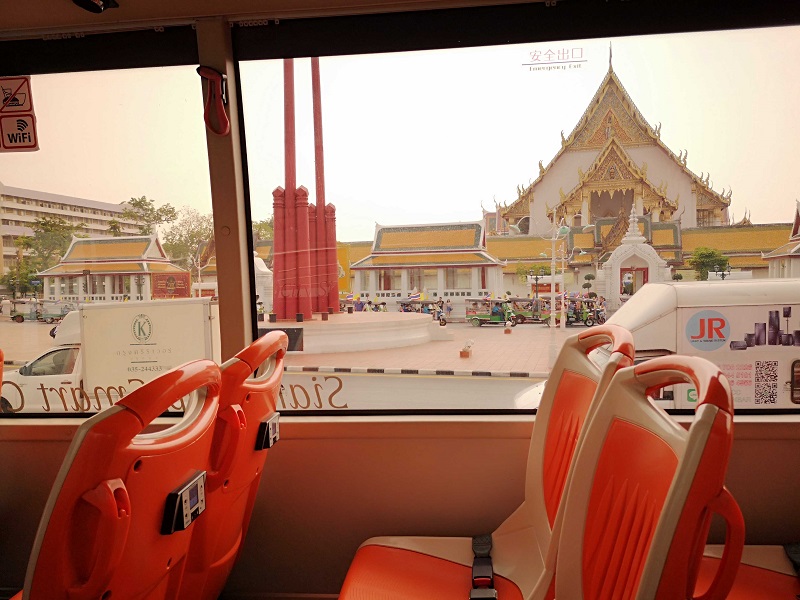 Although technically not part of Bangkok's historical heritage, the bus also makes a stop at River City Antique Market and King Power Duty Free Shop on Soi Rangnam in case you develop temple and palace fatigue.
As it navigates through the city, the bus audio gives you some details that even an average Bangkokian may not know about. For example, the Samyan area is named that way because it's where three neighborhoods meet – Si Phraya, Sala Daeng and Saphan Lueng (not that this knowledge will be very useful, anyway).
Bus passenger Suparna Kar, a 47-year-old sociology lecturer from India, said she likes it.
"Staff are very friendly and it's very convenient," she said.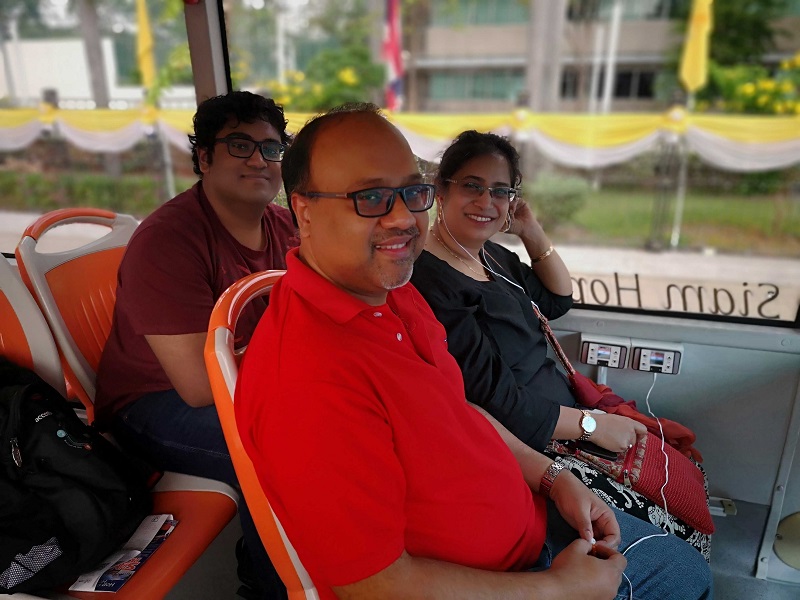 Suparna's husband, Sudep, said he was even expecting a far worse congestion, and he was pleasantly surprised that the traffic around noon wasn't as bad. I did tell him to wait until it's rush hour and think again. Bangkok's traffic is unpredictable and slow, at its best.
Certainly this is not the fault of Siam Hop, though it lowered the level of attractiveness for such services in the city.
What Siam Hop could do better, however, is the low number of signage and location announcements. Besides a handful of major stops, there was no indicator where the bus was passing through. It's as if the operator wants to encourage people to simply stay on the bus, instead of hopping on and off to explore.
Passing through Chinatown, the audio guide still recommend tourists to try its sharkfin soups, despite growing worldwide efforts by animal welfare groups to put an end to the practice.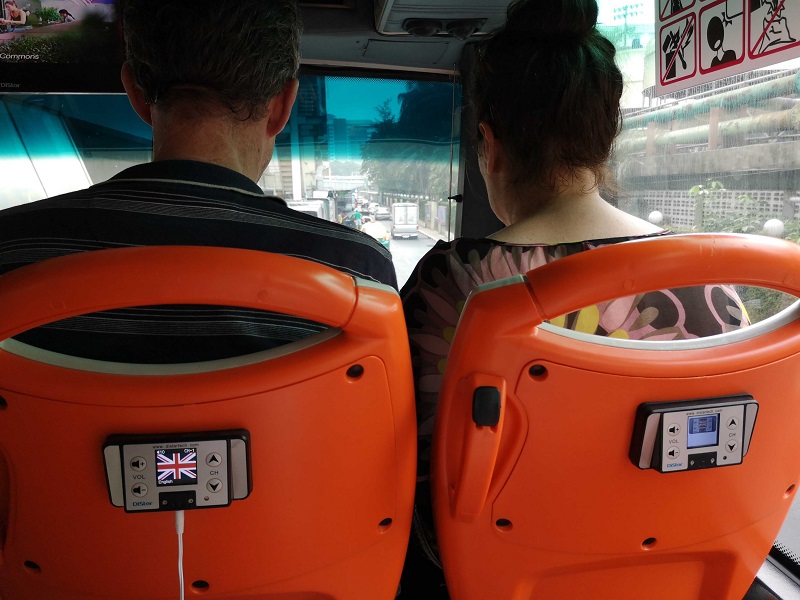 Another passenger, Phillip Jones from Melbourne, said the earphone's sound quality could have been clearer.
"The sound quality is pretty average," Jones said, adding that the signage issue needs some improvement. "Nobody told us where to get off to board the cruise."
Pricewise, it's not cheap, but not extortionate either, if you only go for the Heritage Route like I did. This option appears to be available when buying in person only. A more pricey ticket sold on Siam Hop website, which covers all four routes served by Siam Hop with a validity of 24 hours, costs 799 baht.
But in my opinion, that's not the most ideal way to go about Bangkok as a tourist, since you'd spend most of the time bogged down in traffic, which is too much of an authentic Bangkok experience.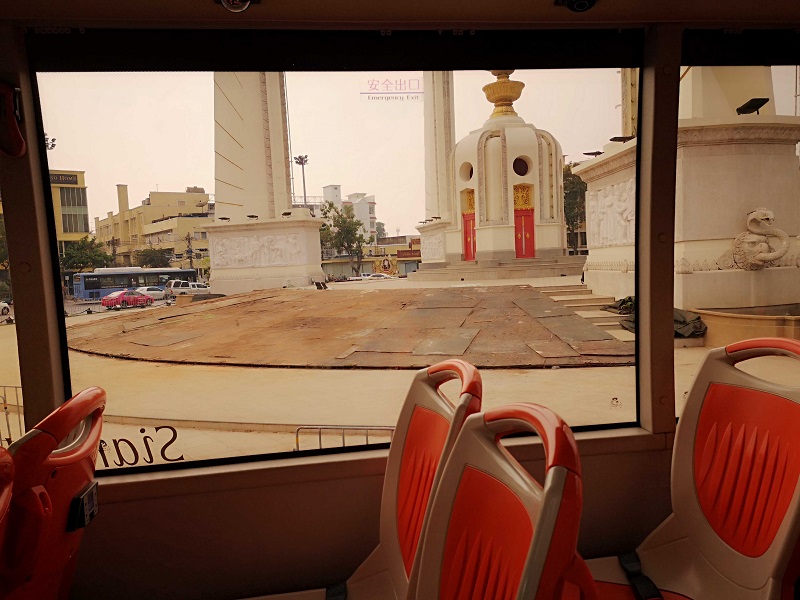 Heritage Routes starts from 9am at MBK with the last bus leaving at 8pm Check out siamhopgroup.com or call 02-066-6600 for details.
Note: The reviewer paid for the fare by himself.