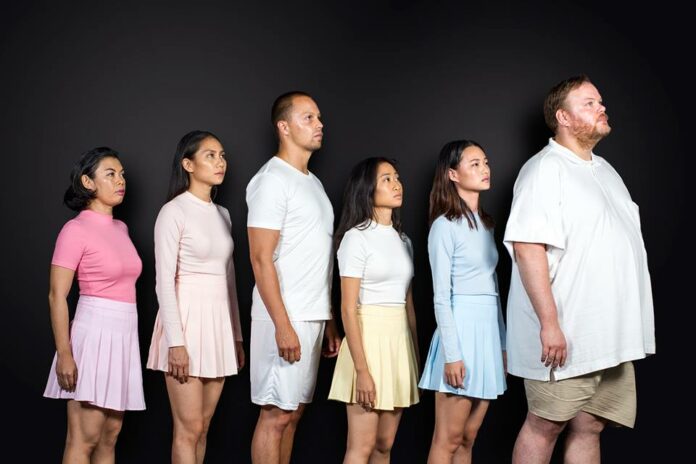 BANGKOK — What do Thai women want from German boyfriends? Why do some dream of moving to the West? What do farang men find by paying for love and affection after coming to Thailand? Stereotypes about sex tourism and interracial relationships at various levels will be explored through a physical performance on a Bangkok stage.
Based on a German researcher's look into intercultural relationships and the factors behind them, "Happy Hunting Ground" examines individual dreams and social systems, even legacy colonialism, through interviews with Thai women in relationships with German men and Pattaya sex workers to a Thai wife in Germany.
An intercultural production co-produced by Democrazy Theatre Studio and Germany's Badisches Staatstheater Karlsruhe, the contemporary dance performance stars four Thai actresses and two male actors and is directed by Thanapol Virunhakul, whose past productions include 2014's "Hipster the King."
Thanapol said his curiosity toward couples from different countries and cultural backgrounds has extended to how the social systems work, how authorities control and influence people's personal lives, and how they respond to that.
"A romantic relationship between two people is not private. It doesn't involve only two people," Thanapol said. "But it becomes a public issue since it engages peers, social norms and acceptance."
"We might think the issue is not really relevant to us, but actually it might be relevant to us more than we know," the choreographer-director said. "We all try to strive for a better life, which sometimes make us similar to these couples."
Tickets are 600 baht and 300 baht for students. The show's dialogue will be in English.
"Happy Hunting Ground" will show at 7:30pm daily Sept. 1 – Sept. 3 at the Sodsai Pantoomkomol Centre for Dramatic Arts at Chulalongkorn University's Faculty of Arts.
After its run in Bangkok, the Thai-German performance will move on to Chonburi province Sept. 6 and Sept. 7 at Burapha University's Blackbox Theatre before traveling to Germany and Switzerland.