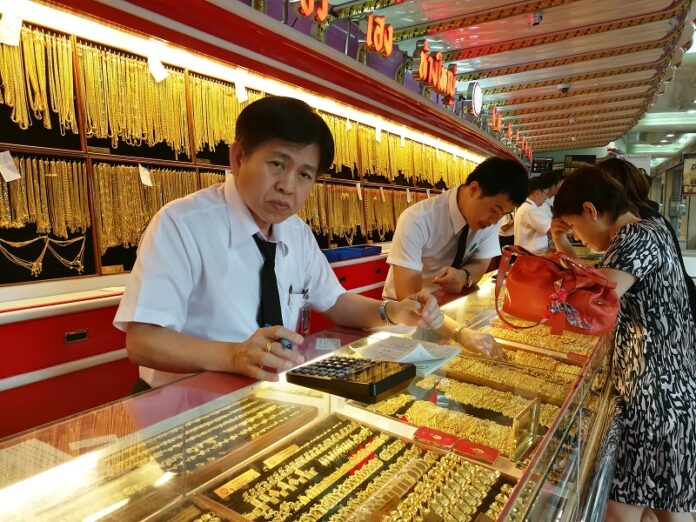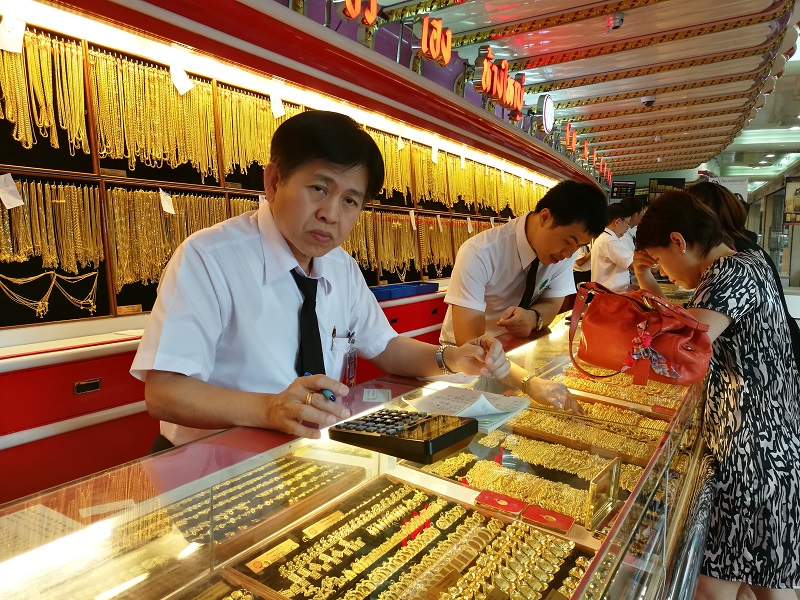 BANGKOK — Chinatown is no longer a working center of Thai-Chinese businesses. Over the years, it has evolved into a tourist attraction in its own right. For the uninitiated, there's more to do than to eat noodles and gaze at the neon-saturated nightscape.
Let's take a stroll down the arterial road of Yaowarat, named for "young king" Rama V who ordered it built, to find the stuff for which it's famous.
Gold Smiths
There are at least two dozen gold shops large and small along and around Yaowarat Road. One big chain has three or fours shops in one area. A clerk told me it's like having many convenience stores in the same densely populated areas to increase the chance customers will walk into one of them.
Walking in to check one out is a must for anyone visiting the neighborhood. Bangkok's Chinatown would look totally different without the big signs in Thai and Chinese advertizing their goods, regarded by Thais as a safe haven in times of economic calamity and long-term savings for those who can't be bothered to invest in stocks or derivatives.
In Thailand, the preferred purity of gold jewelry is 96.5 percent, or 23.16 karats. This means it's softer but purer and richer in hue than the color of 18 karat yellow gold, which is 75 percent pure and commonly used to make jewelry in the West. Prices are adjusted several times on a daily basis, with prices publicly posted out front, in line with the fluctuation of gold prices on the world market. All shops close on Sundays.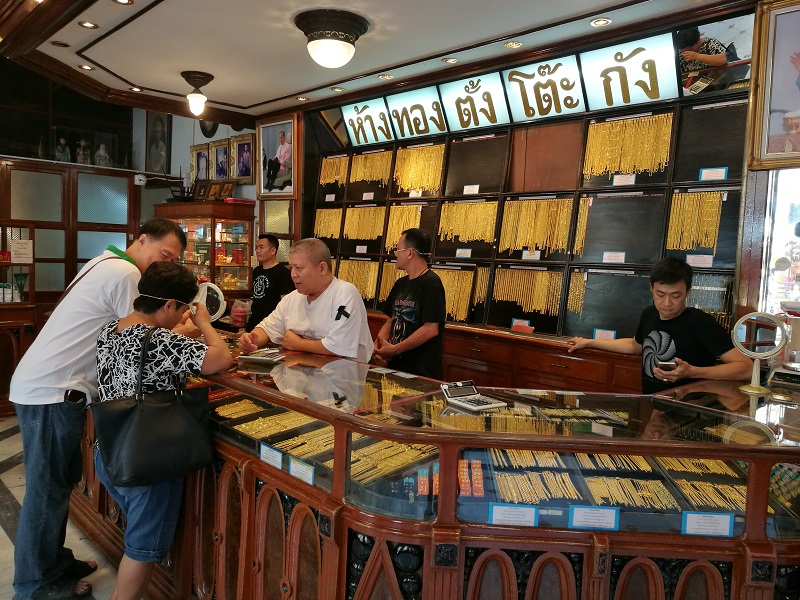 Traditionally, ordinary Thais, including the working class, saved whatever they could and turned it into gold necklaces, rings or bangles to keep as hard assets or give to loved ones. It can be pawned or sold in times of economic hardship, as the metal can be easily liquidated into cash.
A few Western tourists can be spotted inside the Yaowarat goldsmiths, and even those not into gold will find it worth checking out just to marvel at the sheer abundance and the characteristic use of the color red, being an auspicious color for the Chinese.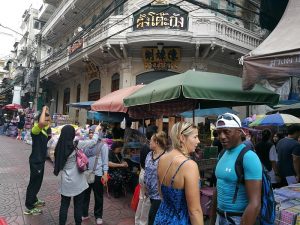 For the most traditional of all goldsmiths, considering decor and ambience, head to Mangkon Road, which intersects Yaowarat toward Chinatown's western edge. Turn southwest and walk one minute into this small alley to find Tang Toh Kang Goldsmiths, founded in 1875, with its dark wood panels and beautiful traditional Thai and Chinese signboards.
As a sign of changing times, a clerk at the shop told me they now do sell gold bars of 99.9 percent purity in order to save the trouble of having to mix or extract other metals that make gold alloys harder. However, most other goldsmiths still only stick to the 23-karat gold standard.
Market and Small Alleys
Back when Ayutthaya was the capital, the city had its own Chinatown as well, known as Nai Kai Market, according to "A History of The Thai-Chinese" a seminal English-language text by Jeffery Sng and Pimpraphai Bisalputra.
"At the market itself, Chinese shop houses lined the main street and sold all varieties of items, including porcelain, silk, herbs, medicine, tea, fresh and preserved fruits, Chinese sweets, spices, brass wares, iron implements and woks. There was also a large fresh market. Nai Kai Market was busy all day, especially during the junk trading season around Chinese New Year," the two authors note.
Nai Kai Market may be long gone but it's not difficult to imagine being there by getting lost in Chinatown's small alleys and chancing upon old shops and stalls selling the same sorts of goods – with the addition of electricity, cameras and electronics.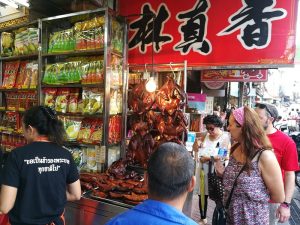 I found much of the goods described in the book still being peddled, 300 years later. While the many nooks and alleys provide surprising discoveries, my recommendation is a stroll in the afternoon into the narrow and relatively dark alley next to Soi Yaowarat 6 opposite the Old Market, or Talad Gaow. A 15-minute walk through the alley will most certainly overwhelm your visual and olfactory senses. The smell of spices, herbs, fish and more will transport you to another realm.
At the other end of the alley is Charoen Krung Road, and just across is the famous Dragon Temple, or Wat Mangkon Kamalawat.
Dragon Temple and its Tips for a Prosperous New Year
Built in 1871 to spread Mahayana Buddhism and granted its Thai name by King Chulalongkorn, it is arguably the most famous Chinese temple in Thailand.
Signs in Thai and Chinese speak of the intercultural marriage. Stop by just before dusk when the statues of deities and Buddha look splendid due to the light and gold reflections. Dramatic are the four gigantic Guardian of the World statues in Chinese warrior costumes looking furiously down at visitors from the inner gate.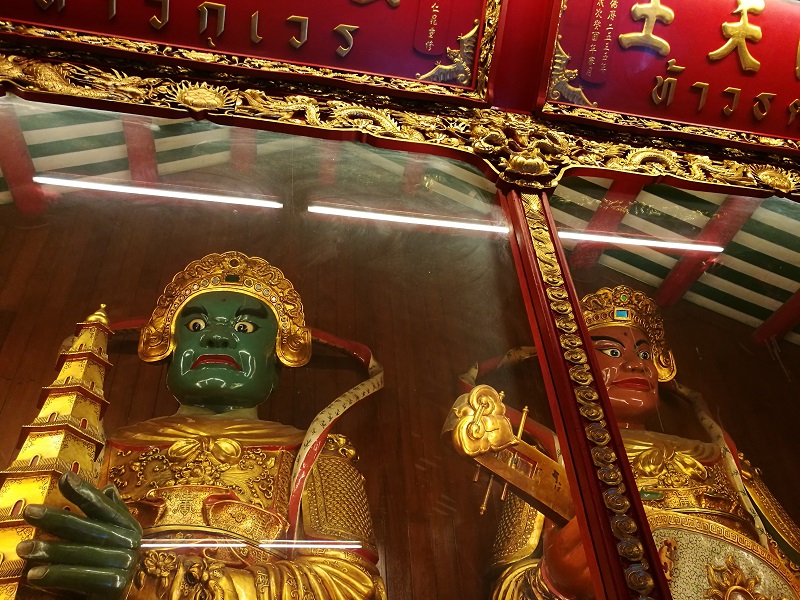 The majority of Thai-Chinese cannot read Chinese. In fact most of their ancestors who migrated to Siam and what became Thailand over the centuries were mostly poor and illiterate. Attempts have been made to pass on some of the Chinese cultural knowhow, such as adapting the rendering of southern Chinese opera into Thai language and more.
As Sng and Pimpraphai noted, "the ancestors of the Chinese in Thailand mostly come from the ranks of merchants, peasants, adventurers and coolies with very few members of the literati class among them. The absence of a literati tradition in the local Chinese community is reflected in the dearth of Chinese clan records."
At the temple, red posters with instructions in Thai remind Thai-Chinese and Thai worshippers and visitors on how to conduct themselves on Chinese New Year's Day in order to avoid bad omens.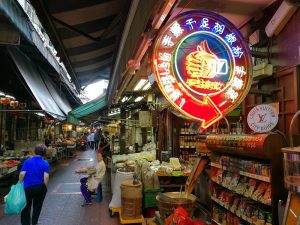 Here are some of the more interesting don'ts:
"Do not clean the house. It will remove your good fortune from home."
"Do not wash or cut your hair. It will remove your prosperity."
"Do not use expletives or engage in a quarrel. Saying bad things will bring misfortune for the rest of the year."
"Do not break objects. It's a bad omen signalling that the family will be broken or someone [in the family] will die."
"Do not use sharp objects. It will cut away your good fortune."
"Do not wear white or black. Black and white clothing is bad omen, that's why Chinese people wear red, because red is a lucky color."
On Chinese New Years past, I've seen mainland Chinese tourists in Bangkok wearing black. Apparently some are less superstitious than the Thai-Chinese.
Not all instructions can be said to be plainly superstitious, however.
I found at least one which offers a rather sound advice on how to handle one's financial situation.  
"Do not lend money to others. This will lead others to always borrow money from you. If you owe money to someone you will be in debt for the rest of the year."
That's practical.
A Note on Food and Drinks
Bangkok's Chinatown is known for its – you guessed it – Chinese restaurants and also way-above-average street food.
Popular offerings include grilled Thai-Chinese seafood, street stalls, Lek & Rut as well as T&K on Phadungdao Road, which intersects the upper eastern part of Yaowarat Road. Upscale southern Chinese restaurants can be found on both sides of Yaowarat, and many are of decent quality. But expect rather gaudy decor –  that's part of the experience.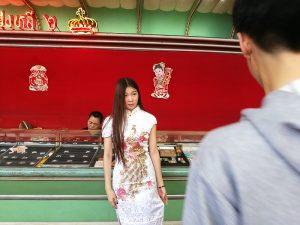 Walking around, one should never fail to look up and note the hodgepodge of architectural styles of shophouses and buildings on both sides of Yaowarat ranging from old Sino-Portuguese and art deco with a Thai-Chinese twist, to modern and postmodern designs.
By night, neon signs light up the neighborhood and give it a mesmerizing ambience. Sit and have a mug of beer or enjoy some tea. Take in the street life and the lights that make Bangkok's Chinatown a fascinating place to stroll through. Shanghai Mansion and Chinatown Hotel, both on the upper eastern part of Yaowarat and just a stone's throw from the Chalerm Buri intersection, are two places where you can sit al fresco next to the footpath and slurp it all in.