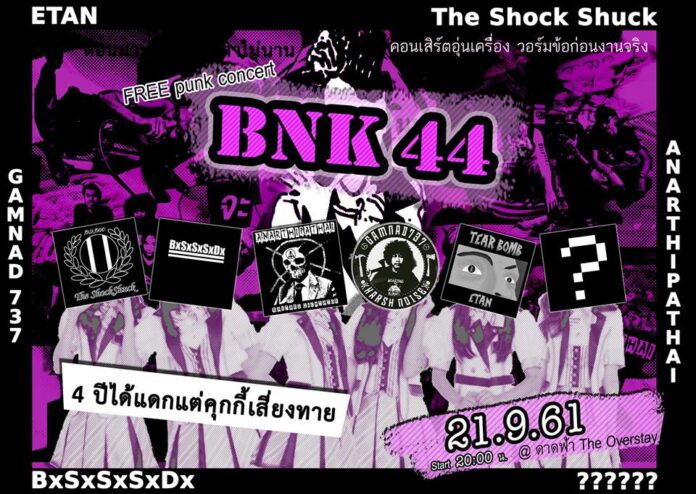 BANGKOK — Punk groups will reunite this week in Bangkok to seethe against military rule, four months after their last show was raided by police.
The same people behind the "Almost Four Years, You Motherfucker" concert will take the stage Friday with a night lampooning the junta's recruiting of a girl idol group for publicity, according to an the event organizer who asked not to be named "because our concept is anonymity and anarchism."
"Right now the coupmakers are using the BNK48 girls to whitewash their image," said the organizer. "So we want to stage this event to criticize that."
As of Tuesday, five bands had been confirmed to perform – ETAN, GAMNAD737, Blood-Soaked Street Of Social Decay and The ShockShuck – but event organizers said other interested punk acts are welcome to join.
Their previous show was in May to mark the fourth anniversary of the coup that brought the current junta to power. That event came to an abrupt end when police officers raided the venue – a monument to those killed in a 1973 popular uprising – citing the "harsh words" some of the musicians used in reference to junta chairman Prayuth Chan-ocha.
Ten people were arrested and processed before being released without charge.
The organizer expects Friday's show to go smoothly.
"I don't think there would be any violence or arrests, because we will be playing on private property," the organizer said, adding that the groups want to hold a bigger event in February to mark the upcoming election.
"BNK44: Four Years Later and All We Eat is Fortune Cookies," will start at 8pm on the rooftop of The Overstay, an underground venue in the Pinklao area that hosts punk and reggae shows. Entry is free.