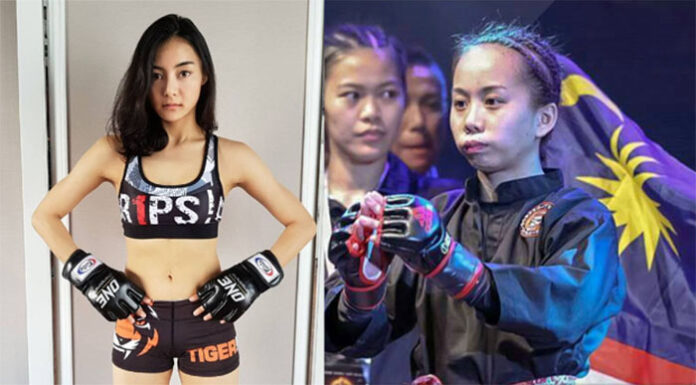 BANGKOK — It'll be ASEAN vs. ASEAN next month slamming fists into each other's faces at the One MMA championship in Bangkok, according to the fight card released Friday.
Nine fierce bouts between MMA veterans and caged debutantes will be the highlights of the pan-Asian tournament unfolding March 11 at Impact Muang Thong Thani Arena.
One is fronting its femme fatales at the fight. At the top of the ticket, six-time women's atomweight champ Angela "Unstoppable" Lee will face off against kung fu hustler Jenny Huang from Taipei.
Read: Meet a Thai Couple Who Just Fight All the Time (Video)
The violence is also embracing kwam bpen Thai with Muay Thai fighters who've made the transition to Mixed Martial Arts throwing punches: MMA strawweight champ and three-time Lumpinee Stadium champion Dejdamrong Sor Amnuaysirichoke will fight Joshua Pacio of the Philipinnes. Watch Yodsanan "Little Tyson" Sidyodtong go head to head with Ramon "The Bicolano" Gonzalez, also from the Philippines, in the bantamweight class.
Sagetdao Petpayathai will make his MMA debut as a Muay Thai champ, throwing his fists at Malaysia's Kelvin Ong.
Shannon "One Shin" Wiratchai, one half of Thailand's young MMA dream couple, will defend his featherweight belt against Richard "Lion Heart" Corminal of the Philippines.  His better half, Rika "Tinydoll" Ishige, Thailand's first female MMA fighter in One Championship, will make her MMA debut against Audreylaura "Ice Comet" Boniface from Malaysia in the atomweight class.
Pongsiri Mitsatit will try to defend his seven-win streak against the Philippines' Robin Catalan. Kritsada Kongsrichai will face off with Indonesia's Adrian Matheis.
Jia Wen Ma from China will also rumble with Yohan Mulia Legowo from Indonesia.
Setting the mood will be music performed by Thaitanium and Slot Machine to bring some rock to the rumbling.
Tickets run from 200 baht to 12,000 baht and can be purchased at Thai Ticket Major.
Related stories:
Meet a Thai Couple Who Just Fight All the Time (Video)
Women's Fights a Strong Part of One's Expansion Plans
Women Fighters to Smash Bangkok as MMA Penetrates Homeland of Muay Thai
ONE Championship MMA Coming to Bangkok, New Markets for 2017