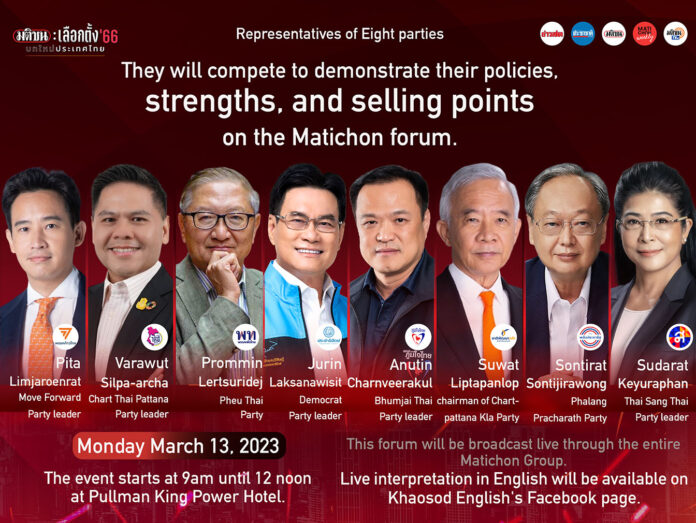 Eight party representatives, including five party leaders, will compete to demonstrate their policies, strengths and selling points as part of Matichon Forum entitled "2023 General Election, New Chapter for Thailand" on Monday March 13, at Pullman King Power Hotel.
Speakers are: Prommin Lertsuridej, chairman of Pheu Thai Party Policy and Economic Committee,  Bhumjai Thai Party leader Anutin Charnveerakul, Democrat Party leader Jurin Laksanawisit, Move Forward Party leader Pita Limjaroenrat,
 chairman of Political Strategy Committee for Phalang Pracharath Party Sontirat Sontijirawong, Thai Sang Thai Party leader Sudarat 0Keyuraphan,  chairman of Chartpattana Kla Party Suwat Liptapanlop, and Chart Thai Pattana  Party leader Varawut Silpa-archa.
The event will be organized like a game show and divided into three sections.
First, "stressing party positions", the eight party representatives will draw a raffle which contained specific question to be answered under a given time on topics ranging from politics, society, charter, corruption and more. The party rep will then get a chance to choose one other party rep to answer the same question.
Second, highlighting the party's "selling points". Raffles will be drawn to match a one-on-one debate between two party reps on the topic of the economy, including the controversial issue of minimum wage.
Third, showing "the strengths". Party reps will again draw a raffle to decide who will go up on stage first to convince voters to choose them through telling voters what's the party strengths, vision and selling points.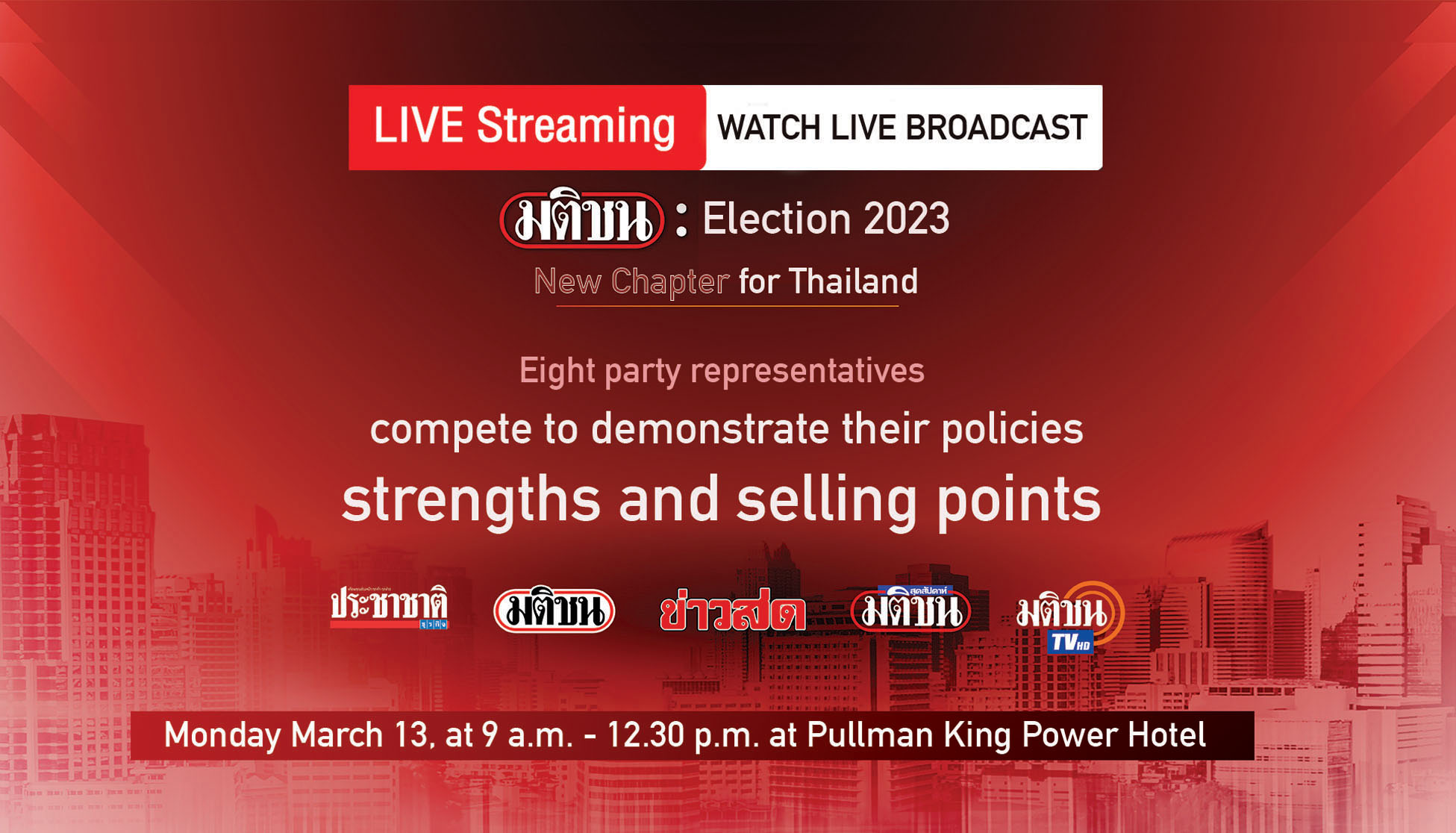 Five organizations are partnering with the Matichon Group in the event. They are: Thailand Development and Research Institute (TDRI), Pridi Banomyong International College, MFEC (PLC),  Matichon Information Centre and Politics and Policy Analysis Institute.
The event starts at 9 a.m. until 12 noon and will be broadcasted live through all of Matichon Group's Thai-language media. On Facebook, it will be available on Matichon Online, Matichon TV, The Poltics, Prachachart, Matichon Weekender and Khaosod.
Simultaneous interpretation by Pravit Rojanaphruk into English will be available on Khaosod English's Facebook page.
On YouTube, check Matichon TV, Khaosod TV, Matichon online, Prachachat, The Poltics and Matichon Weekender.