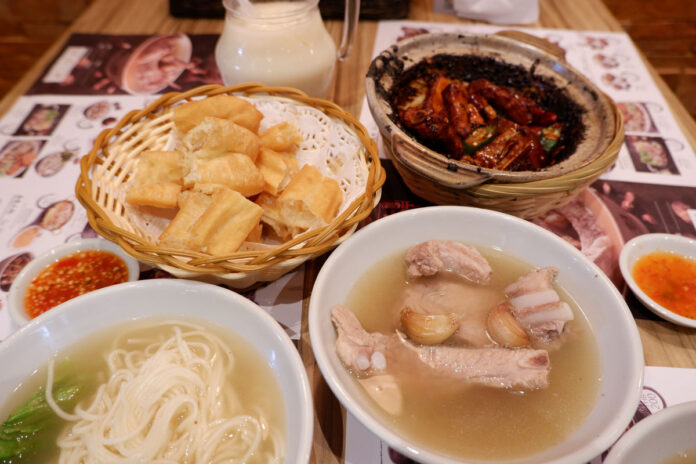 By stroke of coincidence or marketing, two Singaporean franchises selling bak kut teh have opened in Bangkok's downtown. We visited both Old Street Bak Kut Teh and Song Fa to taste their famous pork rib soups.
Old Street is a Singaporean franchise born in 2010, with one branch in Indonesia, China and now Thailand. Song Fa, open in the same countries, began as a food cart in 1969 before expanding to 24 branches and receiving three consecutive Michelin Bib Gourmand awards from 2016 to 2018.
Both arrived in Bangkok in April – Old Street on the bottom floor of MBK and Song Fa on the third floor of CentralWorld.
Bak kut teh is a traditional Chinese stewed pork rib soup flavoured with pepper, star anise and other herbs. The warm, peppery broth is considered a tonic among the Teochew community, and is especially popular in Malaysia and Singapore.
Ethnic Chinese in Thailand may be familiar with the dish as a childhood staple cooked by grandmothers or served by grizzled aunties in stuffy, hot shophouses. But now the childhood dish has now migrated to the malls.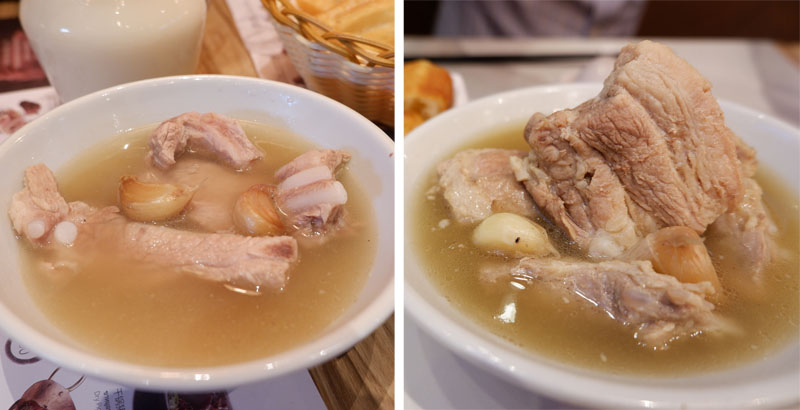 The bak kut teh soup: Song Fa's soup was a hair more complex in flavour than Old Street's. Both were heavy on the pepper and star anise. In both restaurants, the soup is bottomless – servers at both restaurants swing by regularly to refill your soup from a teapot.
Neither shop uses MSG so deliver none of that starchy, grainy post-meal "sodium mouth". The pork is juicy and slips off the bone. Song Fa's ribs are slightly larger, with a slightly denser soup as well.
The unpicky may opt for the cheaper Old Street (156 baht for the small size with three ribs, 208 baht for large with five ribs) rather than Song Fa and its long queues (220 baht for two ribs, 250 for four), at least until the hype dies down.
The condiments: Old Street's pork ribs can be spiced up with soy sauce that you can customize with fresh chilies and minced garlic, flavours familiar to the Thai palate. At Song Fa, it's a sticky, sweet sauce with pickled chillies, a more Chinese style.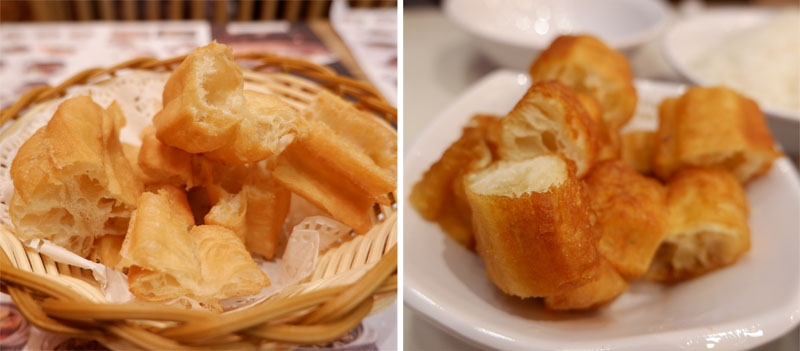 The dough fritters: Finally, a clear winner: Old Street's pa tong go were chunks of doughy, pillowy wonders. Unlike the pa tong go Thais are familiar with, these are slightly salty and doughy instead of sweet and crispy. Dipping them (40 baht for a basket) into the soup or sauce is a must. In contrast, Song Fa's, although crispier, felt less fresh and lacked a soft doughy interior (50 baht).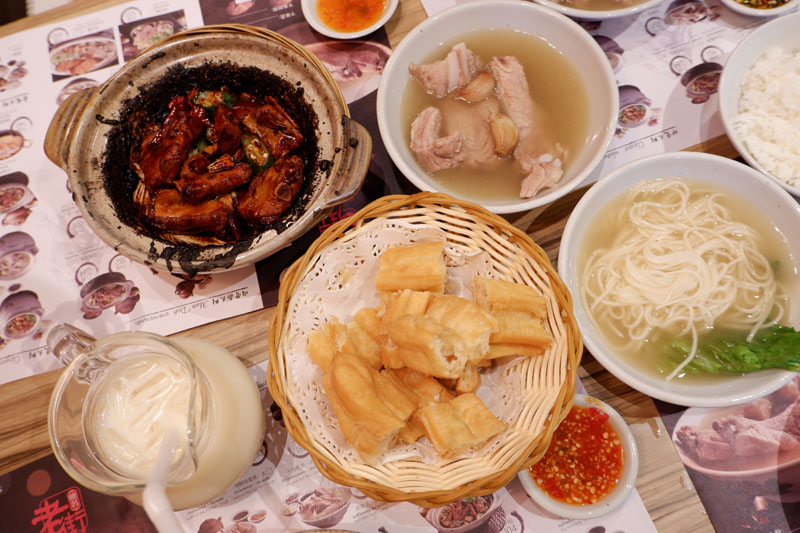 The rest of the menu: At Old Street, the dry bak kut teh (182 baht for small, 234 for large) outshone the soup in many ways. Pork ribs, fatty pork, okra and dried chillies were covered in a sweet, hot caramelized glaze that arrived sizzling in a clay pot so hot that the sauce had dried on the edges. It's an exciting update to a cuisine associated with long-winded Chinese family dinners that seems especially made for the Thai palate. The adventurous may opt for seafood (260 or 360 baht), laksa (180 baht) or even frog bak kut teh (360 baht).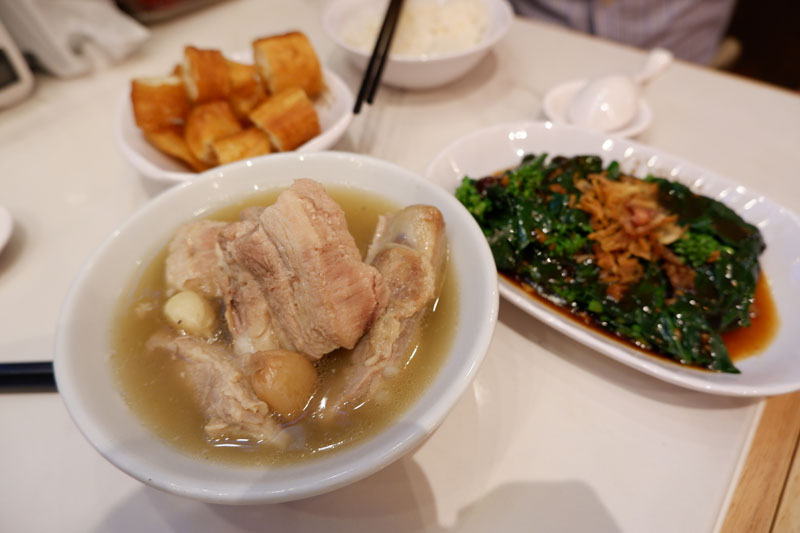 Song Fa has more traditional side dishes that will appeal to grannies and inner grannies alike: pig intestine dishes (200 or 250 baht), salted vegetables and nuts (100 baht) or crunchy broccoli and mushrooms in oyster sauce (150 baht).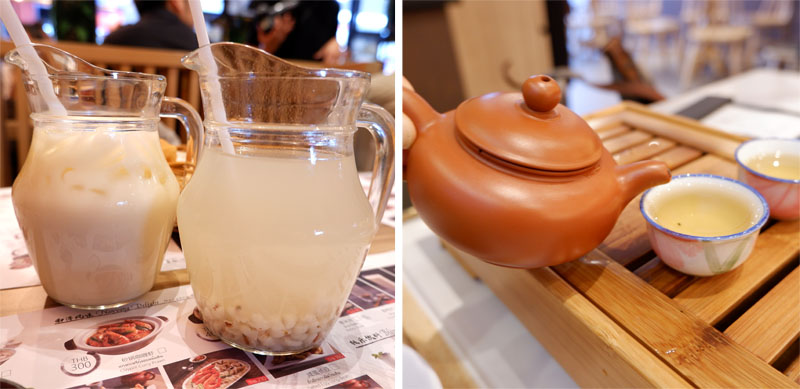 The drinks: At Old Street, wash it all down with a glass of soy milk or barley drink, neither of which are excessively sweet (40 baht per glass). At Song Fa, a teapot of passable oolong tea served on a tea tray will run you 100 baht.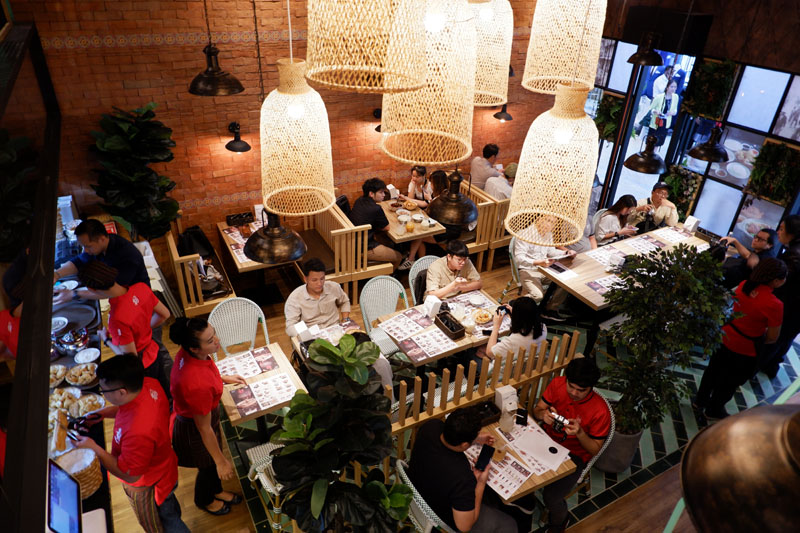 The ambiance, mood: Unfortunately, Old Street is located on the bottom floor of the rather run-down MBK Center — although its interior of open brick and wicker ceiling lamps does its best to hide that. Song Fa is located inside CentralWorld, with inoffensive, if unmemorable, decor.
Savouring memories, in malls?
The anti-mall faction may offer an unctuously academic argument against the spreading to malls of a dish previously isolated to the domain of the home. But for Bangkokians with ethnic Chinese blood, having a childhood favorite be easily accessible is a plus.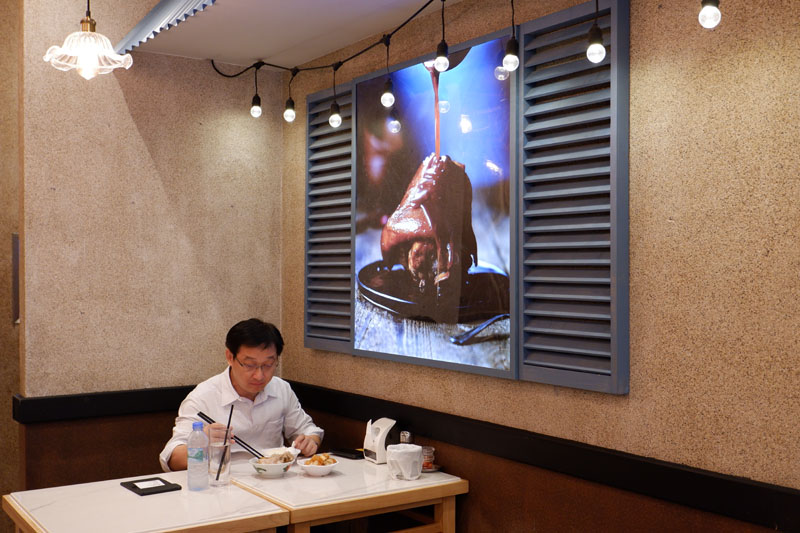 The weather is simply too hot in Thailand right now – noontime temperatures of 45C are an everyday occurence – to eat hot soup in an unairconditioned shophouse for fun. Experiencing the dish our grandmothers stewed for us, years later and perhaps with new friends from different backgrounds, offers a chance for a poignant flashback. Having a new variation of a dish in the present doesn't diminish warm memories from the past – rather, it reminds us of them.
Both the writers of this article, Pravit Rojanaphruk, 51, and Asaree Thaitrakulpanich, 25, grew up eating bak kut teh due to our ethnic Chinese upbringing. Pravit is half Hainanese and Asaree is 100 percent Teochew.