Top: Supatchaya 'Ann' Techachoochart at Refill Station
Grabbing just a cup of bubble milk tea can produce a hefty load of plastic. There's the cup, its lid, the straw, a bag and that disposable handle-bag thing. After a few happy moments of sipping, it all goes off to the landfill for the next 500 years. Take home some dish soap from the supermarket in a new bottle – the old, perfectly good one is already pushing up daisies.
Time to cut your plastic life down to size? Here are three things you can do right now in Bangkok, from a cafe that refills your empties and mother-daughter team promoting reusable straws to a woman who sews washable cotton pads for that time of the month.
(Re)Fill'er Up With Supatchaya 'Ann' Techachoochart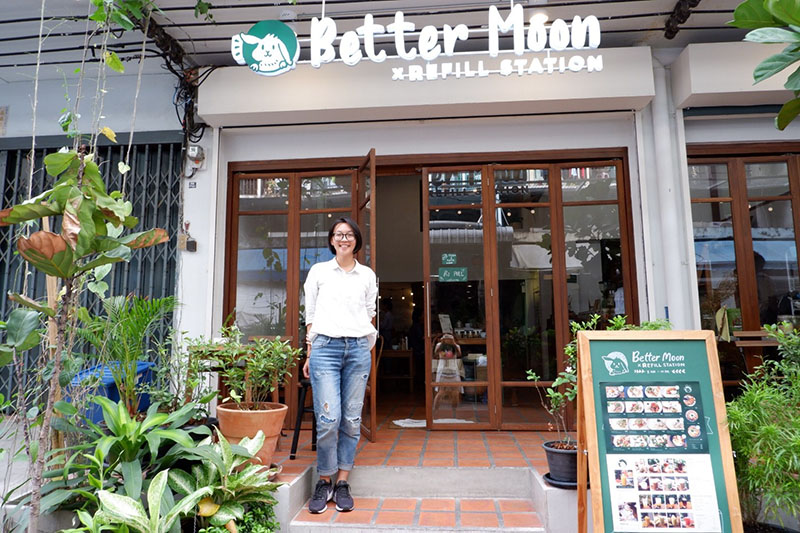 Tucked into a lively market soi in the On Nut area is refillable bulk supply store Refill Station. Several dozen gallons of shampoo, soap, lotion, dish soap and floor cleaner line the walls with with convenient pump heads ready to reload.
There, Supatchaya "Ann" Techachoochart is helping a customer weigh an empty body wash container on a little scale before pumping peppermint-scented shower gel into it.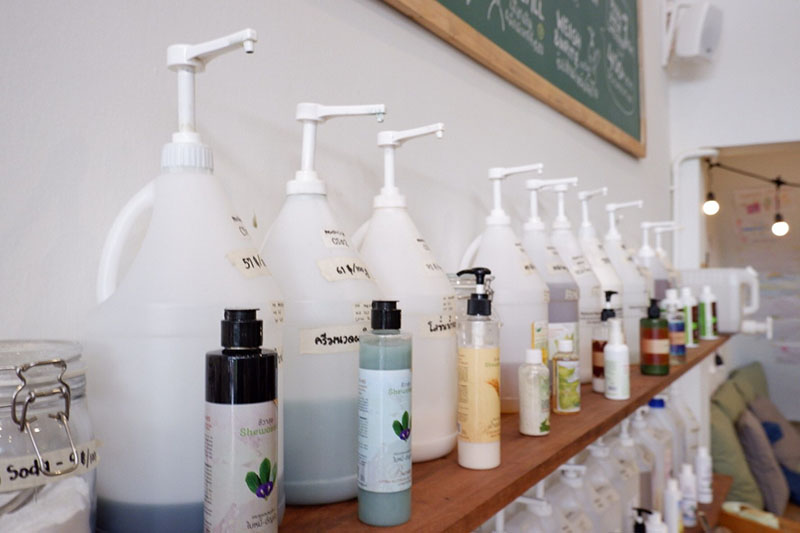 "Before there were really no options for Thais but to keep using plastic. But I believe that with options, Thais can change," said the 28-year-old co-owner. "We can't just wait around for the government or 7-Eleven to do something. Even a small shop can be responsible for hundreds or thousands of lives."
At Refill Station, customers bring empty containers to fill with various liquid goods or dried food items they buy by the weight. It could be the first shop of its kind in Thailand. The shop is located inside the Better Moon Cafe, which serves coffees, teas, pastries and desserts (some vegan). Peckish guests fetch a plate from the back and take it outside to get food from the market, then bring it back into the cafe to enjoy, all plastic- and foam-free.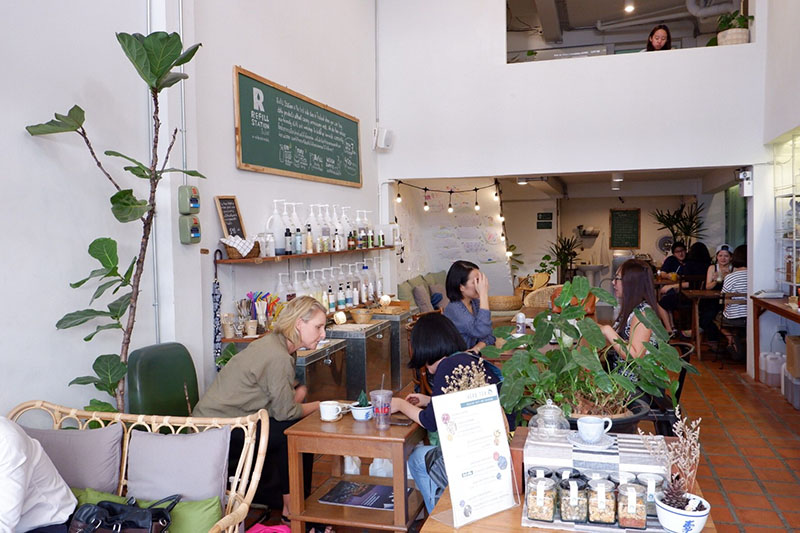 "I was worried at first if I could motivate people to lug their own containers here," Ann said. She believes that Thais' less-than green habits aren't hopeless and can shift with more consumer options and environmental awareness. "You don't have to give others a lashing if they're not as green as you. In fact, people who do so are usually not even green themselves."
Ann said she and her two partners – all Thai – first started out by opening booths at fresh markets where they received a confused reception.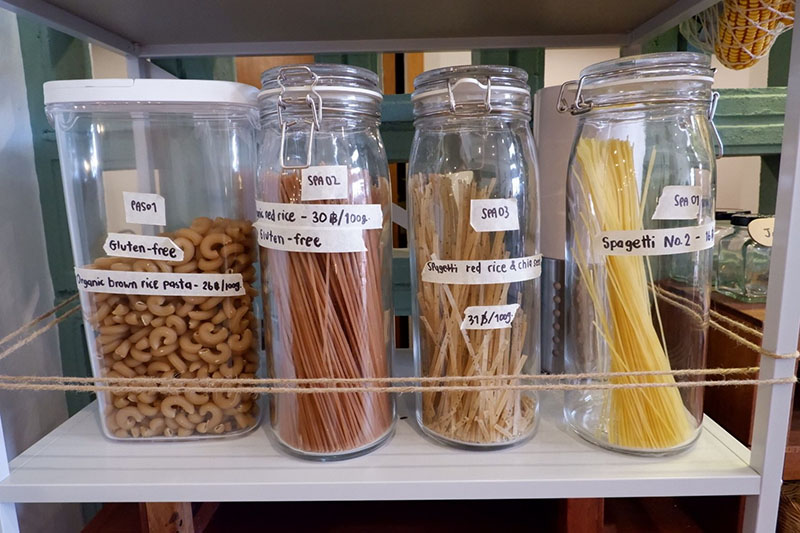 "It was hard to explain to lower-income people. They'd keep having to ask why we were doing this," she said. "But more educated city people or farangs will get the concept immediately."
Products are about 10 percent less expensive than at the supermarket. Buying shower gel — most products are natural-based ones — can cost about 90 baht for 100 grams. Lighter products, such as a scrub powder made from green beans, can be quite cheap: 32 baht for 100 grams.
Chemical rather than natural-based products are a cheaper option available at the store. Sunlight dishwash goes for 5 baht per 100 grams. Golden Mountain vinegar and Hygiene fabric softener go for 3 baht per 100 grams.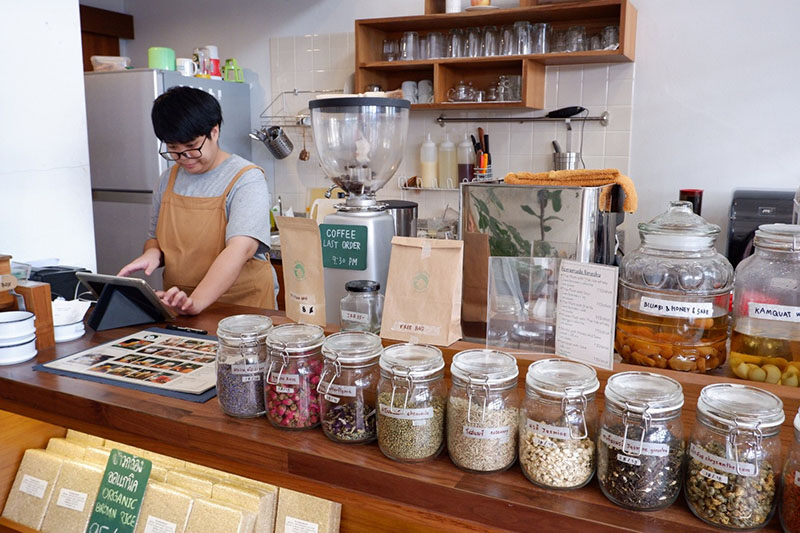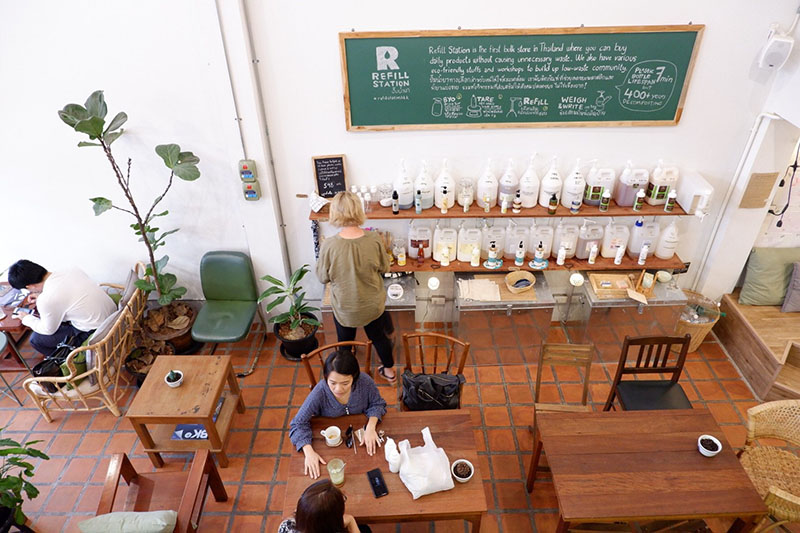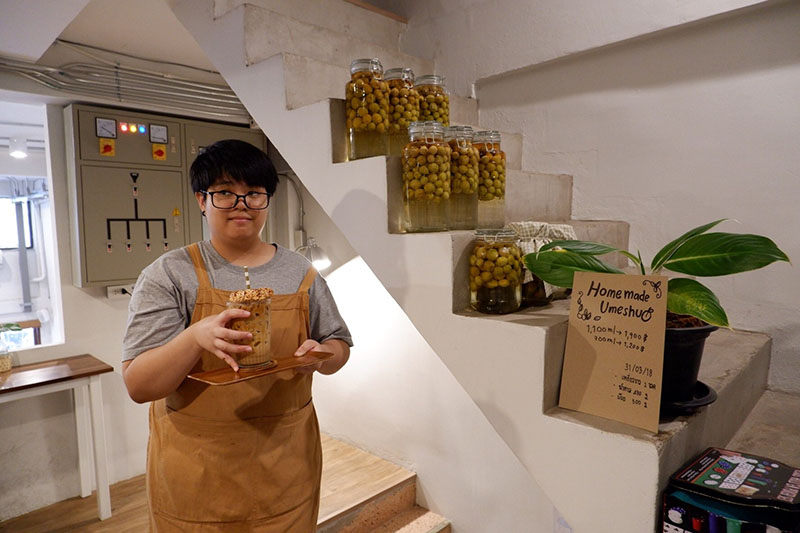 Refill Station is open 8am to 10pm every day. It's a 10 minute-walk from BTS On Nut exit 1.
Zero Waste Thailand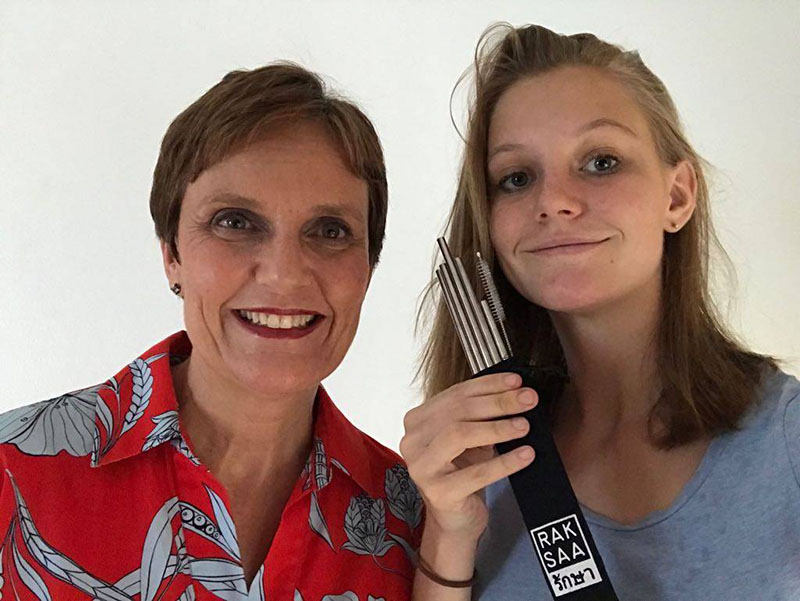 A small mother-daughter project selling reusable straws is snowballing into an initiative to get cafes and restaurants to suck it up and adopt the greener model.
Englishwoman Fiona Lemaire, 49, and her 15-year-old daughter Maya Lemaire run Zero Waste Thailand, an online store selling reusable straws. They've convinced a few restaurants and shops to replace their disposables with metal and bamboo.
Fiona Lemaire said she's trying to amend for the bad influences of her own culture.
"Thailand had beautiful packaging before the West brought in horrible plastic, such as leaf packaging," Fiona, an expat of five years, said. "It's a shame that we dumped our plastic with you. So I feel like we have to help right that wrong that we imposed."
Since starting their initiative after Christmas, the Lemaires have gotten Toby's on Soi Sukhumvit 38, The Missing Burro Mexican in Thonglor and Plern Plern cafe in Bang Na to ditch plastic straws. These eateries as well as Broccoli Revolution and El Mercado also sell Zero Waste's glass, bamboo and metal straws.
Mom and daughter were inspired during a diving trip to the Similan Islands, where they saw swathes of dead coral choked by plastic straws and cotton buds.
Maya Lemaire said teens her age are quite environmentally aware, even if it might not be perceived as "cool."
"It's not so much that being green is cool, but that the opposite is bad," said Maya, a high school junior. "For me, it's the most logical and natural thing to do. The planet is our future and we have to do the most for it."
The straws start at 30 baht. Zero Waste also sells a greener alternative to another toxic plastic product: menstrual cups. Virtually unavailable in Thailand except through special online orders, menstrual cups are usually sold for 2,000 baht or more. Zero Waste offers them for 600 baht.
"Menstrual cups are more difficult. It's hard to talk about it with other girls. Some people aren't so open to it," Maya said.
Sunny Cotton — Kesinee Jirawanidchakorn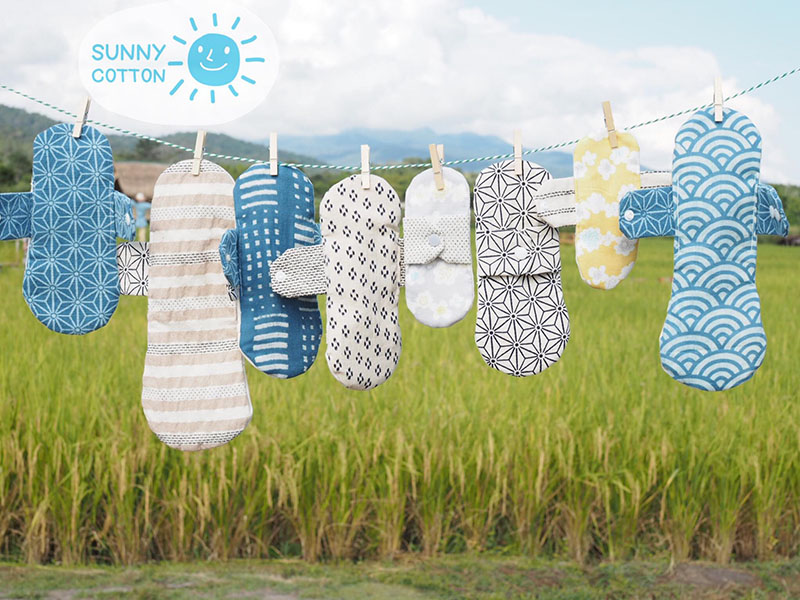 Menstrual cups may not be a mainstream method for Thai women to catch their monthly blood pony, but single-use plastic pads are. And Kesinee Jirawanichakorn, armed with her trusty sewing machine, said there's an even better way.
Kesinee, 36, is the owner of Sunny Cotton, one of a few online stores selling reusable cotton pads. Not only are they waste-free – she claims they help women experience less painful and stinky menstruation.
"Your period pain isn't actually smelly. But when mixed with the plastic and chemicals in the disposable pads, it becomes dirty trash that you feel ashamed of and need to hide away," Kesinee said.
She said customers have told her that by using cotton pads, they experience less painful cramps and begin to appreciate the blood they let every month.
"On a spiritual level, you find that nothing is really trash. Even period blood can be used to water plants, because it has so many nutrients," she said. "But we created hate and disgust around it by making it into a trash item."
Although she's received customers that impress her, such as a 17-year-old bent on creating zero waste and moms that buy them for their daughters, some Thais are still averse to the idea of washing cotton pads, imagining rags soaking in a basin of blood. Still, Kesinee says that cloth pads are hygienic and economical.
"I've been using the same set of pads for six years. They've got no blood stains or stink," she said. "Someone with a medium flow, on the other hand, will spend a minimum of 150 baht per month to buy disposable pads."
The pads, ranging from 120 baht to 280 baht, are sold in cutesy patterns. "Even if no one sees it, it's part of women's femininity to have something cute," Kesinee said.
Sunny Cotton pads are available via Facebook.