Photos by Taylor McAvoy
The Ukranian woman with frizzy blond hair gasps in delight at the sight of a large, dirty bottle of used cooking oil left in front of her shop. A sediment of fat churns at the bottom of the jug, which stinks of old food.
Wiping milk and lavender from her hands with her apron, she pours the mess into a blue plastic barrel. When it's full of old oil – donated mostly by street vendors, some black from reuse – she will filter it through cotton and boil it five hours with water. The impurities transfer to the water and the oil separates to the top, pure and clean and ready to be turned into soap.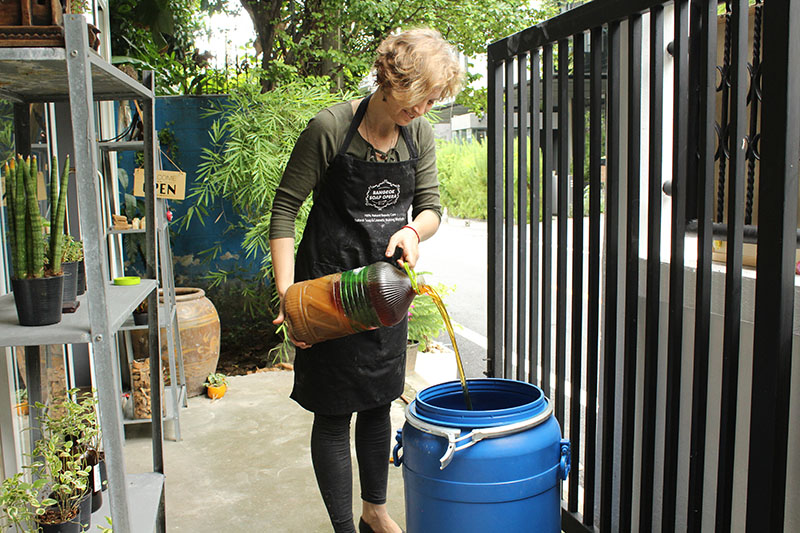 Maria Kalita runs Bangkok Soap Opera, where she turns used, donated oil into bars of artisanal, handmade soap colored into a rainbow with local herbs, in an effort to divert vats of oil dumped into the city's sewers each day into something greener and cleaner.
"These are so cute! This one is made from pandan, my love for this summer. Nothing is more beautiful than soap-making," the sunny 30-year-old woman said, before casually dropping the technical term for the process. "The saponification process destroys the pollution in the waste oil."
Kalita, a native of Kharkhiv in Ukraine, studied eastern medicine and natural cosmetic making in Poland. On her first day in Thailand three years ago, she remembers the horror of seeing street stalls pour the used, hot oil used to fry chicken and bananas and dough balls straight into storm drains, helping to clog them just in time for seasonal flooding. Refried oil also oxidizes in water, suffocating and killing the plants and animals in it, she said.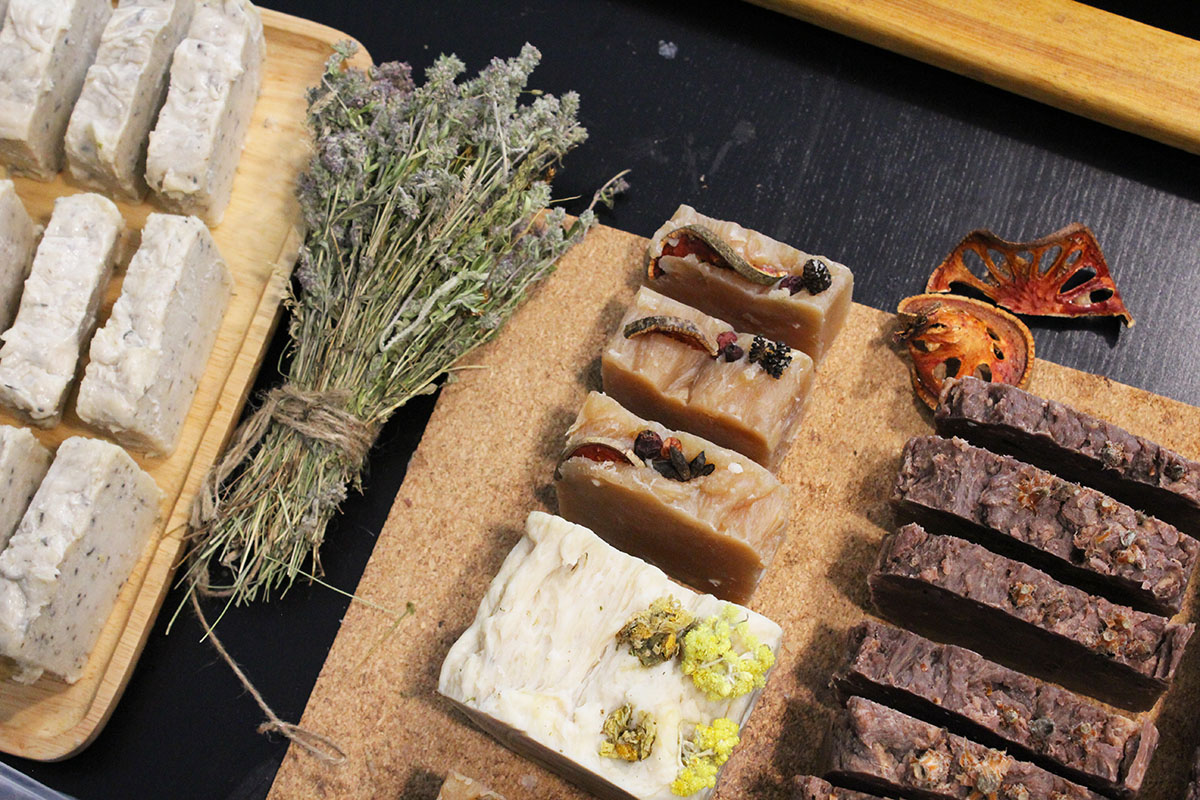 The philosophy behind Bangkok Soap Opera, then, is to reuse harmful waste in order to make lovely soaps that are good for both human and planetary bodies.
"All chemicals you use on your body drain into the Chao Phraya and then to the Gulf. Then the water is used to grow vegetables, so the chemicals will cycle back into your food," she said. "Cosmetics are a growing, huge part of polluting the ecosystem. It's not just plastics that are polluting; it's chemicals too."
At her shop in the Phra Khanong area, Kalita receives donated cooking oil from local street vendors as well as several restaurants such as Roast at The Commons. In return she provides recycled soap to the restaurants and hopes to start sourcing from hotels as well.
Her products, even the ones that don't use recycled oil, do not include synthetic colors, scents, preservatives, emulsifiers, parabens or sulfates.
They're colored with local fruits and vegetables, which Kalita is proud to present as she holds up a row of recycled soaps in different colors. Durian makes a subdued yellow; jackfruit begets an ochre shade. Papaya and kaffir lime lend orange-brown hues, and mangosteen peels produce a dark puce.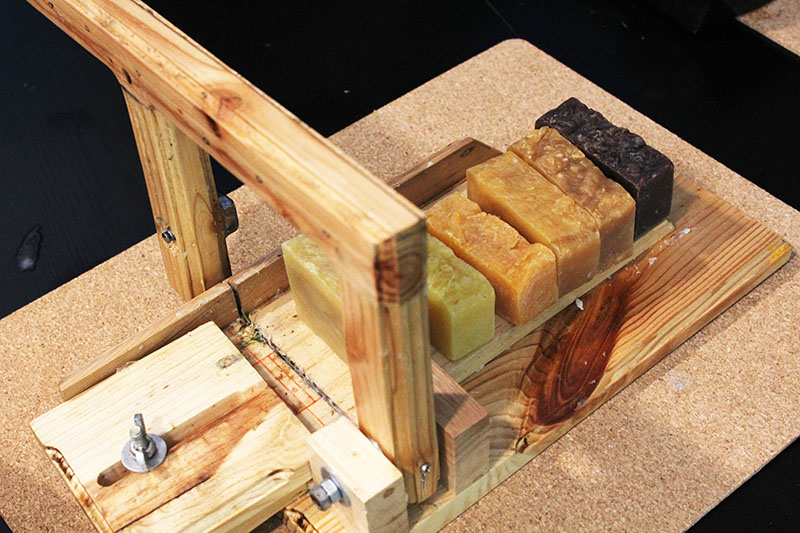 Sometimes she returns from Ukraine with some of its lavender and pines to spike her bars with.
Although she says the recycled-oil soap is "so much better quality than anything from Big C or 7-Eleven," Maria recommends those with sensitive skin should be careful of using it on their faces. Some bars smell like yummy, unbaked bread dough and have the consistency of play dough. They bubble just like, if not better than, regular soaps and don't dry out the hands.
Her shop opened in May. Soaps made from recycled oil go for ฿0.7 per gram, so a portable 100g one would be ฿70. Soaps made from non-recycled oil are slightly more – ฿1 per gram. Bangkok Soap Opera's other products include beldi soaps (฿220 for 200ml, made from bael or pandan), hydrosols (฿150 for 50ml) and body butter bars (฿150). Get a discount by bringing back the shop's plastic containers to refill.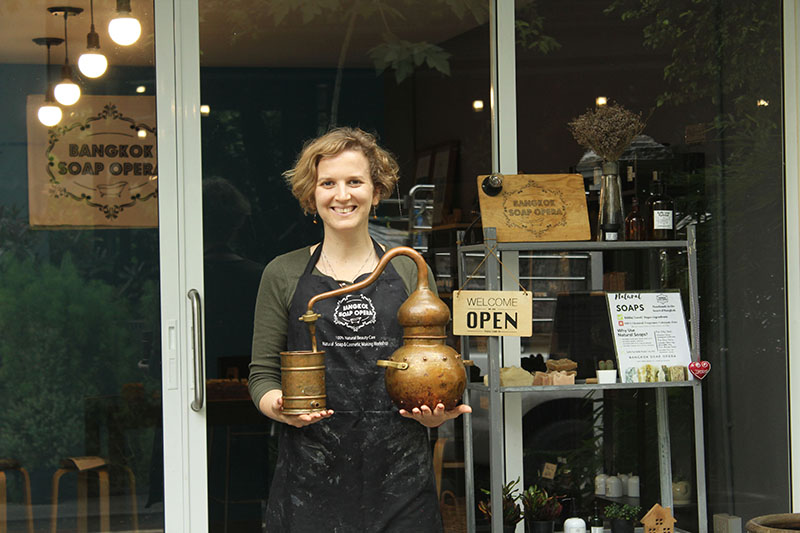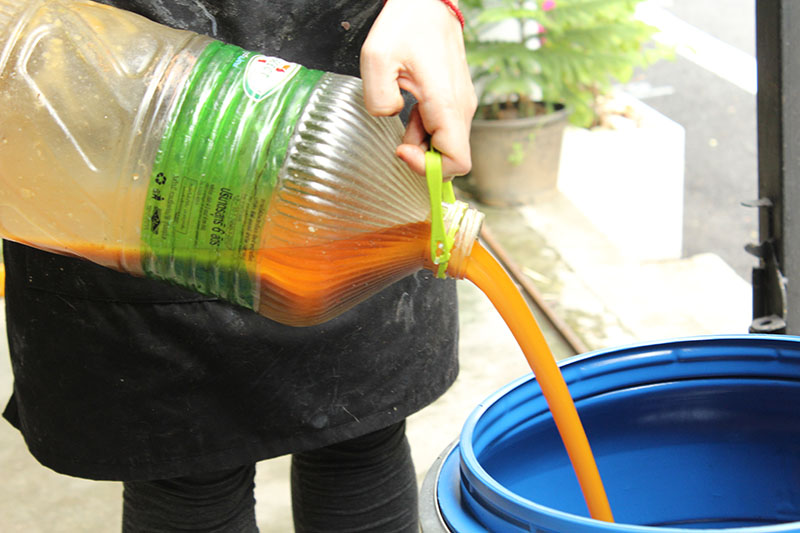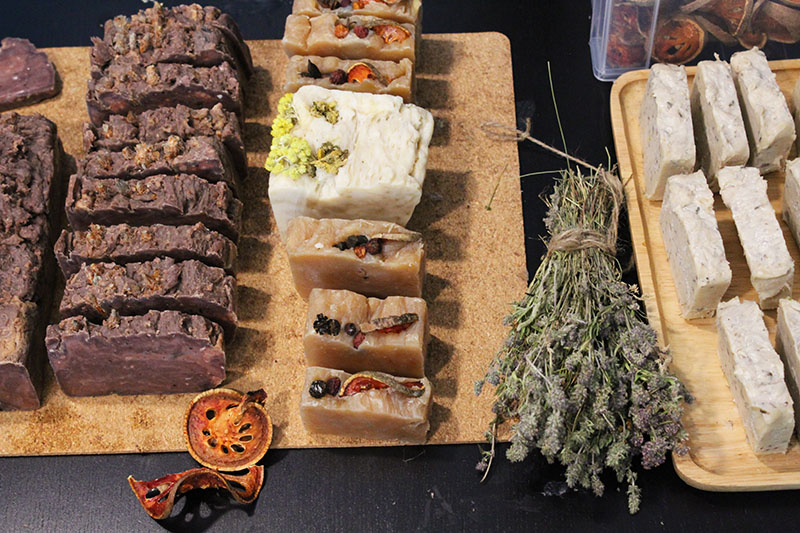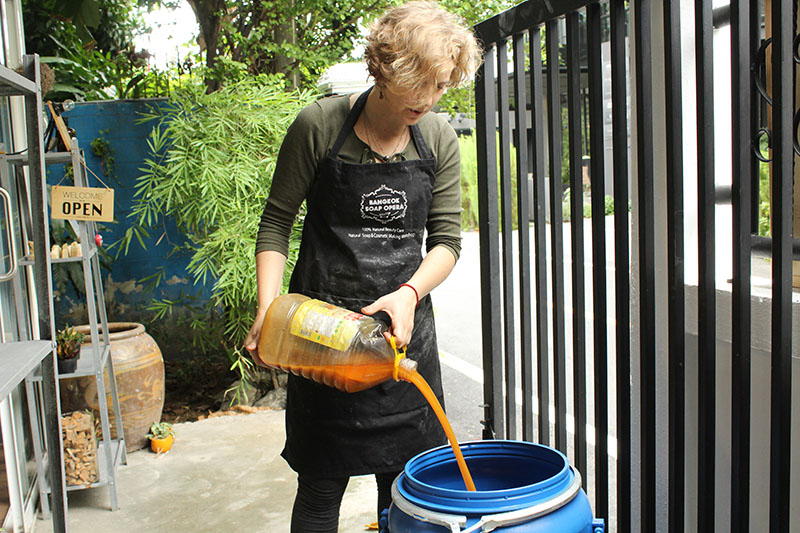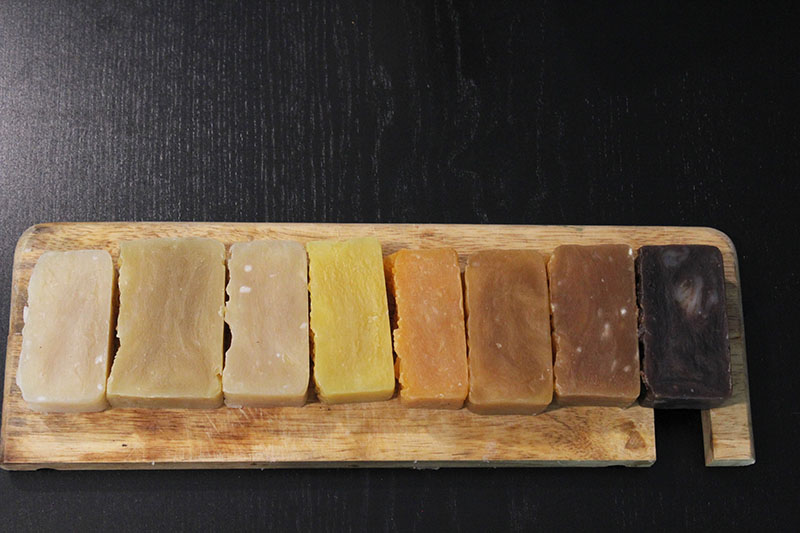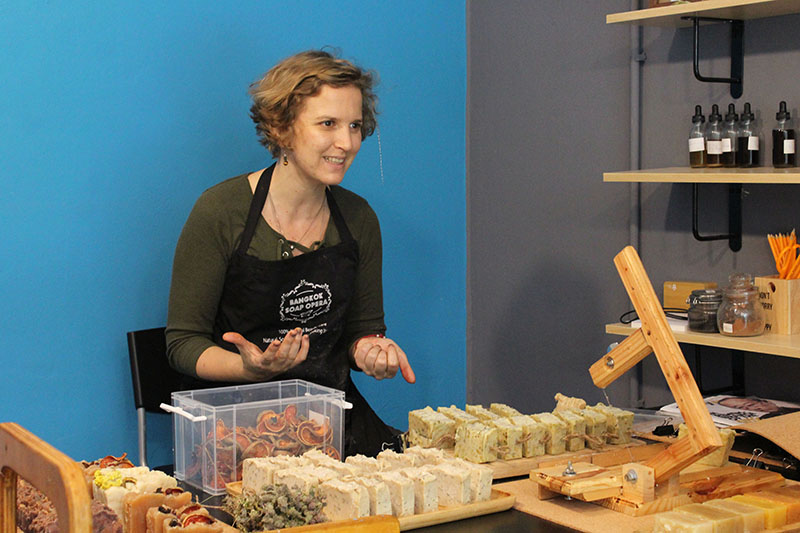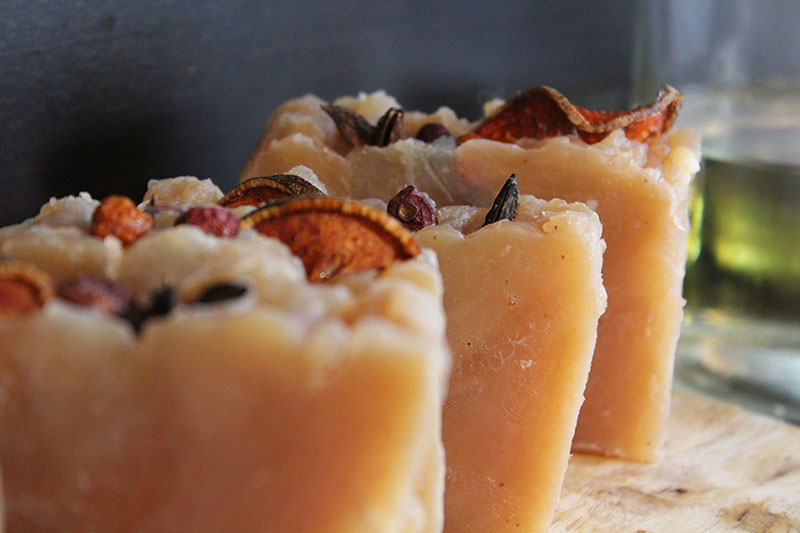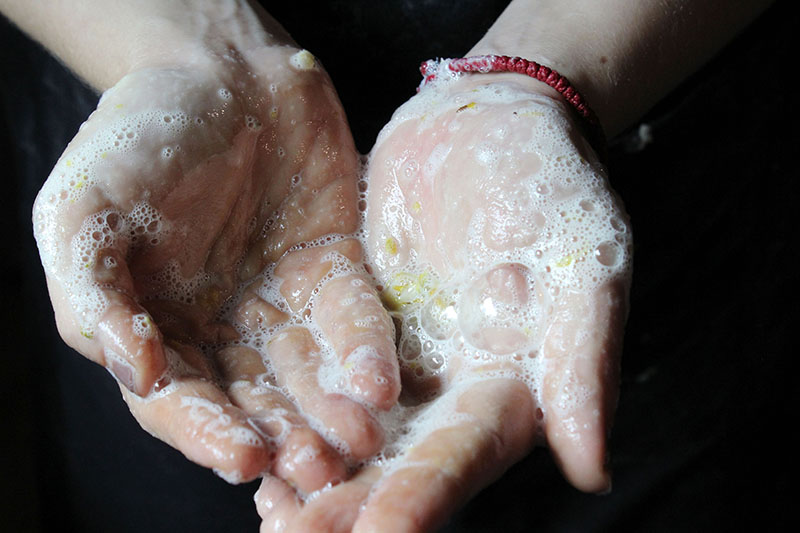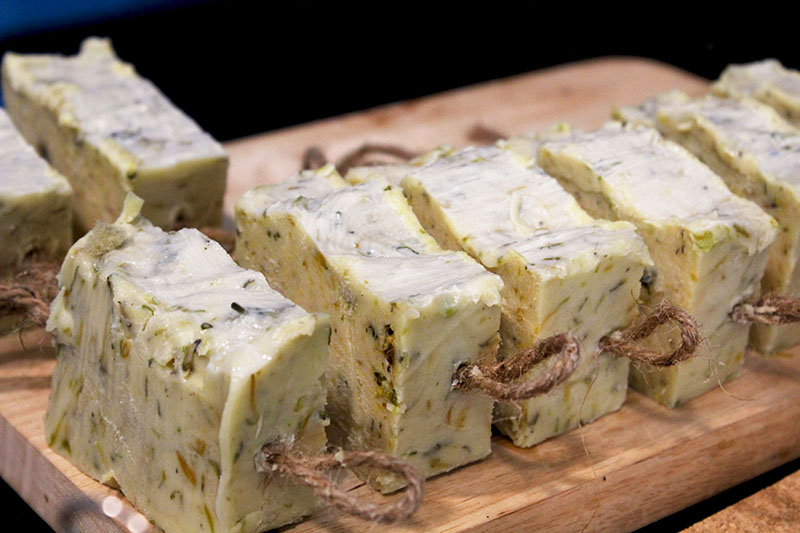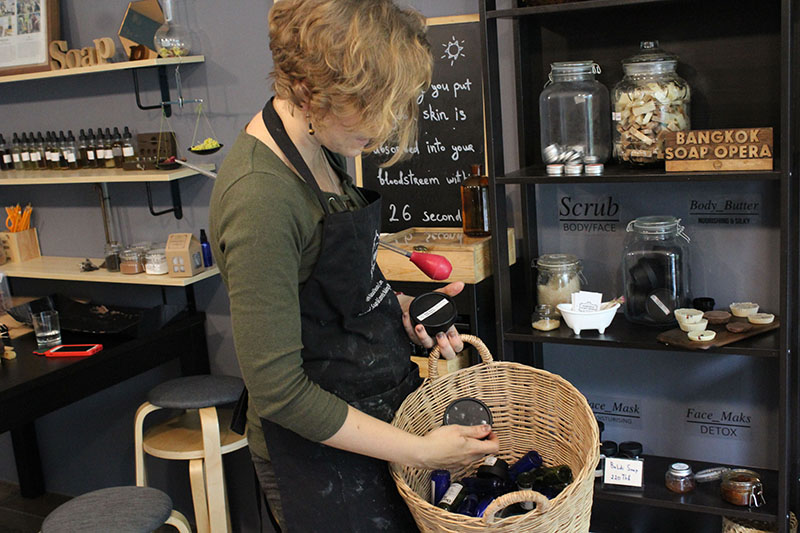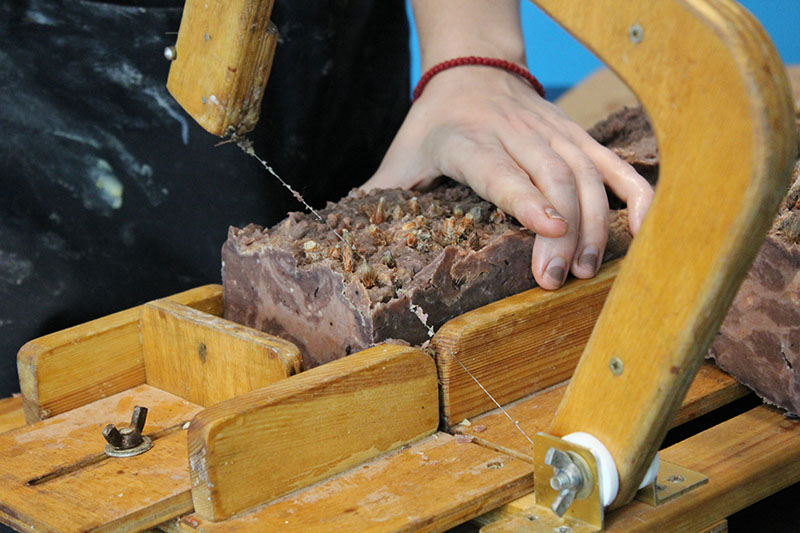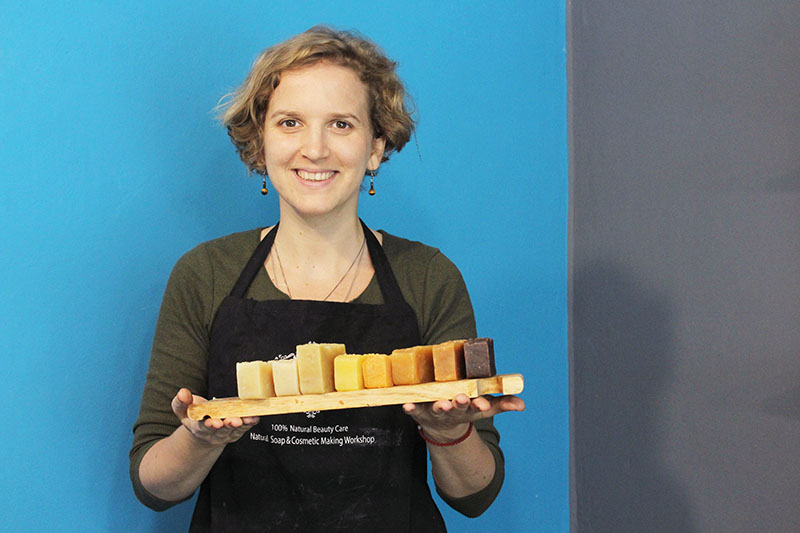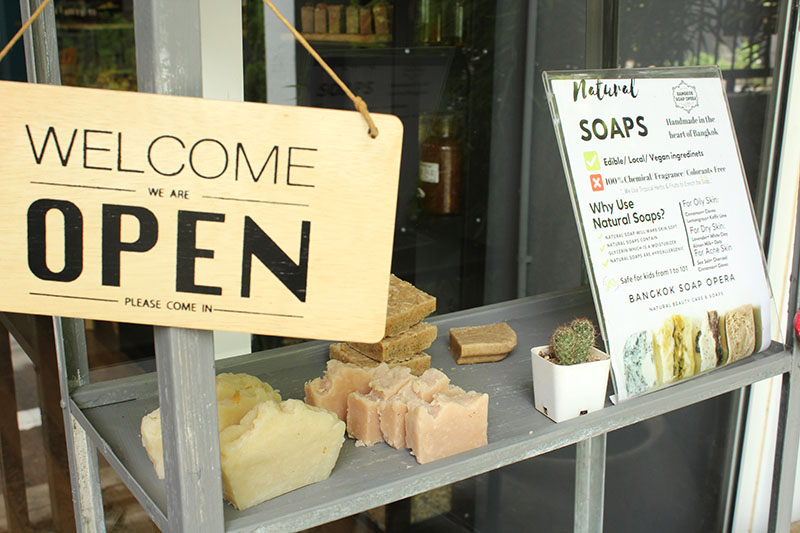 Bangkok Soap Opera shop products can be ordered via Facebook or at the shop, a short walk from BTS Phra Khanong, exit No. 4.
Related stories:
How to Start Using Less Plastic in Bangkok Right Now